(Last updated Oct 6, 2018)
6 Benefits of Made for iPhone Hearing Aids
Made for iPhone hearing aids used to make news headlines a few years back. Initially a prerogative of hearing aid brands Resound and Starkey, other manufacturers have now caught up with them. Phonak has even recently released Made For All Hearing Aids, which provides direct connectivity to any Bluetooth phones. Android phones, too.
Thanks to their native integration with your iPhone, Made for iPhone hearing aids can take advantage of your incredibly smart Apple smartphone capabilities. Imagine the possibilities now that your hearing aids have access to your iPhone's vast computing power and many sensors.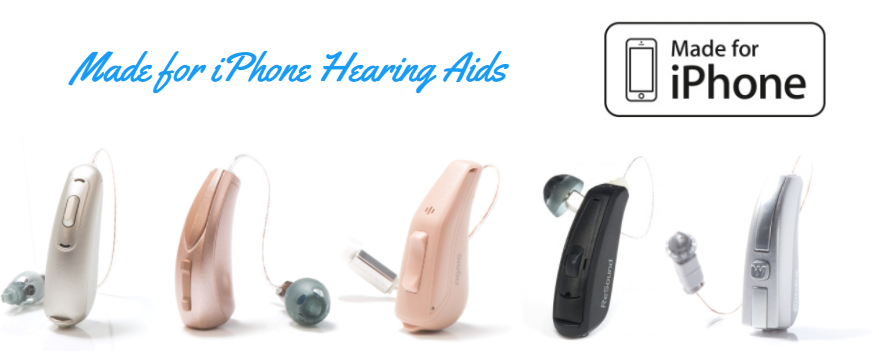 Here we're going to explore 6 benefits of Made for iPhone hearing aids
1. Apple Made For iPhone Hearing Accessibility: Apple has worked with top hearing aid manufacturers to create hearing aids and sound processors designed specifically for iPhone and iPad. You can quickly access the features and settings of your paired hearing aids by triple-clicking the Home button. Glance at the battery status or change the left and right volume, together or separately. And quickly apply your audiologist's environmental presets as you go outdoors or enter noisy locations, like restaurants, without having to rely on additional remotes.
2. Sophisticated MFI apps: With every new update, hearing aid manufacturers are releasing smarter and smarter features through their MFI (Made for iPhone) apps. The beautiful thing about MFI apps is that software updates to apps are independent of hardware updates to hearing aids. This will allow you to enjoy new app features even years after you've purchased your hearing aids. Most MFI apps include basic features such as program change, volume control, basic equalization and balance. Some apps go even further: Signia's latest MFI app, for example, uses the iPhone's motion sensor to improve sound processing on your hearing aids while you're walking or running.
3. Live Listen: This native feature provided directly by Apple to all Made for iPhone hearing aids turns your iPhone into a wireless microphone! Why is this great? Remote microphones are known to be really helpful when you are in noisy restaurants or noisy situations in general. To use Live Listen, activate it on your iPhone settings (you can set up a shortcut on your lock screen) and point it towards the person you want to hear as if you were interviewing her. The sound will be streamed directly into your hearing aids.
Pro TIP: especially in very loud and noisy environments, Live Listen works best when you point the iPhone's mic directly at the person's mouth. The closer the better.
4. Stream without an additional device: Before Made for iPhone hearing aids were invented, the only way to stream sound directly from your phone into your hearing aids was by using an additional device known as streamer. Streamers are neck worn devices that pair via Bluetooth with your iPhone and connect wirelessly to your hearing aids. The problem with streamers is that they have a battery, too. So, if you want to use them all day long, you need to charge them once or twice daily, or they'll run out of juice. With MFI hearing aids you'll only have to worry about charging the battery of your iPhone.
5. Geotagging: This is a very cool feature, one that you can "show off" to your friends and family. Geotagging lets you link a dedicated program or customization to a specific geolocation. Here's an example of how geotagging works: you create a customization that you name "Open space office" and link it to the geolocation of your office building. From now on, your hearing aids will automatically switch to the "Open space office" every time you set foot into your office. Isn't that a cool feature?
6. Find your hearing aids: If you've ever lost your iPhone and used the "Find My iPhone" feature on iCloud to trace your iPhone, you'll know how useful it is to have a way to track your device's GPS location. Now, thanks to the integration between your hearing aids and your iPhone, you can enjoy this features being applied to your hearing aids. If you can't remember where you've put your hearing aids and they are in Bluetooth range, your manufacturer's MFI app will help you locate them.
We hope you enjoyed these 6 benefits of Made for iPhone hearing aids. Do you know any additional benefits? Please be sure to share them below!
You might also be interested in: