(Last updated Oct 6, 2018)
Direct Audio Input (DAI) & Hearing Aids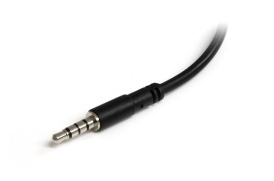 If you've been researching hearing aids and their available features, you may have come across the term "DAI compatible." Direct Audio Input (DAI), is a feature of some behind-the-ear hearing aids which allows an external audio source (TV, phone, computer) to directly connect to the hearing aid. The benefit of this is that the signal from the audio source is much improved, as it goes directly into the hearing aid and eliminates background noise. Here's a simple way to understand DAI: Imagine your hearing aids are headphones, and you can plug them in to any audio source and have the sound piped into your ears through your hearing aids. That is what DAI compatible hearing aids are capable of.
How do I use DAI with my hearing aids?
In order to use DAI, you first need to make sure that your hearing aids are DAI compatible. For starters, if you wear in-the-ear hearing aids your aids are not DAI compatible. If you wear behind-the-ear hearing aids, there is a good chance they are DAI compatible- but in most cases they have to be true BTEs (not RICs). To understand the difference between BTEs and RICs and see which ones you are wearing, see this post.
Once you've determined that you do have BTE hearing aids, you can usually track down the technical specifications for the hearing aids online (if you know the make and model). These specifications will say whether or not your hearing aids are DAI compatible. In addition, you can also simply call your hearing provider and ask them if they are are DAI compatible. A lot of providers won't know the answer to this right off the top of their head, but they can quickly call the hearing aid manufacturer and ask them.
If it turns out your aids are DAI compatible, you'll need 2 things to get started.
1) DAI boot (AKA adaptor or shoe): At the bottom of the hearing aid, you will snap on a "boot". This boot usually snaps right on to the bottom of the aid where the battery door is. The boot is what electronically connects the audio source to the hearing aid, via the DAI cord. If you wear two hearing aids, you will need two boots.
2) DAI cord: The cord is what connects the hearing aid to the audio source, by plugging in to the boot, which is attached to the hearing aid. On one end of this cord is 3 tiny prongs which will plug in to the boot, and on the other end is a standard standard 3.5mm plug that will fit most headphone jacks. You will only need one DAI cord, as the cord branches off like typical head phones.
Both of these parts (the boot and cord) can be purchased from your hearing provider- they may even be free. The DAI boot will most of the time be a proprietary piece that has to come from the manufacturer of your hearing aid, but the DAI cords are standardized so you can purchase them anywhere (think Amazon).
Using DAI is dead simple. Simply attach the DAI boot to your hearing aid, and then attach the DAI cord to the boot and the external audio source, and you are set! No need to change the programs or any other settings on your hearing aids. On most hearing aids, your microphones will automatically be disabled when you are connected via DAI, which will prevent any background noise from interfering with the signal. Once your hearing aids are all configured, you should really love the sound quality provided by your DAI connection.
If you have any experience with DAI hearing aids, please post a comment below!
If you'd like a free phone consultation with a licensed hearing provider, please feel free to call us at 800-731-6794.
You might also be interested in: