(Last updated Oct 6, 2018)
How to Use a Stethoscope with Hearing Aids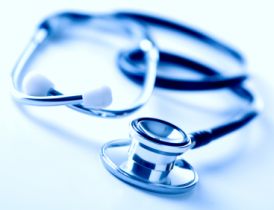 Note: We do not sell the stethoscopes listed on this page. Please do not contact us with questions, but feel free to post a comment below.
For medical professionals with hearing loss who regularly auscultate, hearing the vital internal sounds of the body can be quite a challenge. Whether you use hearing aids or not, you'll want to find a way to make sure you're hearing your stethoscope as clearly as possible. In this post, we'll outline the most popular solutions that are available. Keep in mind that successfully auscultating with a hearing loss (and/or hearing aids) can sometimes be difficult, and finding the right solution for you will probably take a bit of trial and error.
3 Most Popular Options
1) Don't wear your hearing aids while auscultating, and use an amplified (electronic) stethoscope. This is the quickest and easiest solution. Amplified stethoscopes like this one can amplify sound over 100x. These stethoscopes work very well and are so comfortable and easy to use that many healthcare professionals without hearing loss use them.
2) Use an electronic stethoscope with over-the-ear headphones. If you don't want to have to remove your hearing aids for auscultation, this is many times the best solution. Most electronic stethoscopes have sound output jacks which will allow you to use any over-the-ear headphones with the stethoscope. When your ready for auscultation, simply keep your hearing aids on, put on your headphones, plug the headphone cord into the stethoscope, and you're ready to go. Warning: In some cases, putting headphones directly over hearing aids will cause them to feedback (whistle). Your hearing provider should be able to program your hearing aids to reduce or eliminate this feedback.
3) Use an electronic stethoscope with a Bluetooth streamer This isn't an option for everyone. In order for this to work, you have to have wireless (Bluetooth compatible) hearing aids. Edit: 7/30/15: For simplicity's sake, when I say "Bluetooth compatible" hearing aids, I'm referring to hearing aids which are compatible with a Bluetooth streamer. If you bought your hearing aids within the last 2 years and they are behind-the-ear hearing aids (not custom in-the-ear aids), chances are your hearing aids are Bluetooth compatible. If you're not sure if your hearing aids are Bluetooth compatible, simply give your hearing provider a call and ask if there is a Bluetooth streamer accessory available for the hearing aid (you can purchase this from your provider). Then, simply plug a standard 3.5mm cord into both the streamer and the stethoscope, and the stethoscope sound will be wirelessly streamed to your hearing aids.
Below is a video showing how this type of setup works.
Things to keep in mind
The sounds that stethoscopes are designed to pick up are very low frequency. Hearing aids weren't designed to amplify sounds below 150 Hz, which is the frequency where most of these sounds occur. For this reason, it's a good idea to have your hearing provider program a memory into your hearing aids which emphasizes the low frequency sounds.
Get a "mute" option programmed in to your hearing aids. You need to be able to turn off the microphones on your hearing aids when your auscultating so all the background noise doesn't get in your way. Most hearing aids are capable of being "muted" with the push of a button- talk to your provider about setting this up.
If you're a medical professional and can share any tips or tricks that might be helpful to our readers, please post a comment below!
If you'd like a free phone consultation with a licensed hearing provider, please feel free to call us at 800-731-6794.
You might also be interested in: