(Last updated Oct 6, 2018)
Invisible Hearing Aids That Work With Remote Controls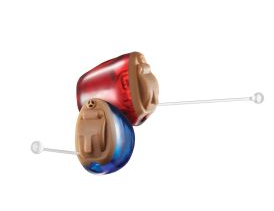 There are many benefits to invisible hearing aids: they are cosmetically acceptable for those who want discretion, their deep placement in the ear canal allows for the ear to funnel sounds naturally, they are great at reducing wind noise, and rarely cause feedback (whistling) when talking on the phone. However, one of the downsides to invisible-in-canal (IIC) hearing aids is many of them just aren't large enough to house some of the more advanced features or electrical components. For instance, most completely invisible hearing aids do not have enough room for what is called a "push-button", which allows you to manually change the volume or program of the hearing aids (without a remote control). So if you want to wear an invisible hearing aid, but also want to be able to change your volume or program, you need to have some way to remotely control your hearing aids.
In this post we'll look at some of the ways hearing aid manufacturers have addressed this issue, and hopefully you'll get a better idea of what hearing aid and control system might be best for you. Note: some of the hearing aids below are compatible with multiple accessories and even allow for features like Bluetooth streaming. However, for the purpose of this post we are only going to include accessories/apps which are designed solely for remotely controlling the hearing aid.
At the time of this post, only a few hearing aid manufacturers have truly invisible hearing aids which can be remotely controlled. Below is an overview of some of those products and their associated remote controls.
Siemens Insio binax IIC 7bx
The Siemens Insio Nx IIC is Siemens' newest IIC hearing aid. With the Insio Nx you have two separate remote control options:
touchControl app (free): This is a free app which works with iOS and Android phones. This app interfaces directly with the hearing aids and requires no additional accessories. Just get your hearing aids, download the app, and you can instantly control the volume and program of the hearing aids, as well as mute them. You can learn more about the touchControl app here.
easyPocket (around $200): If you don't use a smartphone or just want a standalone remote control, the easyPocket remote control is simple to use, with large buttons and a display screen which makes it easy to see what you are doing. With the easyPocket you can change the volume, program, and mute the hearing aids. Here is a brief video which shows how the easyPocket works.
Phonak Virto v50, v70, & v90 nano
Released 10-14-15, the Virto v nano is built on Phonak's newest Venture processing platform.
MiniControl (free – $50): If you buy a set of the Virto Q nanos, it is likely that your provider will include the MiniControl at no extra cost. If you just buy one aid, expect to pay a maximum of $50 for the control. The MiniControl is a small, metal, cylindrical device which contains a magnet that functions like a remote control. It can be setup (by your provider) to either change the program or volume of the aids (not both). Using this remote is a bit trickier than using a traditional remote control. To change the volume or program, you have to insert the magnetic end of the device into your ear (without touching the hearing aid), and then a notification will sound that lets you know that you successfully changed the setting. It's a small device, and very convenient since you're likely to always have this device on you, but it isn't the most discreet or reliable style of remote control in my opinion.
The bottom line
All of the above hearing aids are great, and the fact that they have any form of remote control puts them above quite a few manufacturers out there. It's important to note that you might not even need a remote control. Many hearing aids today are quite advanced and will automatically adjust themselves to make them comfortable in all listening environments. However, if you feel like you're going to need that extra bit of control, the hearing aids above are a great place to start.
If you'd like a free phone consultation with a licensed hearing provider, please feel free to call us at 800-731-6794.
You might also be interested in: