(Last updated Dec 17, 2020)
Invisible Hearing Aids [Reviews, Prices, Latest Models]
Gone are the days of clunky-looking pink hearing aids that fill up the entire ear, whistle, and can be seen by everyone.
Today's hearing aids are digital high tech devices- they're miniature computers in your ears, and if you want, they can even be invisible to others.
Truly invisible hearing aids, also called invisible-in-canal hearing aids, (IIC for short), were first released in 2010 and have been growing in popularity ever since.
If you think you want to buy invisible hearing aids, this post is a must-read before doing so.
Quick Navigation
What You Should Know About Invisible Hearing Aids
Before we go any further, it's important that you understand a few things about invisible hearing aids.
The most important thing to know, is that invisible hearing aids may not be right for you, and this style of hearing aid certainly has its pros & cons.
Invisible hearing aids may not be right for you if:
You have severe hearing loss. IIC hearing aids aren't as powerful as some of the other larger hearing aids. This means, if you have severe hearing loss, invisible aids may not be powerful enough for you.
You have poor dexterity. Because these hearing aids are so small, changing batteries and general maintenance requires good dexterity. If you have poor feeling in your fingers or don't have someone to help you with these tasks, invisible-in-canal hearing aids may not be a great choice.
You need features like Bluetooth, rechargeability, and background noise reduction. In order to make these hearing aids as small as possible, manufacturers can only leave room for essential features. As a result, they usually don't have features like Bluetooth compatibility, rechargeability, or state of the art background noise reduction.
For a general overview of invisible hearing aids, we recommend watching the video below…
All About Invisible Hearing Aids
What are the Best Invisible Hearing Aids of 2020?
Based on a survey of hearing providers nationwide, and feedback from our customers, our rankings for the best invisible hearing aids of 2020 are as follows:
Starkey Picasso
Signia Silk
Phonak Virto Titanium
#1: Starkey Picasso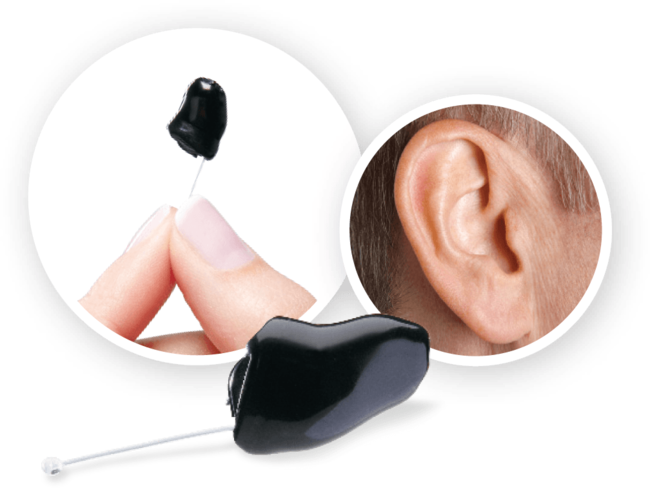 Price: Starting at $1399 each
Why we like it
Starkey has always been known for building the best custom in-the-ear hearing aids, and pioneered the invisible-in-canal (IIC) style hearing aid in 2010.
Starkey has consistently demonstrated the ability to build custom hearing aids smaller, and with more power, than other hearing aid manufacturers.
Here's a Starkey Picasso I had custom-made for my ear- just look how discreetly that fits!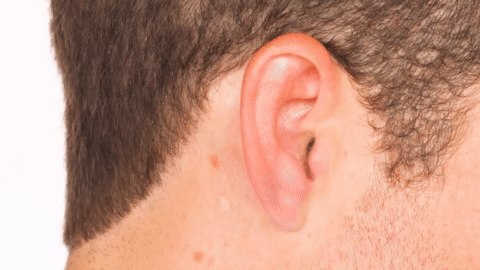 We think that for most people, Starkey Picasso will be the most discreet hearing aid on the market.
Side note: Starkey has been the choice of a handful of US presidents.
If they're good enough for a president- they're good enough for you!
How to remotely control it (optional)
Depending on the model you purchase, you can control the volume and program with either the Starkey T² Remote App (iPhone & Android compatible), or their Surflink Remote.

#2: Signia Silk
Price: Starting at $999 each
Why we like it
Seriously? Just watch the video!
The Signia Silk is unique among in-the-ear hearing aids, for the following reasons:
It can be instant-fit, off-the-shelf. You don't need to wait weeks for it to built like you do with all other in-the-ear hearing aids.
You can control it from your phone. Adjusting sound settings like bass/treble, volume, program, and tinnitus therapy can all be easily handled with the accompanying smartphone app.
Unlike off-the-shelf in-the-ear products of the past that were non-custom amplifiers, this hearing aid can be custom-programmed to your precise hearing loss.
We like the Signia Silk in second place, because realistically, if you try the Starkey Picasso and aren't happy, you're likely going to need something drastically different- and that's what the Signia Silk is.
How to remotely control it (optional)
Download the Signia App (iPhone & Android compatible), and you can adjust volume, program, base, treble, and on some models, microphone directionality.


#3: Phonak Virto Titanium
Price: Starting at $1999 each
Why we like it
Traditionally, invisible-in-canal hearing aids have not been synonymous with "strong." If it falls out and hits a hard surface, it could be "game over" for the hearing aid.
Phonak Virto Titanium doesn't just have titanium in its name, it's actually made of the precious metal.
This allows the hearing aid's shell to be 50% thinner than an acrylic shell (the material used to make other customer hearing aids), which results in a smaller and stronger hearing aid.
How to remotely control it (optional)
The Virto Titanium can be built with a push-button on the battery door, which will allow you to change the volume or program. Or, you can order a keychain remote called "Mini Control" which will provide the same functionality. You cannot choose both- it's one or the other.


How Much Do Invisible Hearing Aids Cost?
Invisible hearing aid prices usually range from around $1,000 per hearing aid, to well over $3,000, depending on the source from which you buy.
We find that invisible hearing aids are typically sold at a slightly higher price than non-custom off-the-shelf hearing aids, like RIC style devices, due to the longer and more involved fitting process.
Here is an estimate of what you can expect to pay for an invisible hearing aid in the U.S.
| Technology Level | Average Price |
| --- | --- |
| Premium | $3200 |
| Advanced | $2900 |
| Mid | $1800 |
| Entry | $1400 |
| Economy | $1000 |
How to Buy Invisible Hearing Aids
If this is your first time buying hearing aids, you may be surprised to learn that buying a hearing aid is not like buying a regular consumer electronic device.
Buying an invisible hearing aid is at least a 3-step process.
Step 1: Get a Hearing Test
The only way to know if invisible hearing aids will even work for your hearing loss, is to first, get a hearing test. Hearing tests are conducted by local hearing care providers, either audiologists or hearing aid dispensers, and usually range from $0-$150.
If you need help finding a good local hearing care provider, feel free to call us at 800-731-6794.
Step 2: Get Ear Impressions Made
If you buy an invisible hearing aid that is custom-molded, you'll need to get impressions made of your ear.
This is a painless 5-minute process in which the hearing provider fills your ear with a silicone impression material, which will be used to build the custom hearing aid for you.
This ensures a perfect and discreet fit.
If you buy an off-the-shelf model like the Signia Silk (mentioned above), ear impressions are not necessary.
Step 3: Pick up Your Hearing Aids
Usually at least a week later, you'll have an appointment to pick up your newly made hearing aids.
At this appointment, the provider will ensure a comfortable and discreet fit, and then custom program the device to your exact hearing loss, using their computer.
You'll be instructed on proper use and care, and will usually be scheduled for a follow up appointment at least a week later, in which further programming or physical modifications to the devices can be made.
If You're Told Invisible Devices Won't Work For You
…get a second opinion.
We often hear from customers of ours who are actually decent candidates for invisible devices, who report to us that they've been told by a hearing provider that they cannot wear them.
This may not be entirely true.
There are a fair amount of hearing providers who loathe custom hearing aids, especially the smallest most discreet custom hearing aids, and as a result will "disqualify" just about every candidate who comes to them inquiring about them.
So if you've been told you can't wear invisible hearing aids, and especially if that is the only style of hearing aid you want to wear, we recommend seeking a second opinion.
Interested in trying invisible hearing aids? Call us at 800-731-6794 to schedule a local consultation!
You might also be interested in: