Phonak Audéo S Smart User Review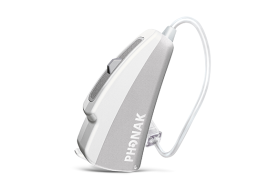 The following hearing aid review was submitted by Edwin K. of Utah, who is a hearing aid wearer and reader of our blog. Originally launched in 2011, the Audéo S Smart is still available to consumers, but if you are interested in new hearing aids you might want to check out Phonak's latest models, the Audéo V hearing aids. The Audéo S Smart is available in 3 technology levels, the III, IX, and V. This review is for the Audéo S Smart III, which is the more basic hearing aid in the S Smart family.
Edwin's Review of the Phonak Audéo S Smart III
How are you wearing this hearing aid?
It's a receiver-in-canal style, so the majority of the aid sits behind the ear and I have a custom ear mold inside the ear.

How would you classify your hearing loss?
Moderate

Is this your first time wearing hearing aids?
No, I previously wore an older Phonak model. I was not completely satisfied with their directional focus and have noticed an improvement in that area with these aids. A lot more of this hearing aid actually fits inside the ear as well, while still being much less obtrusive than my previous aids.

What is one thing that has surprised you about these aids, and what's one thing you don't like about them?
The Bluetooth connection has surprised me- it's good. The aids sometimes interfere with my glasses, that's the only issue I have.

Did you purchase any accessories?
Yes, I purchased the ComPilot for Bluetooth streaming and the PilotOne for a basic remote control. Both of these devices really simplify my life with their functionality and make sound levels much more tolerable.

What has been your overall experience with these hearing aids?
I love these hearing aids because they are programmed to my hearing profile for each ear. I have only had to return for reprogramming as my hearing has changed. They are also able to function and be tuned to directional sound. They can also be tuned by the remote control to filter out water noise and other local background interference. They can be tuned to different voice pitches to improve clarity. On a scale of 1 to 10 I would give them a 7. The blue tooth feature allows me to use them in the car on its radio, Television cellphone and GPS without disturbing other people. I can also tune out the sound of the car engine. The hearing aids are easy to clean and maintain. The battery life is a little short but then I can test for battery strength when I take them off each night so it is not a problem. I do not feel that $ 1,430. is too much to pay for quality hearing. The only advice I would give someone else is to get hearing aids that are in the ear so not to conflict with eye glasses.

Thanks Edwin! If you have experience with the Audéo S Smart hearing aids and have something to add, feel free to do so in the comments below.

If you'd like a free phone consultation with a licensed hearing provider, please feel free to call us at 800-731-6794.