Phonak Introduces New Bolero V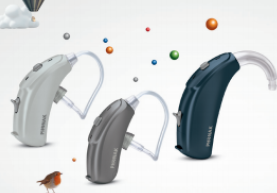 Coinciding with the opening day of the AudiologyNOW! conference in San Antonio, TX, Phonak has just announced the addition of a new hearing aid to their Venture platform, the Bolero V. The Venture platform debuted in October 2014, powering the Audéo V family of hearing aids. For the last 6 months, if you wanted to take advantage of this new platform, you had to wear a RIC (receiver-in-canal) style hearing aid. However, as of today the Venture platform is now available in the BTE style, in the all new Bolero V. There is no word on when the Venture will be available in custom models, but we will report here when it is announced. Here is a link to the original press release.


How much does the Phonak Bolero cost?
Our prices for the Bolero are as follows (per hearing aid):
Our prices include a full manufacturer warranty, 1 year supply of batteries, and local service from a licensed hearing provider. To learn more about how our nationwide program works and how you can get an excellent deal on a Phonak Bolero, please see this page: How it Works.
You might recognize the name Bolero, because Phonak's previous platform (Quest), also had a Bolero model. So the Bolero Q was the predecessor for Bolero V. Because the Bolero V is built on the Venture platform, it has a few distinct advantages over the previous Q model. Processing power has been increased, battery drain has decreased by 30%, and it runs on AutoSense OS, the central brain of the Venture hearing aids. In addition, the Bolero V aids have newly designed housings and are also the first Phonak BTEs to feature the Tinnitus Balance noise generator, which is a built-in feature for all Bolero V hearing aids. In conjunction with the Tinnitus Balance smartphone app, this feature generates soothing sounds through your hearing aids to ease the sensations of tinnitus.
The new Bolero V is available in 3 models, the M, P, and SP. How do you know which model is right for you? The results of your hearing test will be the biggest determinant. For example, the M (pictured left) is best for mild to moderately-severe hearing losses, the P, for mild to severe losses, and the SP for moderate to profound hearing losses. Each of these styles can be worn as a slim tube BTE, or with an earhook as a traditional BTE for more power. Functionality doesn't vary a lot from model to model. The biggest thing to keep in mind is that if you select the "M" model, it uses a size 312 battery as opposed to 13, and doesn't have an onboard volume control. The "M" is also not (direct audio input) compatible.
All of the new Bolero V hearing aids will work with Phonak's full range of wireless accessories. Each of these styles is available in 4 technology levels, V30, V50, V70, & V90. To see which features are available in each technology level, see this list.
Because this hearing aid is brand new, we don't have any reviews yet, but they are sure to start trickling in. If reviews of the Audéo V90 are any indication, this hearing aid is going to be a winner! If you have experience with this new hearing aid, please post a comment below.
If you'd like a free phone consultation with a licensed hearing provider, please feel free to call us at 800-731-6794.