Phonak Virto Q Review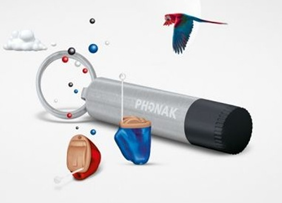 Note: The Phonak Virto Q has been replaced by the newer Virto V. The Phonak Virto Q hearing aids were released in October of 2012, and are Phonak's most advanced custom hearing aids available. If you're interested, you can see the prices of the Virto Q hearing aids here. The Virto Q line takes the place of the older Ambra, Solana, Cassia, and Dalia hearing aid lines. The "Q" in Virto Q stands for the Quest platform, which introduces new technology to the custom hearing aid line. Here is a promotional video by Phonak which gives a general overview of the Quest technology. The biggest improvement with the Virto Q (over older hearing aids), is the Quest platform which is based on the unique Binaural VoiceStream Technology.


Binaural VoiceStream allows your hearing aids to communicate with each other to enhance your ability to hear clearly in a number of different environments. This new technology lets the hearing aids communicate with each other so they can do things like change amplification levels automatically when needed. Binaural VoiceStream Technology detects the speech signal and ensures that you can hear it clearly in both ears, making adjustments when necessary. Our natural ears work together when we are listening to sounds, so it makes sense that hearing aids would do that as well.
The Virto Q line-up is available in 4 different styles:
ITE (full shell with a size 13 battery)
ITC (half shell: 312 battery)
CIC (completely in canal: 10 battery)
Micro CIC or Nano (invisible in canal, IIC: 10 battery)
It's important to note that not all of these styles have the same feature sets due to size limitations. In fact, the CIC and MicroCIC (nano) do not even have Binaural VoiceStream Technology. If you want wireless functionality (Bluetooth and StereoZoom features), you'll need to get either an ITC or ITE, as those technologies are only available with a size 312 or 13 battery. If you want a more discrete aid that utilizes these technologies, than you're better off looking at the Bolero Q or Audeo Q lineup of RIC devices. We don't have any user reviews of the Bolero Q yet, but there are a few positive Audeo Q reviews.
The Virto Q line is available in 4 different technology levels and retail price points.
Q30: Entry- $1049/aid
Q50: Mid- $1149/aid
Q70: Advanced- $1599
Q90: Premium- $2199/aid
The Virto Q styles work with the Phonak DECT CP1 cordless phone, the Phonak ComPilot, TVLink S, and PilotOne accessories. However, due to size restrictions the Nano or Micro CIC only works with its own accessory called the MiniControl, which is a small key-chain remote that can be used to change the volume and program. There have not been many reviews posted of the Virto Q hearing aids online, but you can see one very brief review posted here.
Ready to take the next step and try a Virto Q device? Find a Phonak provider near you using this tool.