Siemens Extends Binax Platform to New Insio and Motion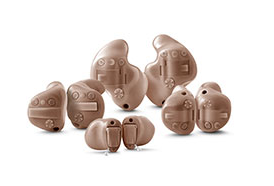 In October 2014 Siemens introduced their new binax platform and made that technology available in 3 different RIC style hearing aids. With this release came claims that we'd never heard in the hearing aid industry, like "clinical studies have proven that binax allows wearers to understand speech in difficult listening situations even better than people with normal hearing." The binax hearing aids have been available for 5 months now, and I've heard nothing but good reviews. To me, what's even more telling is the number of hearing providers that I've spoken to who hadn't recommended Siemens hearing aids in years, and are now routinely fitting binax hearing aids to their patients. Siemens has a winner with binax, and they've now extended that technology to custom products, a new line of BTEs, and a new, more affordable technology level.

How much does the Siemens Insio & Motion cost?
Our prices for the Insio/Motion are as follows (per hearing aid):
Insio/Motion 7bx: $1949.00
Insio/Motion 5bx: $1499.00
Insio/Motion 3bx $1299.00
Our prices include a full manufacturer warranty, 1 year supply of batteries, and local service from a licensed hearing provider. To learn more about how our nationwide program works and how you can get an excellent deal on an Insio or Motion, please see this page: How it Works.
Here's what's new:
Insio binax: Until now, if you wanted to take advantage of the binax technology, you had to purchase a RIC hearing aid. The Insio binax family is an entire family of custom aids, from ITEs to completely invisible IICs. All of these hearing aids (with the exception of the IIC style) benefit from the same e2e wireless 3.0 technology and binaural directionality as the RIC styles.
Motion binax: The Motion binax is a new line of BTE's available in three different styles. These newly designed BTE's can fit a wide range of losses, and are particularly well suited for those with severe to profound hearing loss, as they can provide up to 10db more gain than the RICs.
3bx technology level: It's always nice when premium technology trickles down to more affordable technology levels. The binax technology was previously only available in the 7bx or 5bx technology level. However, all binax hearing aids (Pure, Carat, Ace, Motion, & Insio) are now available with the more affordable (yet not quite as fully featured), 3bx technology level.
All of these new hearing aids are compatible with Siemens' free touchControl app, as well as the miniTek, EasyTek, and easyPocket accessories, ensuring seamless connectivity to all of your devices and total control of your hearing aids. The Insio binax and Motion binax aids are brand new, so we don't have any consumer reviews on them just yet, but bookmark this post and we should see some soon!
If you'd like a free phone consultation with a licensed hearing provider, please feel free to call us at 800-731-6794.