(Last updated Jul 18, 2019)
Signia Silk Instant-Fit Hearing Aid Coming in November
We've just learned that in November Signia hearing aids will be releasing a brand new discreet hearing aid that will be classified as "instant-fit". The Signia Silk will be in a tiny one-size-fits-all form factor that in most ears will be as discreet (if not more discreet), than traditional custom-molded CIC hearing aids. The Signia Silk is available with 6 different "Click Sleeves," which are made of flexible silicone to ensure a comfortable fit.
Finally! A video review of Signia Silk 🙂
How does Signia Silk differ from the current Signia Insio hearing aids?
Although the Signia Silk is an in-the-ear hearing aid, it's not custom-molded, unlike Signia Insio hearing aids. The Signia Silk is designed for those patients who don't want to wear a behind-the-ear hearing aid, but also don't want to wait the usual 7-14 days for custom hearing aids to be built. The only real difference between Signia Silk and Signia Insio is the form factor. The underlying primax technology which powers Insio hearing aids is also available in the Silk hearing aid. So the Signia silk is wireless, programmable, digital, and compatible with all of Signia's accessories.
How much will the Signia Silk cost?
Because these hearing aids come equipped with Signia's flagship primax technology, these hearing aids will be priced the same as all other primax hearing aids.
Our pricing for the Signia Silk is as follows:
Size and comfort of the Signia Silk
In the faceplate/battery door area, the Silk is the same size as most CIC hearing aids- after all, it is powered by a size 10 battery. However, towards the canal of the aid (where the receiver is), the hearing aid tapers down significantly, no doubt to ensure that this hearing aid will fit all ears discreetly. And it does fit discreetly. I have terribly narrow ear canals and just about all CIC hearing aids are very noticeable in my ears- yet the Silk fits deeper in my ear and more discreetly than any CIC I've worn. It also fits more comfortably than any custom aid I've ever worn. Because the receiver of the hearing aid is basically suspended in the ear canal by the flexible silicone Click sleeve, this hearing aid feels quite similar to a receiver-in-canal hearing aid when worn, and doesn't give the occlusion that most custom hearing aids do.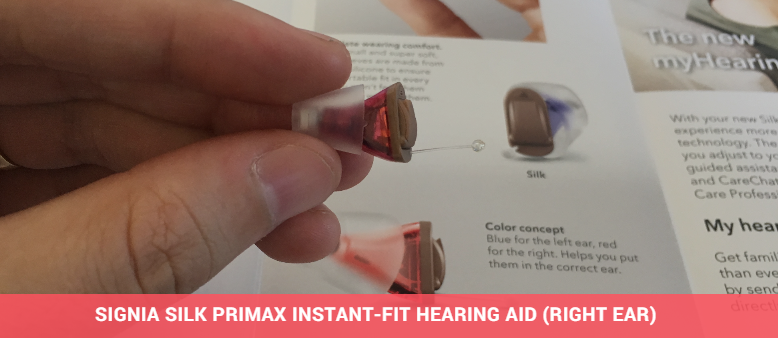 Is there any reason I shouldn't get the Signia Silk?
Maybe. My two concerns with this hearing aid is feedback with patients that have a moderate to severe hearing loss. Because the microphone and receiver are so close together on this hearing aid, and because the aid doesn't create a tight seal in the ear, there is potential for leakage and therefore feedback or whistling. That of course will depend on the exact configuration of your hearing loss, and may be remedied by choosing various sizes of Click sleeves.
My other concern is how well the hearing aid will stay put in the ear canal. Because it's not custom-molded, you don't feel it "pop" into place in the ear canal like you do with so many custom hearing aids, so I am slightly concerned about it moving around and potentially falling out if I'm very active while wearing the aid. Alas, Signia Silk hearing aids come with a loss warranty, so it's not a huge deal if the aids is lost- but still, a concern.
Summary
I think the Signia Silk is a great solution for those patients who don't want to wear a behind-the-ear hearing aid, but aren't quiet ready for a custom-molded hearing aid. There are several advantages to the Signia Silk, and I'm already thinking of several customers of ours in the last year who didn't do well with custom-molded hearing aids, but preferred not to wear a behind-the-ear hearing aid. The Signia Silk may fit the bill for those patients.
Want to read customer reviews of the Silk hearing aid? Stay tuned- in a few days we'll upload 360 degree photos of this hearing aid and create dedicated product pages, where you can see pictures, prices, user reviews, and more! Update: We now have pages on our site for the Signia Silk!
You might also be interested in: