(Last updated Oct 6, 2018)
Starkey Halo i110 User Review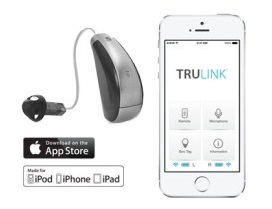 The following hearing aid review was submitted by Bob L., who is a reader of our blog and has just purchased his third set of hearing aids. This review is for the Starkey Halo i110 in the RIC (receiver in canal) style, with small custom earmolds. If you'd like to learn more about the Starkey Halo, you can check out Starkey's website or see this blog post which gives an overview of the Halos and includes lots of user reviews in the comments section.
Bob's Review of the Starkey Halo i110 RICs with earmolds
I am 68 years old and work in the computer industry as a technician. I am also a musician part time so it's really important to be able to hear clearly, espcially singing or dj'ing. Over the years I guess the loud music took a tool. I also used to work as a meat cutter when I was younger and we constantly had the saws running, which I suppose also contributed to my hearing loss, as well as just the gradual aging process. My high frequencies are pretty bad, and my low frequencies are average I guess.
Before my hearing aids I had lots of trouble understanding the words people were saying, especially the "th" and "s" sounds. My wife would get aggravated because I would always be saying "what..what did you say." It was the same story with the kids. I have worn hearing aids before, most recently, another set of RICs from Starkey. The last hearing aids I wore from Starkey were just "ok", but I had a lot of trouble with low voices or women's voices. I wasn't too satisfied or impressed with them.
I just got the Halo 110's yesterday after having in-ear molds made which allows more power and less feedback. Before I mention the performance of the aids, I will say that I was very impressed with Starkey's working with the provider I chose, in getting the aids to fit perfectly and getting things working to the best of their ability. What I can say so far is that for the past 7 or 8 years I have worn hearing aids, and as soon as I put these 110s on, the high end was awesome, which of course makes the clarity of people speaking great. In addition, I can finally talk on my iPhone and hear. It's only been one day and I love them already.
These hearing aids have a lot of functionality and so are more complex than aids I have worn in the past, so I have lots of learning and adjusting but I am sure I'm going to really enjoy these. My provider gave me one programming memory by default, and I have already set up the "work environment" and "home environment" programs which are really helpful. One feature in particular that I am impressed with is when you set a memory setting, the GPS picks up the address you're at and then can automatically switch to that setting next time you are in that spot. I am loving them so far and would highly recommend the Halos.
Thanks for the review Bob! If you have a question or comment, please feel free to post it below.

Notes from ZipHearing: The feature Bob mentioned that allows him to create custom programs is called "SoundSpace", and the GPS feature is called "Geo-tagging." You can learn more about the TruLink App and the Halo's capabilities by visiting Starkey's website.
If you'd like a free phone consultation with a licensed hearing provider, please feel free to call us at 800-731-6794.
You might also be interested in: