Starkey Halo i90 RIC User Review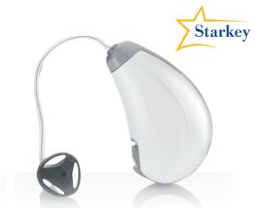 The following user review was posted by Robert M., who is a reader of our blog and a ZipHearing client. The Starkey Halo is one of the most popular hearing aids on the market right now, thanks to its Made for iPhone capabilities. To check out more details on the Starkey Halo, please visit Starkey's website. If you have experience with the Halo, please consider leaving a review on its product page linked above or in the comments below.
Robert's Review of the Starkey Halo i90 RIC
I am a 68 year old retired male with moderate hearing loss primarily in the higher frequencies. Both right and left ears have about the same loss. My hearing loss was most likely due to aging, and I believe it was gradual- there was no specific incident or factor which caused the loss. I began to notice increased difficulty hearing my grandkids and spouse from a distance or from a separate room. Soft or quiet voices were also a problem, especially in a noisy room.

After a year or two of the wife's urging, I decided to explore getting hearing aids, primarily by talking with friends. I took a couple of free hearing tests and tried on their their top-end hearing aids. Comparing ZipHearing's prices compared to what my local dealers wanted to charge me (which I felt was exorbitant), urged me to call ZipHearing. My local rep, (in Hawaii), did not pressure me to buy the highest end model, he recommended what we both thought would be best for my needs and budget. I finally settled on the Halo i90 due to it's iPhone compatibility and price. My price ended up being $2200 per hearing aid. The hearing aids came with a full warranty, a supply of batteries, and of course local service- I was convinced.

As far as a general review of the hearing aids, I would rate them a solid 9/10. There were some initial problems with Bluetooth connectivity but those are gone, mainly thanks to keeping up with iPhone updates. The aids are comfortable, in fact I had to learn to take them out before showering. Using the iPhone to control settings is a dream. I have noticed that upon occasion Bluetooth connection is lost but it seems to come right back. I don't make full uses of the 20 self-set settings only because being retired I don't have that many needs. The GPS does not allow me to pre-select for example two settings within the house I suppose because of proximity, but not a big deal. I find the i90 a good compromise between the i70 and i110. Kudos to my local rep, friendly, knowledgeable, and always available.

Thanks a lot for the review Robert!

If you have any questions or comments about this hearing aid, please feel free to post a comment below.

If you'd like a free phone consultation with a licensed hearing provider, please feel free to call us at 800-731-6794.