Starkey VFusion Rechargeable Hearing Aid Batteries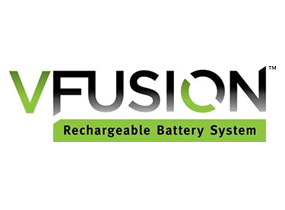 In the past, if you wanted to significantly reduce the amount of hearing aid batteries you were going through, you had one option- wear rechargeable hearing aids. Only a few manufacturers actually make rechargeable hearing aids though, so finding distributors and people to service those hearing aids can be challenging. Also, since only a few manufacturers make them, you don't really have a wide choice of options when choosing which hearing aid is best for you. In the coming days and weeks Starkey Hearing Technologies is rolling out a new technology that will give environmentally-conscious hearing aid wearers a more efficient way to use hearing aid batteries- by recharging them.

Starkey Hearing Technologies's new VFusion Rechargeable Hearing Aid Batteries promises to reduce the amount of batteries you are going through each year, increase the reliability of your aid's battery life, reduce your carbon footprint, and just maybe save you a little bit of money as well.
The concept is simple. The VFusion device lets you recharge special hearing aid batteries which you can buy from your Starkey provider. These batteries can be used daily and will need to be recharged at night. This system is proven to be reliable. In Starkey's testing, users did not report needing to change their batteries at all during the entire day- they lasted 18+ hours. This is even better than traditional hearing aid batteries, as some are simply "duds" and don't last longer than a few hours. With the VFusion technology, you can be sure you are getting a fully powered (quality) battery which will last the whole day.
Operating the VFusion is simple. The device actually looks like a thumb drive, or a flash drive, which has a slide-out compartment which holds 2 batteries at a time. You simply set the batteries in the compartment and they are held there by the magnetic surface while they charge. The device has a USB charger which plugs in to your computer to charge. Alternatively, you can connect the USB charger to a wall charging cable and charge it in a regular outlet- just like the newer iPhone charging system. The VFusion powers each battery to last 18 hours a day, which should be plenty of time for most hearing aid wearers. You can keep recharging the same battery for up to 6 months as well, so it really cuts down on the batteries you'll need to buy. In order for the VFusion to work, you have to purchase special VFusion batteries from Starkey which will probably cost around $30 each. In addition, you'll need to buy the VFusion charger which will retail for around $130. So with an upfront investment of around $130 for the VFusion device, and a recurring bi-annual cost of around $60 for the (2) batteries, you can power your hearing aids all year long with only 4 batteries total.
There are a few limitations with the VFusion battery charger. First, you can only use it with Starkey hearing aids. Using the VFusion with aids from other manufacturers may cause damage to those hearing aids. Secondly,the VFusion only works with some of the Starkey hearing aids. They must have either a size 13 or 312 battery, and they must be non-wireless hearing aids. This technology is backwards compatible- so it works with hearing aids that were released several years ago, all the way back to the S Series line-up. One of the great things about VFusion, is if your battery suddenly dies and you don't have time to recharge it, you can put in a regular old hearing aid battery and the aid will work just fine. This is a big improvement over rechargeable hearing aids, where you would be stuck with no hearing if your battery died.
If you wear a Starkey hearing aid and are interested in purchasing a VFusion charging system and a few rechargeable batteries, contact your hearing provider to ensure that your hearing aids are compatible with it.
If you'd like a free phone consultation with a licensed hearing provider, please feel free to call us at 800-731-6794.