Starkey Xino 110 vs. Widex Dream 440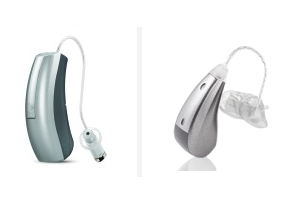 The following review is a guest post submitted by a frequent reader, "Mark", and is a comparison between the Widex Dream 440 and Starkey Xino 110. This review is from Mark's perspective as he tries to find the right hearing solution for his 6 year old daughter. If you have experience with either of these hearing aids, please feel free to chime in in the comments section below.
My 6 year old daughter was recently diagnosed with a hearing loss about 18 months ago. Her loss is severe and has a complicated cookie bite pattern. Initially, she was fitted with Widex Dream 440 aids in June, 2013. They did not work out very well for her; even after numerous adjustments. We subsequently visited Starkey Labs in MN (in September 2013), where she was custom fit with Starkey, Xino aids. Because we went directly to the manufacturer, they were able to manufacturer her aids on the same day. We stayed an extra day in MN to confirm that we did not need any programing adjustments.

Here is the review between the 2 aids:
Feedback (whistling/squeaking)
Widex: Feedback noise was simply unbearable for our daughter. It was a constant problem despite attempts to adjust programming and molds. This was probably the number one problem that drove her a little batty. This was very uncomfortable for her (and for mom and dad). We could not give her a hug without squeaking/whistling in her ear.
Starkey: There is virtually no feedback or squeaking.
Moisture resistance: Our daughter is a tennis player and Irish Dancer
Widex: As soon as our daughter would break a sweat, the aids kept on rebooting or turning on and off by themselves. It was very frustrating for her and it would affect her performance. This also was a problem in gym class.
Starkey: After 10 months of using the Starkey aids, there have been no moisture related issues at all. In fact, Starkey advises that she could walk in drizzle or slight rain without an umbrella and there would be no issues.
Sound Quality
Widex: In comparison to the Starkeys, the Widex sound quality could be best compared to a baby monitor. She would have trouble hearing electronic sounds (Television, IPAD, Computer, Radio, etc.). She did hear electronics well with the TV Dex and M-Dex (accessories for the Widex aids), but that would tend to isolate her from family activities.
Starkey: We explained all this to Starkey when we visited them at their MN facility. We also said, we wanted the M-dex, TV dex equivalent. They immediately said that their goal was to fit her with aids that would not require her to use the dex systems to hear the tv, radio, i-pad, etc. They said with their technology, she should hear the words just as well as we do (mom and dad). We just were surprised that would even be possible after our experience with the Widex. However, they delivered. Not only could she hear the TV and IPad, but she could hear it without the volume being turned up. Her word discrimination test was over 90%.
Loudness Complaints
Widex: She grew paranoid of public places (ie mall, restaurants, movies, etc). It was just too loud for her. She would shut down and not talk or participate. We attempted programming adjustments (including activating the comfort setting) but that did not help.
Starkey: She does not complain about loud sounds. She engages in conversations during dinner at a restaurant or at a large gathering.
Speaking
Widex: When she was fit, the biggest behavioral change was that she just started to speak less and less. When we would pick her up from school and ask how her day went, she would ask us to stop talking because we were giving her a headache. This is when we really started thinking: could the Widex Dream be the best treatment for her?
Starkey: The minute she was fitted (and I mean a minute), she could not stop talking. She still can't stop talking, singing, etc. She just turned into a better kid. The best part is that she tells us all about her day in school as soon as she gets picked up.
The biggest feedback was from her teachers. After the change from Widex to Starkey aids, she demonstrated improved listening skills (relying less on visual aids). She also engaged more in socializing with other kids and has made more friends since she was fitted with the new aids.
Another big factor is that after the audiologist was unable to fix the Widex issues, we contacted Widex directly to see if they could work with us on the issue. However, that process was very difficult. They really did not want to discuss anything with us directly; they wanted to do it through the audiologist. This was not an option as our relationship was breaking down with the audiologist. Starkey on the other hand has taken every phone call and responded to every e-mail.
I would also like to conclude by informing you that Starkey is the largest American made hearing aid manufacturer. I have met many of their employees and all are dedicated and highly trained professionals. It is amazing how caring and nice they are. They also have a foundation where they try to fit over 100,000 children annually with free hearing aids all over the world. Some of their work is showcased on Operation Change, which airs on OWN tv channel.
If you'd like a free phone consultation with a licensed hearing provider, please feel free to call us at 800-731-6794.