Unitron Moxi² Kiss 16 Review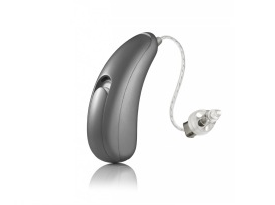 The following hearing aid review was submitted by Karen G. of Nevada, who is a reader of our blog and first-time hearing aid wearer. Released in October of 2013, the Moxi² Kiss 16 is a discreet 16 channel hearing aid that is Bluetooth compatible with the purchase of additional (optional) accessories. There are 5 technology levels in the Moxi² Kiss family, and you can see the prices for each of them by check out our list ofhearing aid prices.
Karen's Review
I worked in emergency communications for years. During that time, radio and computer systems were being tested. While testing, we wore headsets with ear pieces in the ear. Very often we would get loud feedback from the radios, which would be very painful in the ear. Over time, I believe this, along with aging contributed to my hearing loss. I am at a point in my life where my hearing, or lack thereof is influencing my lifestyle.
I finally made an appointment with an Audiologist at the urging of my husband. The doctor was very patient with me and completed my hearing exam. With his expertise, he recommended I try the Unitron Moxi² Kiss 16 hearing aid with the open fit. I tried these aids for a week, and was very pleased with the performance of the aids. After my initial week, we increased the volume just a smidge, and tested it for another week. I found myself engaging in more conversations, because speech was much more clear, and not mumbled. I also began to hear things I hadn't heard in years, such as newspapers rustling, and footsteps in another room.
I have had a great experience with these aids. The batteries seem to last approximately one week. I also find these hearing aids comfortable to wear, and easy to acclimate to them. I also like the fact that these aids can be adjusted volume wise very easily. The fact that they come in different colors is also nice. The size of these aids are so small, they are not noticeable while wearing them. My husband says he can hardly see them. These aids are so much more advanced from the aids my daughter has worn over the last 30 years. I would recommend these aids to her, if they are available for her level of hearing loss.
Thanks for the review Karen! If you have experience with this hearing aid, please post a comment below!
If you'd like a free phone consultation with a licensed hearing provider, please feel free to call us at 800-731-6794.