(Last updated Feb 12, 2019)
Unitron Moxi Now: The Smallest RIC Hearing Aid in the World

Today I'm pleased to announce a brand new, exciting hearing aid to our portfolio of products available nationwide.
In an industry often plagued by look-alike, me-too, copycat products, it's a breath of fresh air to be introducing the newest hearing aid by Canadian hearing aid manufacturer Unitron. Coming in at just 20.2mm tall and 6.5mm wide, the all new Moxi Now holds the undisputed title of Smallest Wireless RIC Hearing Aid. In the world.
A few weeks ago, I was lucky enough to get a set of these brand new aids shipped to our office (along with a handwritten card in true Unitron style.)
After programming the hearing aids and sizing them to my ears, I took to wearing them for a couple days to see how they performed.  Although I don't have a hearing loss, there is plenty to test on the units themselves, and being a hearing instrument specialist, I think I have a good handle on how our customers may perceive the hearing aids.
While wearing these hearing aids, I was testing them for their comfort, usability,  battery life, and their compatibility with a couple of Unitron's most popular accessories. Of particular interest to me was a few of the technologies that make Unitron the most customer-centric hearing aid manufacturer- the uControl 2.0 app (primarily the my Ratings feature), as well as the Log It All feature.
Just how small is the Moxi Now hearing aid? 
At 39% smaller volume than Unitron's next smallest RIC, and 14% smaller than the next closest competitor, the Moxi Now is without question the smallest RIC hearing aid I've ever seen.
Below are just a few photos we snapped which hardly do this tiny hearing aid justice.

This size comparison is not to knock the larger Moxi Fit, version, as that was already very discreet and for many people a cosmetically acceptable hearing aid. It's merely to show that Unitron has taken small to the next level with the Moxi Now.
How does the Moxi Now look when worn? 
Not only is the Moxi Now the smallest RIC hearing aid I've ever seen, it's the most discreet I've ever worn. I feel it's important to note that I'm not advocating that hearing aids be hidden, or that they need to be, but cosmetics is a huge concern to many of our customers.
You'll notice from the picture below that I chose the Silver color. If I wanted these to be a bit more discreet, I would have chosen the Espresso color, which would better match my hair color. Even still, these hearing aids are hardly noticeable.
The Moxi Nows are incredibly comfortable- I completely forgot that I was wearing them almost every day.

What about performance? A hearing aid this small must've made some technological trade-offs, right? Not so!
This hearing aid has all the functionality you would expect from a digital state of the art hearing aid, and then some! Below are just a few of the capabilities of these hearing aids that I found notable (in no particular order):
SoundNav automatic program: The primary reason to purchase the Pro version of these hearing aids is to take advantage of the most advanced version of Unitron's SoundNav program. SoundNav allows these hearing aids to continually sense the environment in real-time and adapt automatically. The benefit of SoundNav is your hearing aids are constantly scanning the environment and self-adjusting, largely preventing the need for manual adjustments of the volume and program. This Pro model can adjust into 7 different sound modes based on your environment.
SpeechZone 2: Another great reason to choose the Pro level technology is for the SpeechZone 2 feature. This feature adjusts the microphones in noisy situations to focus on speech from any direction. SpeechZone 2 is Unitron's most advanced speech enhancement feature and is only available in the Pro model. If you struggle to hear in background noise, this is a feature to pay attention to. When I wore these hearing aids at a noisy restaurant, it was easy to hear SpeechZone2 at work- and the benefits are immense.
Battery Life: When the Unitron representative that I work with told me to expect 4 days of battery life with the Moxi Nows (even for patients with severe to profound hearing loss), I really didn't believe it. I left these hearing aids powered on even when I wasn't wearing them, and it wasn't until day 5 that I had to change a battery. So considering that actual wearers will power them down at night and the battery life may be even longer, I'm really optimistic about this aspect of the Nows.
Binaural Phone: Imagine answering a call as you normally do, bringing the phone to your preferred ear, but then hearing the caller through both ears. This is exactly what the Binaural Phone feature does- and boy does it make the sound come through clearly. I had to MacGyver my iPhone a bit to make this work, by attaching a tiny magnet to the speaker, but any hearing provider can do this for you if you need it.
Log It All: Many hearing aids perform what's called "data logging", but few do it as intelligently as Unitron hearing aids. Log It All not only tracks metrics like your preferred volume level, or percentage of time in certain environments, but it also provides data to your hearing provider at each follow up visit, to ensure you've selected the right technology level.
For instance, imagine if your lifestyle recently changed and you found yourself in many noisy environments. You might at the same time realize the hearing aids aren't performing as well as they used to. At a follow up fitting, your hearing provider will be able to analyze the environments you spend your time in, and the software will demonstrate the improvements you'd have by upgrading to a higher technology level- at the click of a button.
I found this feature to be very interesting- and accurate. According to Log It All, I spend 83% of my time in quiet environments with no conversations. Why is this useful information? Well, if I'm concerned about getting the most "bang for my buck" out of my hearing aids, it tells me that if I am spending so much of my time in quiet environments, perhaps I could consider a hearing aid that is better suited to my lifestyle- maybe I don't need the most advanced model on the market. That of course, is a conversation that should be had with a local hearing provider, because choosing the correct hearing aid is about more than just finding one to match your lifestyle, but having this data certainly provides some useful insights.
The Unitron Moxi Now is available in 4 technology levels, the Pro, 800, 700, and 600. With a maximum gain of 57dB the Moxi Now is suitable for folks with mild to severe hearing loss, and is available in 12 colors. Your local Unitron hearing provider will help you determine the exact technology level that's right for you, and you're often able to experiment with multiple technology levels free of charge thanks to Unitron's flex:trial program.
Review of the uMic
Have you ever had a hard time hearing someone in a noisy restaurant? How about in the car, with all the road noise and extraneous sounds?
If so, the uMic is an accessory you should certainly consider. The uMic is a small wireless microphone which can be clipped onto a speaker's clothing. This microphone transmits the speaker's voice directly to the hearing aids via the uStream device (which I'll mention below).
Imagine your companion in a car ride or a noisy restaurant having a regular old handheld microphone that they were speaking into, and that sound was then transmitted directly to your hearing aids, giving you a very clear signal in both ears, that is amplified above and beyond any of the background noise. That's exactly what the uMic does.
I was able to try the uMic in a couple different environments, and I found the best success in a noisy restaurant. To see what the uMic was made of, I had my wife wear it out to dinner in Old Town San Diego on Taco Tuesday- which is about the noisiest a restaurant in town will ever get. I found the uMic to be absolutely fantastic. I wasn't really surprised that I liked the uMic so much, because I think most people, even those with normal hearing, do sometimes struggle to hear in noisy restaurants. While using the uMic, it is just about impossible to miss what the speaker is saying- the voice comes through loud and clear, and the volume of the speaker's voice can be adjusted via the uMic as well.
Below is a quick graphic I made to highlight how the uMic works.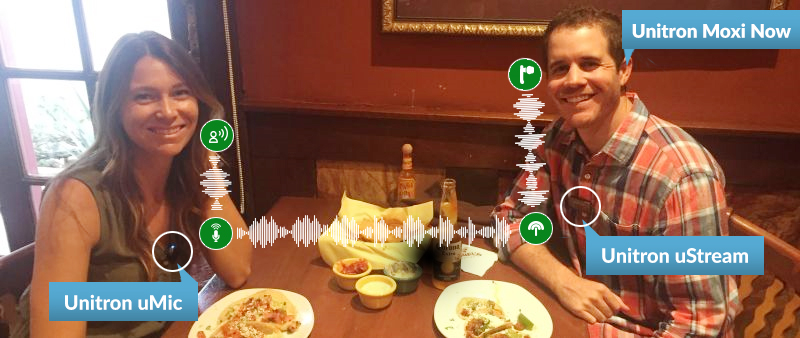 Review of the uStream
If you use a Bluetooth-enabled phone and would like to stream music, phone calls, or any audio from your phone to your hearing aids, you should strongly consider getting the uStream device with your Unitron hearing aids. I use an iPhone, and after a 15-second pairing process, the hearing aids and my phone were linked, and the connection was never lost. You do have to keep the uStream device within about 2 feet of the hearing aids at all times to get the best signal, so I found tucking it into my shirt pocket did the trick, though you can also clip it to clothing.
Due to the way these hearing aids were programmed (and the fact that I don't have hearing loss), I found the music streaming quality to be sub-optimal. The treble came through strong, but I got very little bass. However, when I switched the little rubber tips (domes), to the closed style, there was improvement in the quality and there was much more bass, for a more balanced sound. I would bet that customers who use custom-molded ear molds with these hearing aids would have no complaint with the sound quality at all.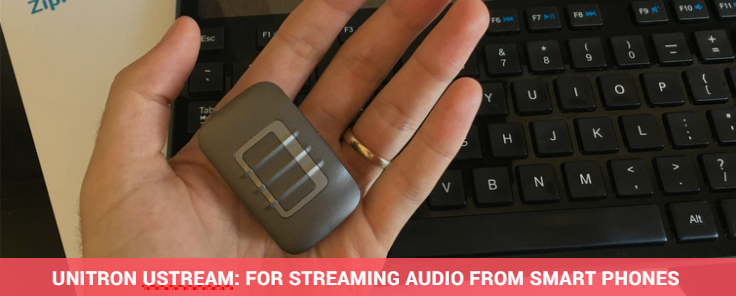 Streaming phone calls was a breeze. There was no delay in my voice, or the other speaker's, and the sound quality was good enough, with a strong signal. Being able to use the phone hands-free is very nice, and is a feature that a lot of our customers could benefit from. I had a lengthy drive the other day, and it was nice to be able to keep my phone in the car's center console, and speak freely into the uStream clipped to my shirt, while hearing the speaker's voice in both ears. I particularly enjoyed hearing the driving directions from the iPhone's map application in both ears.
Had I enjoyed the sound quality a bit more overall- I'd have no qualms about using the uStream on a daily basis. It's lightweight, can be easily hidden, and the Bluetooth connection was solid. But again, if you have a hearing loss, or use closed or custom domes, your perception of the sound quality with the uStream will likely be better than mine. The important thing is- the device works as intended, I had no connection issues, and it is user-friendly.
Summary
While most of this hearing aid's accolades are focused on its discreet design- Unitron has proved that big performance can come in small packages. The Moxi Now is a fully-featured state-of-the-art hearing aid which I can fully endorse, and I see no reason why our customers won't do very well with this hearing aid. Whether your primary concern is cosmetics, or sound quality, or compatibility with accessories and smart phones- the Moxi Now leaves nothing to be desired.
But wait, there's more!
ENTER TO WIN A BRAND NEW PAIR OF UNITRON MOXI NOW PRO HEARING AIDS + 2 FREE ACCESSORIES!
On November 1, ZipHearing is giving away a pair these hearing aids + 2 free accessories to a lucky winner- just in time for the holidays. To enter to win, visit our Facebook page. You can choose your own color, accessories, and our local affiliated hearing care provider will get them all set up for you, free!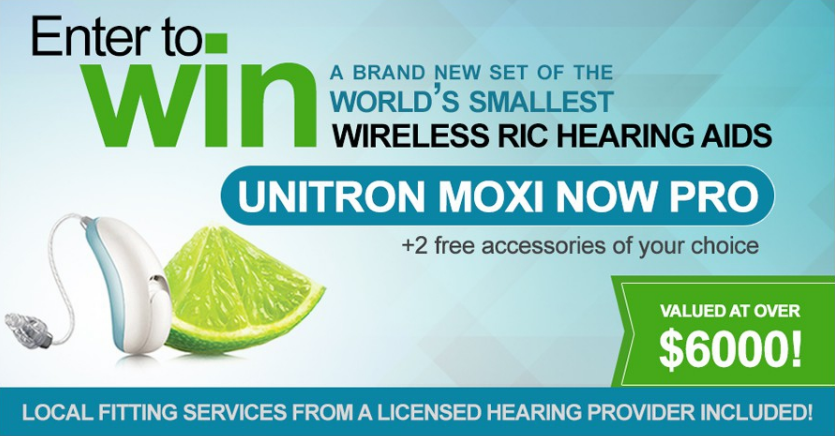 Have any questions or comments about the new Moxi Now? Please feel free to post your thoughts below and we'll get right back to you!
You might also be interested in: