(Last updated Sep 16, 2019)
What are the Best Hearing Aid Batteries?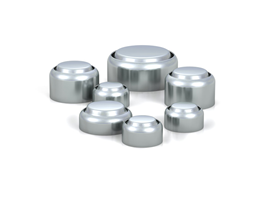 Although there are a few rechargeable hearing aids, the majority of hearing aids today utilize small batteries which must be changed about once every 8 days (on average). How long batteries last in a particular hearing aid depends on a number of factors, for more information on that topic see: "How long do hearing aid batteries last?" Because batteries have to be changed so often, they can add up to a pretty substantial recurring cost during the life of the hearing aids (5-7 years). If you figure that batteries typically last 8 days, and you wear 2 hearing aids, that means you'll go through around 90 batteries a year. If you are paying retail prices, that's going to be over $100/year in battery costs alone. So it makes sense to do a bit of research and not only find the right price, but also the best battery- the one that will last the longest.
Surprisingly, there can be quite a large variation in performance from one brand of battery to the next. For this reason, it's not a bad idea to order sample packs of batteries which have all different brands of batteries, and then you can track each battery and see which one performs the best. This is probably the most cost effective way to test which battery is best, and most large online hearing aid battery suppliers offer a sample pack like this.
Regardless of which brand you choose, here's a few tips to prolong the battery life:
Keep the batteries in their packaging. If they touch each other or any other metal, their current will drain and they will be worthless.
Store batteries in a room temperature environment that is not subject to moisture.
Put tape on the back of the batteries when not in use.
Regarding that last point, this is a proven trick that many people use which can give you several extra days of battery life. You know that little sticker that you pull off your battery when you're ready to use it? That sticker essentially "turns on" the battery, and the battery starts draining whether it is powering the hearing aid or not. So when you open your battery door at night to turn the hearing aid "off", the battery is still draining. Hearing aid batteries are Zinc-air batteries, and once they get oxygen (via the small holes that the sticker covers), they start draining. When you put scotch tape over those holes, it cuts off the battery's oxygen supply and significant slows and sometimes even stops the drainage altogether.
In short, the best hearing aid battery is the battery which lasts the longest for your aid, (at the lowest price) and that is going to vary from person to person. If your hearing provider doesn't sell batteries at a reasonable price, Costco currently offers 30 batteries for $9.99, which is an impossibly low price. If that isn't an option, you might consider eBay or Amazon, you can often find them at wholesale prices of around .27/cell. If you have a bias for or against a certain brand of battery, please post below and let our readers know why!
If you'd like a free phone consultation with a licensed hearing provider, please feel free to call us at 800-731-6794.
You might also be interested in: