(Last updated Oct 6, 2018)
Widex Beyond Z Rechargeable Hearing Aids
On September 11, 2017, Widex announced the Beyond Z Rechargeable, a new hearing aid that is based on their latest generation Beyond. It inherits all the features of the Beyond platform and is also rechargeable. We're pleased to see that Widex has joined the competition and launched a rechargeable hearing aid which will be available at the end of '17. We're excited that the trend of rechargeable hearing aids is growing: it's good for hearing aid users' wallets and good for the environment!
Lowest power drain on the market
Widex claims that the Beyond series has already the lowest power drain of any streaming hearing aids on the market, as a consequence, the new Widex Beyond Z Rechargeable offers the longest streaming time of any rechargeable hearing aid. We're talking about 21 hours of usage including streaming for 4 hours.
The battery takes 3-4 hours on average to charge, however, the manufacturer warns that if the battery is completely empty, it can take longer (up to 7-8 hours) to complete a full charge cycle.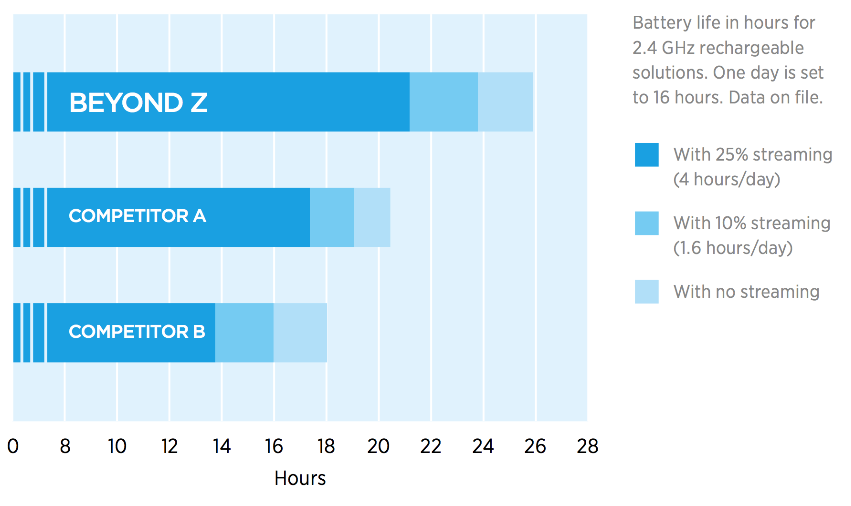 The rechargeable technology is the fruit of a collaboration with ZPower, a California-based company that is a leader in the development of rechargeable silver-zinc batteries.
You can still use regular batteries
We think it's pretty useful that this new rechargeable model still has the ability of using normal 312 disposable zinc-air batteries. So if you happened to run out of rechargeable juice, you can still use your normal batteries.
Swap for rechargeable
If you own any of the Widex Beyond hearing aids, no matter which model, you're eligible for a rechargeable retrofit. Ask your audiologist to convert your hearing aids to rechargeable and they should be able to do so thanks to a retrofit kit (a fee will likely apply).
As we said at the beginning of the article, the Beyond Z, besides being rechargeable, still inherits all the features of the Beyond series. Let me remind you what they are:
Made for iPhone (MFi): Thanks to iPhone direct connectivity, the Beyond hearing aids allow you to stream music from any MFi device, be that an iPhone, an iPad or a MacBook. For Android users, you'll need to purchase a COM-DEX device from Widex.
Smartphone app: The Beyond hearing aids come with a companion app (iOS and Android) that basically makes the older remote control obsolete, as you can adjust sound settings and listening preferences directly from your phone. You can also check the status of your battery, select the directionality of sound or use the "find my hearing aids" to locate your hearing aids if you've misplaced them within Bluetooth range.
We like direct connectivity because it removes the basic need of carrying a remote control around with us, however, there are times when we want to carry an accessory with us. Hearing aid accessories can make our life much easier in difficult listening situations. Read about the 3 most popular hearing aid accessories if you'd like to know more.
We hope you've enjoyed this overview of the new Beyond Z Rechargeable hearing aids. Are you excited about these new rechargeable hearing aids? Do you have any questions? Let us know in the comments!
You might also be interested in: