Phonak Audeo B30
Use your scroll to zoom, and see more details :)
You can also grab image and rotate it! Try now!
Hover mouse on a circles, to see a technical description
Do double tap or click on a icon for quick zoom
If you will need help again, click on question icon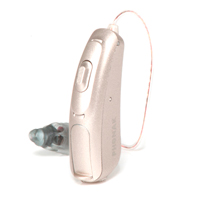 Local fitting service included
Brand new factory direct
Flat-rate pricing, no hidden fees
Talk to a specialist about this hearing aid
We`ll call when we re-open
Phonak Audeo B30 Hearing Aid Description & Features
Released by Phonak on August 21, 2016 the Phonak Audeo B30 falls under Phonak`s essential technology level within the Audeo B family.

As essential technology, this hearing aid is the lowest technology that Phonak has to offer, making it a dependable choice for individuals with quiet lifestyles, who primarily wish to hear better around the home, in one-on-one conversations, watching TV, and in mostly quiet and small group settings.

The Phonak Audeo B30 hearing aid has 8 channels and 5 customizable programs, and that gives it the flexibility to digitally process sound in a way that sounds natural, and can also be adapted to the particular listening environment of the wearer.

The Audeo B30 is powered by a size 10 battery which will need to be changed every 3-5 days, a size 13 battery which will need to be changed every 7-10 days, or a size 312 battery (pictured above) which will need to changed weekly. With a maximum potential gain of 66 SPL, the Audeo B30 is suitable for individuals with mild to severe hearing loss.

With its discreet RIC (receiver in canal) style, the Audeo B30 sits comfortably behind the ear and is hardly noticeable to the wearer or others. This hearing aid is available in 8 color choices as shown below.

If you have questions about the Audeo B30 that you don`t find answered on this page, or are looking for specs on this device, you might want to check out the downloadable documents (below), visit Phonak`s website, or feel free to give us a call at 800-731-6794.
Phonak Audeo B30 Colors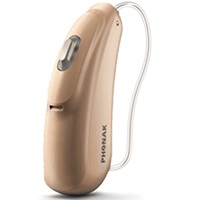 Beige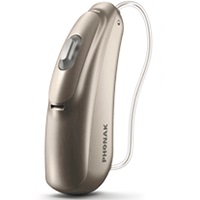 Champagne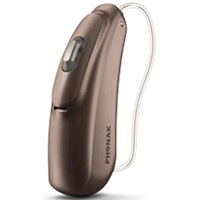 Chestnut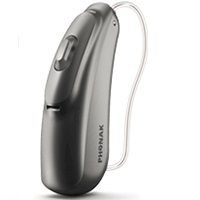 Graphite Gray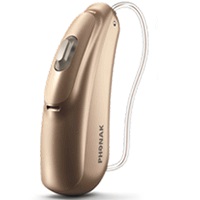 Sand Beige
Sandalwood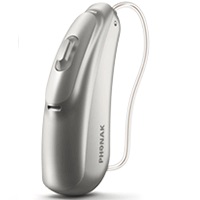 Silver Gray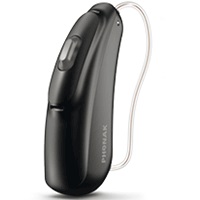 Velvet Black
Phonak Audeo B30 Accessories & Smartphone Apps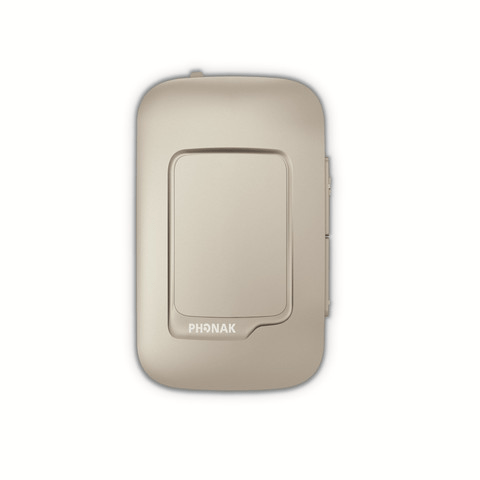 ComPilot Air II: $349
The small and stylish Phonak ComPilot Air II offers excellent stereo sound quality while connecting hearing aids via Bluetooth to a variety of audio sources: cell phones, MP3 players, tablets, laptops and computers. Combine with Phonak TVLink II to turn your hearing aids into wireless headphones, or with Phonak RemoteMic for better understanding over distance. Spoken VoiceAlert messages and messages and personalized Bluetooth® features, can be configured via the free RemoteControl App for Android or iOS. ComPilot Air II includes a new integrated antenna, making it smaller than its predecessor, ComPilot II, as well as more discreet and easier to handle.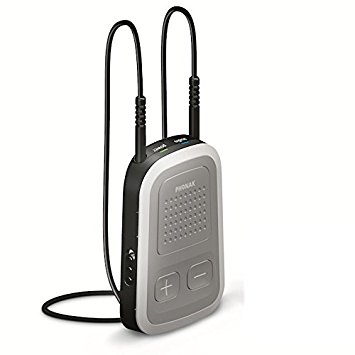 ComPilot II: $329
The Phonak ComPilot II offers excellent stereo sound quality while connecting Phonak hearing aids via Bluetooth to a variety of audio sources, such as mobile phones, MP3 players, tablets, laptops and computers. ComPilot II connects wirelessly via Bluetooth or wired audio inputs for up to 24 hours streaming time. Combine with Phonak TVLink to turn your hearing aids into wireless headphones, or with Phonak RemoteMic for better understanding over distance.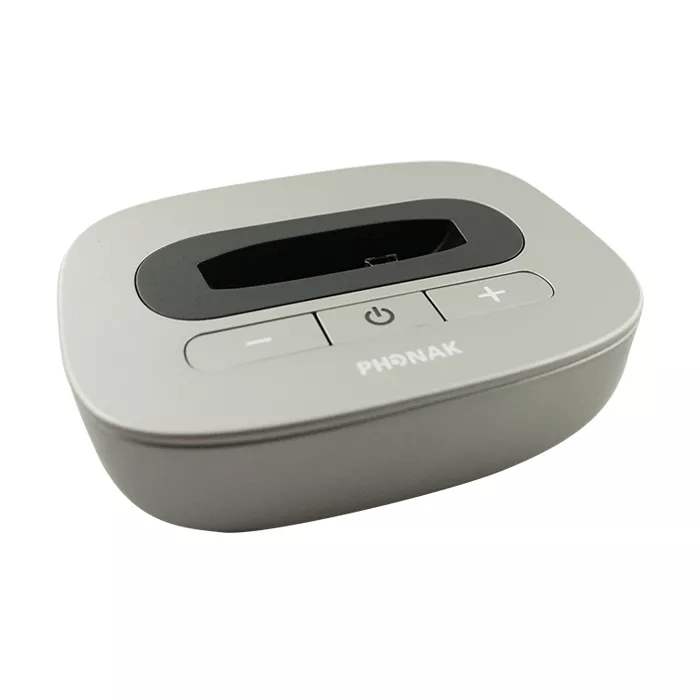 TV Link II: $149
Phonak TVLink II expands the way you hear your world by wirelessly connecting your hearing aids to your TV and other entertainment or communication devices. The Phonak TVLink II basestation is the interface to TV and other audio sources. Used with Phonak ComPilot II or ComPilot Air II, it turns any Phonak wireless hearing aids into a headset with a range of up to 30 meters (100 ft).The TVLink II works with all modern TV sets and stereo equipment. Thanks to the two digital audio inputs, the connection to the TV or stereo is much easier, and provides improved sound quality compared to analog inputs. The streaming distance of up to 100 ft. allows you to move around the house without missing what is happening on the TV.
Pilot One II Remote: $279
The Phonak PilotOneII is the easy-to-use remote control. It adjusts the volume and program settings of the hearing aids with four simple buttons: Home, Volume up, Volume down and Program. For many people, these simple adjustments are all they need, especially since most modern hearing aids include automatic adjustments. The PilotOne II remote control is designed for simplicity and ease of use. The large buttons are easy to find and use without having to look at the remote or take it out of your pocket.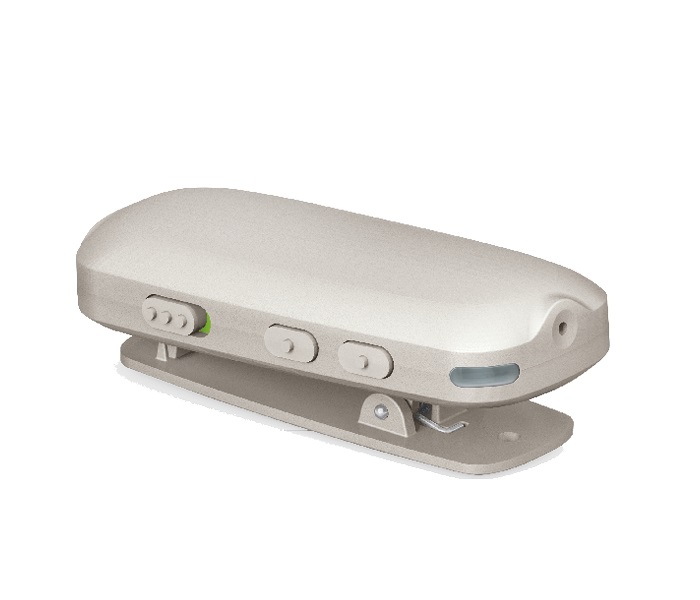 Remote Mic V 2.0: $149
The small and light Phonak RemoteMic V2.0 is an easy solution for one-on-one conversations in moderate noise and over distance. The lightweight wireless microphone is clipped onto the speaker's clothing. Combined with a compatible Phonak streamer such as ComPilot II or ComPilot Air II, RemoteMic V2.0 transmits the speaker's voice directly to the hearing instruments over a distance of up to 20 meters (66 ft). With the optional charging accessories (Phonak mini-USB power supply and 12 V car charger adapter) RemoteMic V2.0 is always ready.
RemoteControl App
Phonak RemoteControl App turns any smartphone into a remote control for your hearing aids. This app is for hearing aids built on the Venture or Belong platform that do not support direct smartphone connectivity. You'll also need a wireless streamer (Phonak's ComPilot II or ComPilot Air II) as an interface to your hearing aids. Setup is simple. Once you have installed the iOs or Android app, an easy-to-follow pairing wizard will help you connect the wireless streamer to your phone. What you can do with the RemoteControl App: Change your hearing aid volume and listening program -- Select audio source and configure streaming options -- Focus your microphones in any direction -- Check out the demonstration mode to experience explore more possibilities.
Phonak Audeo B30 Downloads
Included With Your Purchase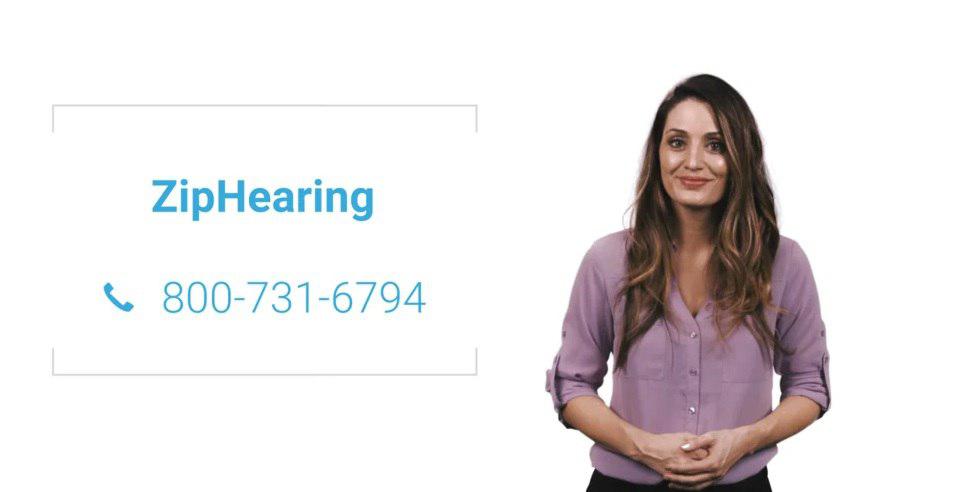 Talk to a specialist about this hearing aid
We`ll call when we re-open
In-Person & Local Hearing Aid Fitting & Programming Service
Based on the results of your hearing test, your local ZipHearing provider will professionally fit and fine-tune your hearing aids to your unique needs.
45 Day 100% Risk-Free Evaluation Period
Once your hearing aids have been fitted, you'll have 45 days to evaluate them. All appointments with your local provider during your 45 day evaluation period are included at no additional cost. If you decide to return your hearing aids within the evaluation period, you'll be issued a 100% refund.
Follow-up Care
Once your 45 day evaluation period has concluded, you are entitled to an additional 3 follow-up appointments during your first year of ownership at no additional cost. After your first year of ownership or 3 follow-up appointments (whichever comes first), office visits will be billed at a rate of $35 for appointments lasting 30 minutes or less, and $65 for appointments lasting 30 minutes or longer.
1 Year Full Manufacturer Warranty
This hearing aid will come with a manufacturer's 1 year repair warranty and 1 year loss and damage warranty. As one of the few authorized Phonak retailers on the web, you can rest assured that no matter what happens to your hearing aids during this time period- you're covered with a full factory warranty.
1 Year Supply of Batteries
At the time your order is placed with ZipHearing, you're sent a 1 year supply of hearing aid batteries delivered directly to your door. These batteries will usually arrive to your home before your scheduled date to pick up the hearing aids from your ZipHearing provider's office, but if they aren't, your provider will get you started with a few batteries at your delivery appointment. We provide premium Rayovac batteries which have a shelf life of 4 years.
Wax Filters, Domes, and Cleaning Supplies
Simple cleaning & maintenance supplies will be provided by the manufacturer and given to you at your hearing aid fitting appointment, along with rubber or silicone domes, and wax filters, which your hearing provider will show you how to use, ensuring your hearing aids remain free of wax, oil, and other debris.
Phonak Audeo B30 Reviews
VERIFIED BUYER | Encino, CA
I can hear much better. Before I got the Audeo B30 hearing aid I was having great difficulty hearing people, especially in conversations where there was a lot of noise. Also, in the evenings I would watch television with family members and I could not hear what was being said on the television. I had to continually ask others in the room did the person in the movie say. It became quite annoying to me as well as others who were watching. That's when I said I had to take some action and get a hearing aid. I searched the internet for companies who were selling them. There were many, all with different prices. I finally settled on Zip even though some others were as cheap if not cheaper. I chose Zip because they had a relationship with a local company where I could go and visit in the event I had trouble with them. I visited the local company and I was satisfied that I would get service from them if needed in the future.
6 people found this review helpful
Pay with PayPal
Note: Hearing aids are not shipped direct to customers. All hearing aids will be shipped directly to the local ZipHearing provider, after having received the order from their office.
Phonak Audeo B90
4.5 (14 reviews)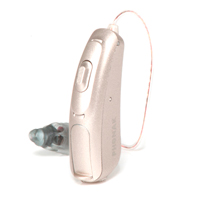 Phonak Audeo B70
4.75 (24 reviews)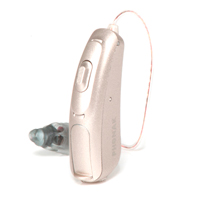 Phonak Audeo B50
5 (6 reviews)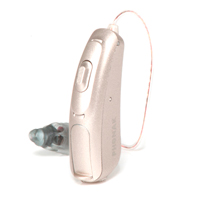 Thank you!
Your review will be made public within 24 hrs.
Thanks! Our hours are 7am-5pm PST M-F. We'll call you when we're in!