Signia Styletto 3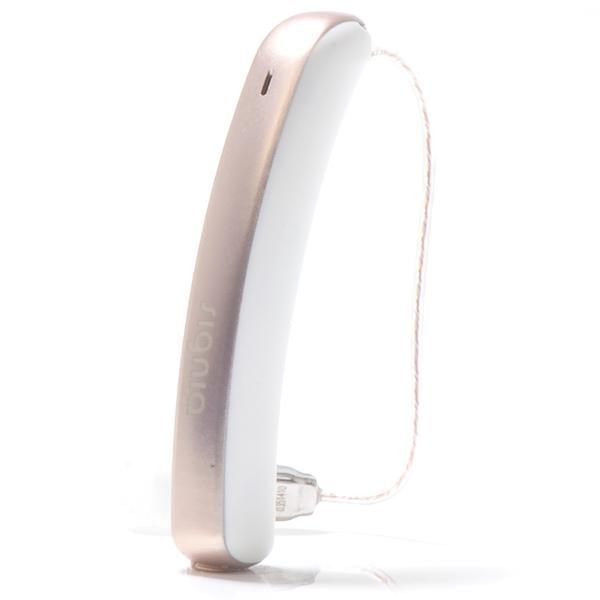 Local fitting service included
Brand new factory direct
Flat-rate pricing, no hidden fees
Signia Styletto 3 Hearing Aid Description & Features
Released by Signia on July 13, 2020 the Signia falls under Signia`s standard technology level within the Styletto family.

As standard technology, this hearing aid is the third best technology that Signia has to offer, making it a solid choice for individuals with quiet lifestyles, who primarily wish to hear better around the home, in one-on-one conversations, watching TV, and in mostly quiet and small group settings.

The Signia hearing aid has 24 channels and 6 customizable programs, and that gives it the flexibility to digitally process sound in a way that sounds natural, and can also be adapted to the particular listening environment of the wearer.

The is powered by a built in lithium-ion battery, which, when powered overnight, reliably delivers 24 hrs of power to the hearing aid. With a maximum potential gain of 60 SPL, the is suitable for individuals with mild to moderate hearing loss.

With its discreet RIC (receiver in canal) style, the sits comfortably behind the ear and is hardly noticeable to the wearer or others. This hearing aid is available in 3 color choices as shown below.

If you have questions about the that you don`t find answered on this page, or are looking for specs on this device, you might want to check out the downloadable documents (below), visit Signia`s website, or feel free to give us a call at 800-731-6794.
Signia Styletto 3 Colors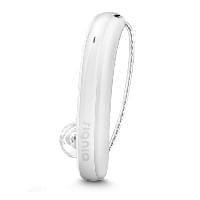 Snow White White Gold
Snow White Rose Gold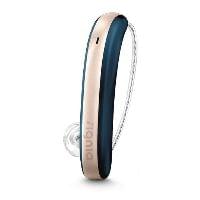 Cosmic Blue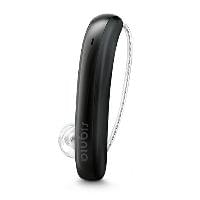 Black Black Gold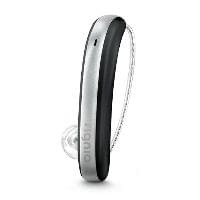 Black Silver
Signia Styletto 3 Videos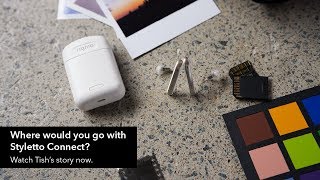 Where would you go with Styletto Connect?
Tish Ramirez, hearing aid wearer, Signia Audiologist and Director of Clinical Education, sat down to talk about hearing health and our new hearing aids, Styletto Connect.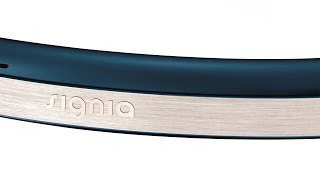 Styletto Global Launch
Nine out of 10 people with mild to moderate hearing loss choose not to wear hearing aids. Often this is because the look and feel does not match their image of themselves. Not for much longer: A true game-changer from Signia is on its way! One that combines all the audiological advantages of the acclaimed Signia Nx platform with a stylishly designed new form factor. Styletto from Signia is more than just a hearing aid – it's high-tech hearwear. Wherever you're going, Styletto goes with you.
Signia Styletto 3 Accessories & Smartphone Apps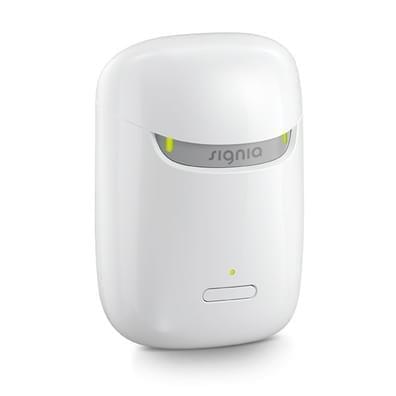 Styletto X Charger (Included)
Now with wireless Qi-Charging! Just set the Styletto X on any wireless charging pad and easily charge the case. This pocket-sized and portable charging case provides a full day of power, even with up to 5 hours of streaming. Three times smaller and half the weight of comparable chargers, it's the only one you can fit in your pocket to carry with you all day. When your hearing aids are low on battery, just pop them in the charging case for a 30 minute fast charge, which provides an additional 5 hours of use. With a full charge, the charger is capable of providing 3 full charges to your hearing aids, in the event you don't have access to an electrical outlet or USB port to charge your hearing aids. A full charge to the charger takes 5 hrs, and a full charge to the Styletto Connect hearing aids takes 2 hrs.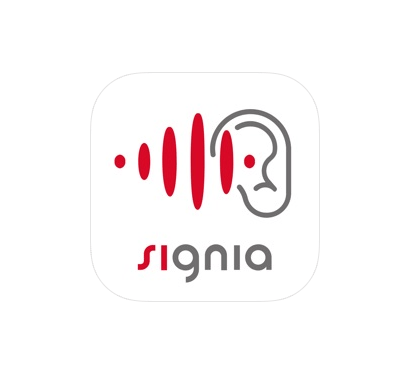 Signia App
The Signia App gives you everything you need to enjoy your hearing aids to the full, and all tailored to your personal preferences: audio streaming, remote control and remote support. All you need is your smartphone. The Signia App combines features offered by the myControl app, TouchControl app, and myHearing app, into one single app.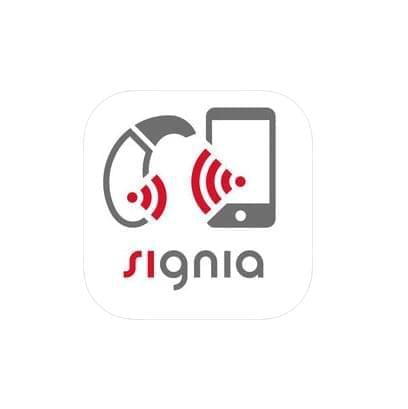 myControl App
The myControl App gives you effortless hearing tailored to your individual lifestyle. Signia calls it the industry's most advanced remote-control app, because it does more than enable direct streaming. It also sends information to your hearing aids from motion sensors in your smartphone. The goal is to provide the best possible listening experience, ensuring relaxation and safety when you are on the move. The myControl App enables automatic program selection based on motion as well as analysis of the acoustic listening situation. Signia reasons that people frequently move while they are speaking, so their hearing aids should react dynamically and adjust to their changing listening situation. Up until now, this data was missing, but with the myControl App, it's finally available. Similiar to a fitness tracker, the myControl App helps wearers look after their hearing health by displaying noise exposure and voice activity. In addition, the unique Signia TeleLink connectivity system allows you to benefit from the myControl App when other wireless system cannot be used, for example when you phone is in flight mode with Bluetooth communication switched off. myControl App acts as a relay-less remote control for quick and easy adjustments and personalization. One of the highlights is the app's Spatial Configurator, which lets you steer your hearing aid microphones in 360 degrees. You can also adjust the listening program and volume, hearing aid balance, power on delay, low battery interval, and flight mode.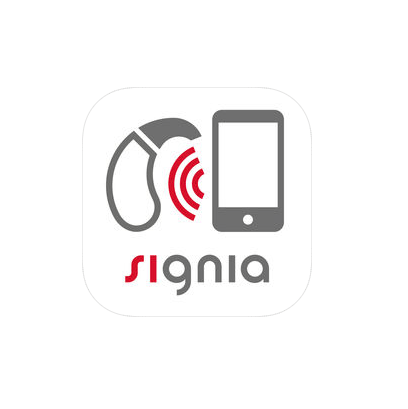 TouchControl App
The touchControl App turns your smartphone into a discreet remote control for your hearing aids. Use it to change hearing programs and adjust the volume, bass, and treble of your hearing aids. All you need is a smartphone—no extra devices or cords. Program and volume changes: Adapt to changing listening situations by making easy and discreet adjustments. Spatial Configurator: The feature lets you steer the hearing aid microphones to focus on what you want to hear. Bass and treble: Use SoundBalance™ to effortlessly change the tone of your environment according to your listening preference.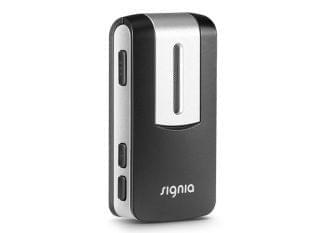 Streamline MIC: $199
A hands-free mobile headset for full convenience on the phone. Now you can accept calls without having to take the phone out of your pocket, whether your smartphone is on the Apple® or Android™ platform! If you are streaming sound from another Signia wireless accessory, such as the StreamLine TV accessory when the call comes in, no problem. When you answer the call with StreamLine Mic, streaming will instantly switch from the TV to the phone, so you won't need to turn off the TV sound manually. You can also stream the phone call into both of your hearing aids, which can make a big difference in sound quality and speech understanding. To make the most of StreamLine Mic's excellent streaming quality, try using it with messaging apps, such as Skype, FaceTime or Google Hangouts. These apps tend to have better audio quality than mobile phone calls. StreamLine Mic also functions as a remote microphone to help you in challenging listening situations, such as crowded meetings. You can stream a speaker's voice directly into your hearing aids from a distance of up to 20 65 ft. As a result, you hear the speaker as clearly as if they were standing right next to you. With Signia's myControl™ App, you can remotely control the StreamLine Mic, even when the speaker is on the other side of the room. This free app is a nice feature for your convenience, but the app is not required for you to use the StreamLine Mic.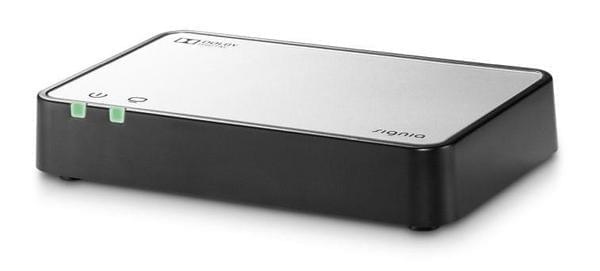 Streamline TV: $199
StreamLine TV feeds audio from your television directly into your hearing aids in Dolby Digital quality. It offers intuitive, fully automatic handling for a state-of-the-art wireless listening experience. StreamLine TV features automatic pairing with hearing aids, a streaming range up to 30 ft, and support for Dobly Digital sound. StreamLine TV is compatible with all televisions that have a TOSLINK fiberoptic output, analog RCA connectors or an audio output jack. StreamLine TV offers the most convenient way to watch TV with your family if there are other members in your family wearing hearing aids. StreamLine TV enables direct streaming into multiple pairs of compatible Signia hearing aids at the same time. you can easily start and pause TV streaming as well as adjust the volume as you want, without any need for an onboard control. You and another listener can even adjust the volume individually via the Signia's free myControl App. StreamLine TV is fully compatible with other streaming technologies offered by Signia. This means you can accept a phone call while you're watching TV without having to stop streaming from the TV. StreamLine TV will pause streaming automatically while you take the call and restart when you're done.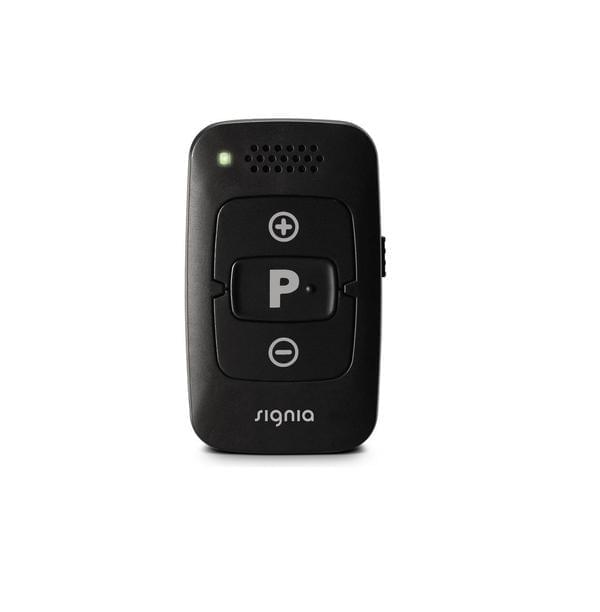 miniPocket Remote: $139
miniPocket is the ideal solution for anyone who wants discreet, convenient control of their hearing aids without the need for a large remote control or smartphone. Reliable and easy to use, the miniPocket is small enough to carry on a key ring yet powerful enough to control all essential features.
Signia Styletto 3 Downloads
Included With Your Purchase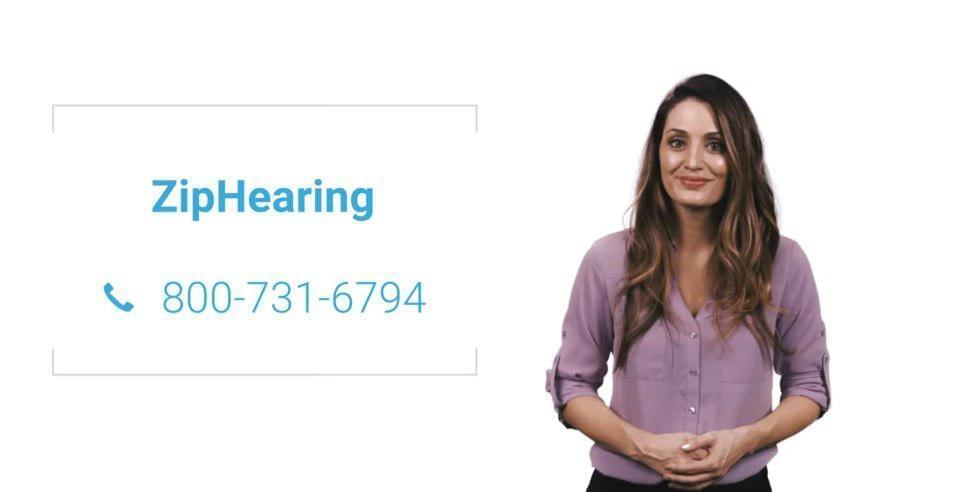 In-Person & Local Hearing Aid Fitting & Programming Service
Based on the results of your hearing test, your local ZipHearing provider will professionally fit and fine-tune your hearing aids to your unique needs.
45 Day 100% Risk-Free Evaluation Period
Once your hearing aids have been fitted, you'll have 45 days to evaluate them. All appointments with your local provider during your 45 day evaluation period are included at no additional cost. If you decide to return your hearing aids within the evaluation period, you'll be issued a 100% refund.
Follow-up Care
All follow up service appointments during your first year of ownership are included at no additional cost. After that time, your local ZipHearing provider may bill you privately for services at a rate not-to-exceed $50 per appointment.
3 Year Full Manufacturer Warranty
This hearing aid will come with a manufacturer's 3 year repair warranty and 3 year loss and damage warranty. If a hearing aid is lost or damaged beyond repair during the warranty period, your ZipHearing provider can file what is called a "Loss & Damage Claim" for you, and a new device will be issued, subject to a deductible payable to your hearing provider of $350/aid. As one of the few authorized Signia retailers on the web, you can rest assured that no matter what happens to your hearing aids during this time period- you're covered with a full factory warranty.
Charger
A small docking/recharging station is included. Rechargeable li-ion batteries are supplied with the units (built in).
Wax Filters, Domes, and Cleaning Supplies
Simple cleaning & maintenance supplies will be provided by the manufacturer and given to you at your hearing aid fitting appointment, along with rubber or silicone domes, and wax filters, which your hearing provider will show you how to use, ensuring your hearing aids remain free of wax, oil, and other debris.
Signia Styletto 3 Reviews
VERIFIED BUYER | boca raton, FL
My Signia hearing aids are great. They fit behind my ear and they are so small, no one even notices that I am wearing them. They are rechargeable, comfortable and have the latest technology. They connect to my iPhone to make them easy to adjust. and I highly recommend ziphearing.com as they are easy to work with and saved me almost half of the cost.
5 people found this review helpful
VERIFIED BUYER | Grapevine, TX
I love my hearing aids! I can once again hear clerks in stores, servers in restaurants and order takers in drive thrus. I am not saying,"can you repeat that please?" all day long! My family is overjoyed that we now can once again, have a normal conversation! Thank you so much!
4 people found this review helpful
Pay with PayPal
Note: Hearing aids are not shipped direct to customers. All hearing aids will be shipped directly to the local ZipHearing provider, after having received the order from their office.
Thank you!
Your review will be made public within 24 hrs.
Thanks! Our hours are 7am-4PM PST M-F. We'll call you when we're in!