Starkey Livio AI 2400
Use your scroll to zoom, and see more details :)
You can also grab image and rotate it! Try now!
Hover mouse on a circles, to see a technical description
Do double tap or click on a icon for quick zoom
If you will need help again, click on question icon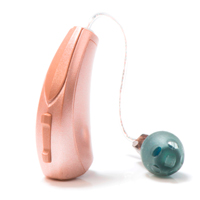 Local fitting service included
Brand new factory direct
Flat-rate pricing, no hidden fees
Talk to a specialist about this hearing aid
We`ll call within 20 minutes
Starkey Livio AI 2400 Hearing Aid Description & Features
Released by Starkey on August 26, 2018 the Starkey Livio AI 2400 falls under Starkey`s premium technology level within the Livio AI family.

Hearing aid companies release new products all the time, but truly groundbreaking innovations like Starkey Livio AI come only once in a while. Livio AI blurs the boundaries between hearing aids, wearable health technology, and multifunction consumer audio devices known as hearables. Starkey calls the new Livio AI the world's first Healthable — a multi-purpose device that redefines what a hearing aid can do.

This is the first hearing aid to feature integrated sensors and artificial intelligence for tracking brain and body health. The Livio AI concept is based on scientifically-sound evidence that healthy hearing contributes to overall brain and body health. These hearing aids don't just help you hear better. They aim to help you live better.

As premium technology, this hearing aid is the best technology that Starkey has to offer, making it an excellent choice for individuals with active lifestyles, who need hearing aids that can deliver the most exceptional sound quality in any listening environment.

The Starkey Livio AI 2400 hearing aid has 24 channels and 4 customizable programs, and that gives it the flexibility to digitally process sound in a way that sounds natural, and can also be adapted to the particular listening environment of the wearer.

The Livio AI 2400 is powered by a size 13 battery which will need to be changed every 7-10 days, or a size 312 battery which will need to changed weekly. With a maximum potential gain of 70 SPL, the Livio AI 2400 is suitable for individuals with mild to severe hearing loss.

Available in either a discreet RIC (receiver in canal) form factor, or a traditional BTE (behind the ear) style, the Livio AI 2400 has a suitable model for anyone not wanting to wear an in-the-ear hearing aid. This hearing aid is available in 7 color choices as shown below.

If you have questions about the Livio AI 2400 that you don`t find answered on this page, or are looking for specs on this device, you might want to check out the downloadable documents (below), visit Starkey`s website, or feel free to give us a call at 800-731-6794.
Starkey Livio AI 2400 Colors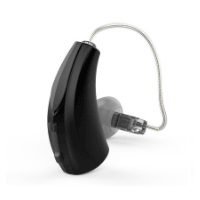 Black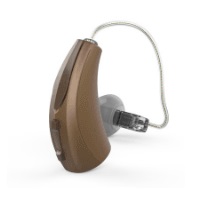 Bronze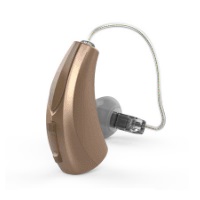 Champagne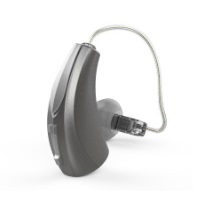 Slate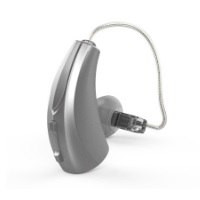 Sterling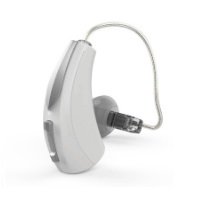 White w/ Sterling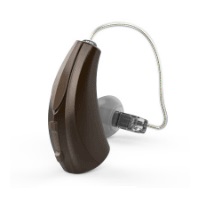 Espresso
Frequently Asked Questions about the Starkey Livio AI 2400
Starkey Livio AI 2400 Videos
Starkey Livio AI 2400 Accessories & Smartphone Apps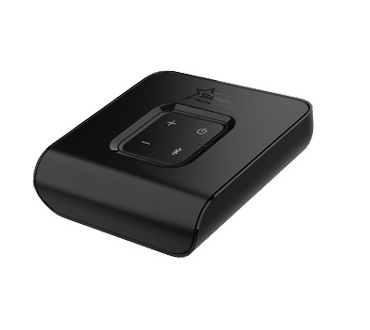 Starkey Hearing Technologies TV: $319
Starkey Hearing Technologies TV is designed to stream audio from electronic audio sources directly to your 2.4GHz wireless hearing aids. It offers excellent sound quality, is easy to use and supports both analog and digital input sources. The TV device can be successfully connected to many electronic audio sources, including televisions, computers, MP3 players, DVD players and cable boxes. The TV device can concurrently stream audio to an unlimited number of users, allowing them to share the same listening experience.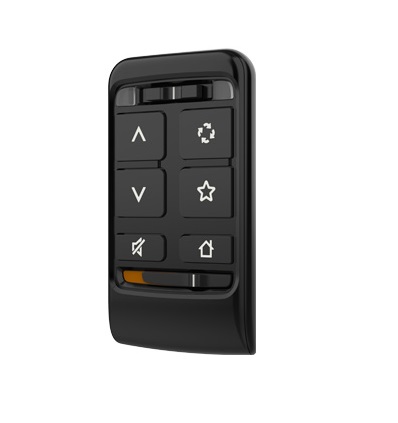 Starkey Hearing Technologies Remote: $179
Starkey's Remote includes updated features so patients can control memory and volume, mute their hearing aids and turn other special features on and off.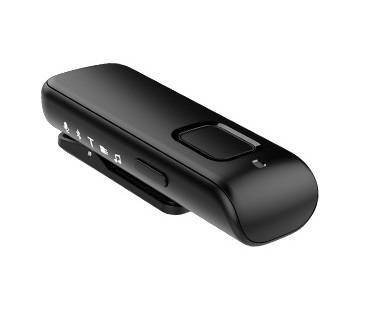 Starkey Hearing Technologies Remote Mic +: $299
Starkey Hearing Technologies Remote Microphone + is designed to stream audio from different audio sources directly to your 2.4 GHz wireless hearing aids. When worn by a distant speaker in noisy environments, the Remote Mic + functions as an assistive listening device. The Remote Mic + can also interface with Bluetooth audio sources for streaming music and hands-free phone calls, loop systems and FM systems. You can stream audio from nearly any device that has a headphone output, since the Remote Microphone + has an audio input jack.
Thrive Hearing Control App
The Thrive Hearing Control app is an innovative app that lets users track their body activity and brain health with sensor-enabled hearing aids. You can set daily health goals and monitor your progress via the what the app calls a Body Score, Brain Score and a combined Thrive Wellness Score. The Body Score is a combination of activity, steps and overall movement. The Brain score includes hours of daily hearing aid use, social engagement, and time spent in active listening. It's designed to reflect the important connection between hearing and cognitive health.Thrive Hearing Control app also offers a wide range of practical features for personalized control of your hearing aids. The app lets you adjust the volume of your hearing aids, switch between listening programs, and make adjustments in different listening situations. You can even use it to request program adjustments from your audiologist or hearing instrument specialist, without taking a trip to the clinic. Even more great features of the Thrive Hearing Control app: Real-time language translation - Help locating lost or misplaced hearing aids - Geo-tagging for location based automatic program changes - Pristine audio streaming of any music or media played through your iOS device - Adaptive Car Mode, designed to automatically reduce annoying sounds to give you a more pleasant driving experience - Control of wireless hearing aid accessories.
Starkey Livio AI 2400 Downloads
Included With Your Purchase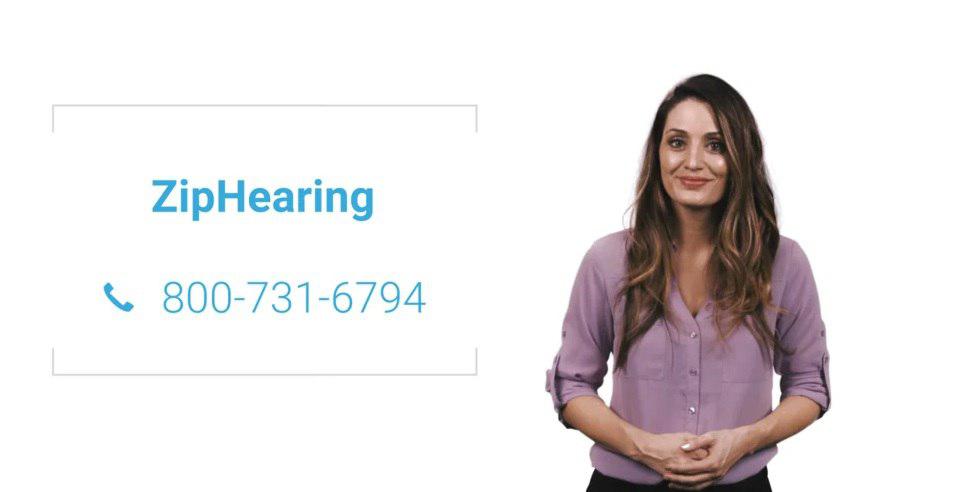 Talk to a specialist about this hearing aid
We`ll call within 20 minutes
In-Person & Local Hearing Aid Fitting & Programming Service
Based on the results of your hearing test, your local ZipHearing provider will professionally fit and fine-tune your hearing aids to your unique needs.
45 Day 100% Risk-Free Evaluation Period
Once your hearing aids have been fitted, you'll have 45 days to evaluate them. All appointments with your local provider during your 45 day evaluation period are included at no additional cost. If you decide to return your hearing aids within the evaluation period, you'll be issued a 100% refund.
Follow-up Care
Once your 45 day evaluation period has concluded, you are entitled to an additional 3 follow-up appointments during your first year of ownership at no additional cost. After your first year of ownership or 3 follow-up appointments (whichever comes first), office visits will be billed at a rate of $35 for appointments lasting 30 minutes or less, and $65 for appointments lasting 30 minutes or longer.
3 Year Full Manufacturer Warranty
This hearing aid will come with a manufacturer's 3 year repair warranty and 3 year loss and damage warranty. As one of the few authorized Starkey retailers on the web, you can rest assured that no matter what happens to your hearing aids during this time period- you're covered with a full factory warranty.
1 Year Supply of Batteries
At the time your order is placed with ZipHearing, you're sent a 1 year supply of hearing aid batteries delivered directly to your door. These batteries will usually arrive to your home before your scheduled date to pick up the hearing aids from your ZipHearing provider's office, but if they aren't, your provider will get you started with a few batteries at your delivery appointment. We provide premium Rayovac batteries which have a shelf life of 4 years.
Wax Filters & Domes (if applicable), and Cleaning Supplies
Simple cleaning & maintenance supplies will be provided by the manufacturer and given to you at your hearing aid fitting appointment, along with rubber or silicone domes, and wax filters (if applicable), which your hearing provider will show you how to use, ensuring your hearing aids remain free of wax, oil, and other debris.
Starkey Livio AI 2400 Reviews
Great sound quality, great comfort, but less than thrilled that these do not come with all the features as advertised. It is my understanding that some of the features just aren't "released" yet, and are not available on my unit. Example, I wanted the beats per minute tracker on my aids, and 2 months after getting them, learned that it will not be available on mine, only rechargeable. So I feel like Starkey should be more clear in advertising the product, that not all AI features are totally ready right now and not are all available in all models.
37 people found this review helpful
VERIFIED BUYER | Macon, NC
Good sound quality and I am very satisfied so far. I really like the Bluetooth ability of this livio 2400ai. This is a great upgrade from my old hearing aids. I was a little nervous about dealing with an internet dealer with a purchase this large but ziphearing put me at ease and the purchase, coordination and completion of setup went perfectly. I congratulate Ziphearing for completing this transaction without a flaw and I expect to remained as customer for future needs.
14 people found this review helpful
Thank you!
Your review will be made public within 24 hrs.
Thanks! We'll be in touch soon!