Starkey Hearing Aid Models, Prices, & Reviews
Local fitting service included with all purchases
Need help choosing? Enter your info and we`ll call within 20 minutes!
Popular Starkey Hearing Aid Models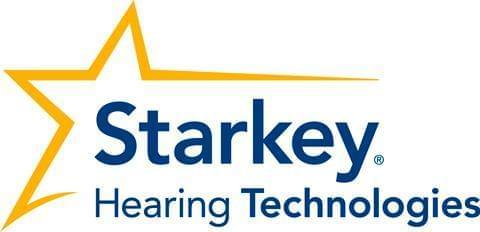 Starkey Hearing Technologies is the largest manufacturer of hearing aids in the United States, and indeed, the only major hearing aid manufacturer headquartered in this country. Starkey first opened its doors in Minnesota in the 1960s to make hearing aid earpieces. The company also owned and operated retail hearing aid outlets, and continues to distribute hearing aids today through its own retail chain as well as through independent retailers.
Starkey's American heritage remained a central part of its identity, even as the company grew to become a global business, employing more than 500 people and operating in 100 markets worldwide. United States Presidents Ronald Reagan and Bill Clinton wore Starkey hearing aids. So did Mother Teresa, perhaps because another pillar of the Starkey's history has been a commitment to philanthropic endeavors supporting people living with hearing loss. Since its inception in 1984, the Starkey Hearing Foundation has donated more than 1 million hearing aids to those in need around the world.
Starkey hearing aids boast a range of advanced signal processing technologies, developed and tested in the company's own research center in Berkeley, California and in other US and international facilities. Starkey introduced the world's first completely invisible-in-canal hearing aid, and was among the first to release a made-for-iPhone hearing aid. The current iterations, invisible-style Picasso and made-for iPhone Livio hearing aids are now in their fourth generation.
Like most hearing aid brands, Starkey uses a numbering system to indicate the performance level of its hearing aids. The higher the number, the higher the performance level. The number also represents how many channels or bands of the hearing aid includes. For example, the i1600 performance level includes 16 channels, while the i2000 and i2400 performance levels include 20 and 24 channels, respectively. The number of channels or bands indicates, to some extent, how well the hearing aid can separate and process distinct sounds without causing unwanted side effects. For instance, a multi-channel hearing aid can reduce background noise in certain channels without altering speech sounds present in other channels. While the number of channels a hearing aid has is important, this probably matters less than the types and quality of digital signal processing the hearing aid offers.
Starkey's latest hearing aids are based on the new Thrive operating system, which supports noise cancellation, voice and music enhancement, ear-to-ear wireless communication, and made-for-iPhone connectivity for streaming music and phone calls directly from Apple mobile devices.
A simple, but welcome new feature you will find across the Livio and Picasso product lines is that the hearing aids announce the name of the listening program using spoken words. It's easy to forget how to use each program when all the hearing aids tell you is "beep" or "beep-beep" as you change from one program to the next. With newer Starkey hearing aids, you would hearing the word "restaurant" if you changed to a program intended for use in restaurants. It's a nice touch that makes these hearing aids a little easier to use than some others.
In the sections below, you'll find information on Starkey's current and most popular hearing aids models, along with pricing and feature information so you can determine which Starkey hearing aid is appropriate for you. If you're simply looking to get your Starkey hearing aids repaired, or looking for Starkey parts, like wax filters or domes, feel free to give us a call and we'll point you in the right direction. Otherwise, feel free to review the popular models below, and at the top of this page you'll find links to each Starkey hearing aid model, along with prices, features, and online ratings, and more in-depth Starkey reviews on each product page.
Starkey Evolv AI
Starkey currently has several different families of products that are available- Livio, Livio AI, Picasso, to name just a few.
Up until August of 2021, they needed those families (and more) to ensure they had a hearing aid for everyone. But since this latest release, in which they announced their new family, Evolv AI, you really only need to know that name- Evolv.
It's Starkey's newest and most comprehensive family of products in years, with something for everyone, from tiny invisible devices, to powerful behind-the-ear hearing aids.
Here are just a few of the highlights of this new hearing aid:
evolvAI is a new family of hearing aids available in all styles, from the smallest IIC style hearing aids, to powerful BTE style devices.
Starkey is now offering a completely-in-canal (CIC) hearing aid with direct connectivity to iPhones and many Android phones (no need for a streamer accessory). Starkey claims this is the world's smallest CIC hearing aid with direct 2.4GHz technology. An interesting footnote- the pull string on this device (that wearer's use to grasp onto the hearing aid for removal), also doubles as the antenna for the device, which is an industry first.
evolve AI hearing aids have the fastest Bluetooth connection experience on the market, half of what it previously was. This means wearers can spend less time fiddling with pairing their hearing aids to their phone, and more time reaping the benefits of the new evolvAI devices.
"Edge Mode", which is Starkey's proprietary and AI-driven feature to improve speech audibility in noise, is now available in all technology levels except 1200, and is now accessible via the Thrive App.
evolvAI hearing aids can directly connect to 31 Apple devices and 38 Android devices- which is more than any other hearing aid that uses Bluetooth Low Energy.
Fall detection and alerts are now available in all technology tiers. We're happy to see this feature being expanded, as Starkey reported in the livestream that it is saving lives.
Built on the all-new Thrive platform, Livio provides better sound quality than any other Starkey hearing aid. "Hearing Reality" technology, introduced now for the first time, provides 50 percent better user satisfaction in noisy listening situations, according to Starkey.
Hearing Reality delivers upgrades in clarity, comfort, and hearing performance from the quietest to the noisiest environments. It's designed to separate different "layers of sound" amplifying sounds that contribute to better understanding in conversation, while preserving peace and quiet for a natural listening experience.
With the Thrive Hearing Control app, you can easily adjust Livio hearing aids from compatible Apple iOS or Android mobile devices. Use the app to adjust the hearing aid volume, personalize your settings, and more.
Add geotags to automatically activate your preferred listening program based on your location. The app uses your smartphone's GPS to detect when you arrive, and automatically switches to the designated program.
Hear phone calls, TV and more directly through your Livio hearing aids using the Thrive app or one of Starkey's easy-to-use accessories. Thanks to new technology in Livio, you can enjoy consistent wireless performance while streaming calls, TV, music or other media from your smartphone or wireless accessories. Made-for-iPhone connectivity means you can stream audio and phone calls from compatible Apple iOS mobile devices directly to your Livio hearing aids. Streaming from an Android mobile device is possible with the Starkey Hearing Technologies Remote Microphone +.
Livio is available in 6 different styles, ranging from behind-the-ear, to an industry-first in-the-ear custom made rechargeable model.
Hearing aid companies release new products all the time, but truly groundbreaking innovations like Starkey Livio AI come only once in a while. Livio AI blurs the boundaries between hearing aids, wearable health technology, and multifunction consumer audio devices known as hearables. Starkey calls the new Livio AI the world's first Healthable—a multi-purpose device that redefines what a hearing aid can do.
This is the first hearing aid to feature integrated sensors and artificial intelligence for tracking brain and body health. The Livio AI concept is based on scientifically-sound evidence that healthy hearing contributes to overall brain and body health. These hearing aids don't just help you hear better. They aim to help you live better.
Starkey's goal is to make it easy for you to take a proactive approach to your health and wellness. Thanks to three-dimensional motion sensors integrated into the hearing aids, Livio AI can detect movement, enabling them to function as an activity tracker. They can count your steps, recognize gestures that control the hearing aids, and even detect if the wearer falls.
Combined with the Starkey Thrive Hearing Control app, you track brain and body wellness scores and set goals to improve your activity. The Thrive app scores derives your scores from your physical activity throughout the day, how long you wear your hearing aids each day, and how much time you spend actively engaged in conversation.
Livio AI works with all the same wireless accessories and offers the same Bluetooth functionality as the standard Livio AI, but with the added benefit of the AI features.
Livio AI is available in Starkey's 5 technology levels, listed here in order from lowest to best: 1000, 1200, 1600, 2000, and 2400.
The premium model (2400), actually has a slightly different product name then all the other models, due to it being the only model that features Starkey's "Edge Mode." The premium model is called Starkey Livio Edge AI 2400. Edge Mode activates with a double tap of the ear, and conducts an AI-based analysis of the environment to make immediate adjustments designed to improve speech audibility issues caused by background noise and even face masks.
Livio AI is available in 6 different styles, ranging from behind-the-ear, to an industry-first in-the-ear custom made rechargeable model.
Built on the Synergy sound processing platform, Starkey Picasso hearing aids feature high-end sound processing and Bluetooth® wireless in a discreet and comfortable custom fit. The Picasso product line continues Starkey's long standing reputation for building incredibly small hearing aids, and packing more technology into them than competitors seem to manage.
Every major hearing aid manufacturer now offers Bluetooth wireless hearing aids in behind-the-ear styles. Manufacturers also offer custom in-ear wireless hearing aids, but many of these product lines exclude wireless functionality from hearing aids any smaller than an ITE (in-the-ear) or ITC (in-the-canal) style. That's because wireless radio components and the batteries needed to power them are a lot easier to fit into large hearing aids.
Starkey Picasso come in five styles, offering Bluetooth wireless in sizes from in-the-ear all the way down invisible-style hearing aids. This isn't the first time Starkey has delivered wireless connectivity in the very smallest custom hearing aids. It is the first time the company has offered Bluetooth wireless at every performance level in invisible hearing aids.
With Picasso Bluetooth® hearing aids, you'll enjoy amazing comfort and performance, plus full compatibility with Starkey's SurfLink® wireless accessories.
Buy if:
You want invisible-style Bluetooth hearing aids for streaming audio from wireless accessories.
Small size and industry-leading feedback cancellation top your priority list.
You're looking for hearing aids with dedicated sound processing especially for music.
Starkey Hearing Aid Reviews
Below you'll see our 10 most recent and real Starkey hearing aid reviews and complaints, on all the latest models such as
Livio
,
Livio AI
,
Picasso
.
Any time you read a customer review on Starkey hearing aids, its important to note that a significant factor contributing to the customer`s review is the skill of the hearing provider who fit their hearing aids. For more information on this, we`d encourage you to check out our YouTube video:
Do Hearing Aid Reviews Matter
?
Starkey hearing aid apps & accessories
Have you ever thought about controlling your hearing aids from your smartphone? If so, check out some of the Starkey apps below. Be sure to check compatibility of these apps with your phone or tablet, because some apps are built exclusively for iOS devices, others for Android devices, and the functionality that you get from these apps may vary depending on the type of phone or tablet you use. In addition, sometimes apps may be built exclusively for iPhones (for example), and may not work on iPads. So it`s very important to check compatibility of your devices before selecting your hearing aids based on the apps available from Starkey.
You should also consider some of Starkey`s accessories, such as TV streamers and remote microphones. Again, it is important to do your due diligence as far as compatibility. Not all Starkey hearing aids will work with all of the below Starkey accessories. To find compatibility information, find the Starkey hearing aid on our site that you are looking for, then scroll down and you will see a section on the product page which reviews this information.
If you need Starkey supplies, such as domes, filters, or cleaning tools, we recommend contacting the local Starkey provider who sold you your hearing aids. You may also sometimes find these parts relatively inexpensive on sites like Amazing and eBay. For accessories, we do not recommend buying them on sites like Amazon or eBay, as that is not an approved sales channel for most major manufacturers, and sellers on those sites are likely not authorized Starkey retailers. You can also of course always buy these accessories from the local hearing provider which sold you your Starkey hearing aids.
Please note: We are only able to sell accessories & parts of supplies to customers who have purchased hearing aids through ZipHearing.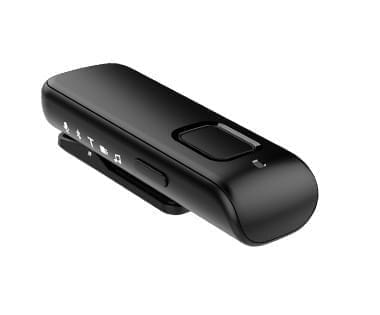 Starkey Hearing Technologies Remote Mic +: $299
If you have a hard time hearing in noise this accessory is a lifesaver. Attach this microphone to a companion's shirt and their voice will stream directly to your hearing aids. Their voice will come through much stronger than all the competing noise in the environment. In the event your smartphone is directly compatible with your hearing aids for streaming audio, this device also double as a Bluetooth streamer.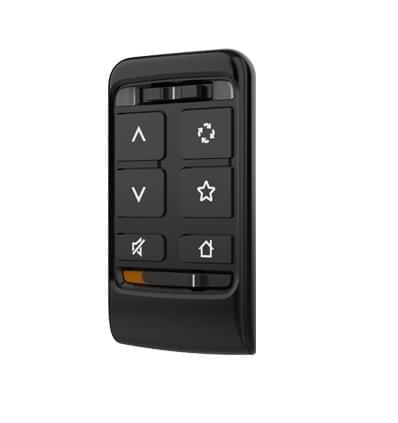 Starkey Hearing Technologies Remote: $179
You probably don't need this. Most people use the app to control their hearing aids, and if not the app, then the push button on the hearing aid itself. But if neither of those suit you, this remote is a simple way to control the volume and program.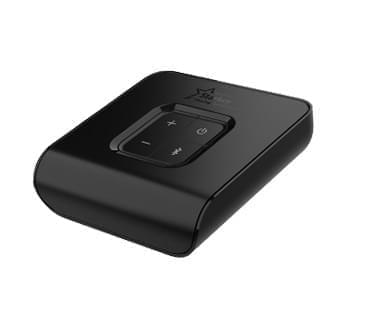 Starkey Hearing Technologies TV Streamer: $319
Plug it into the back of your TV or soundbar and the audio will be streamed directly to your hearing aids. Others can keep the TV at their preferred volume level, while you set your own volume via the app, on the hearing aids themselves, or via the buttons on the device itself.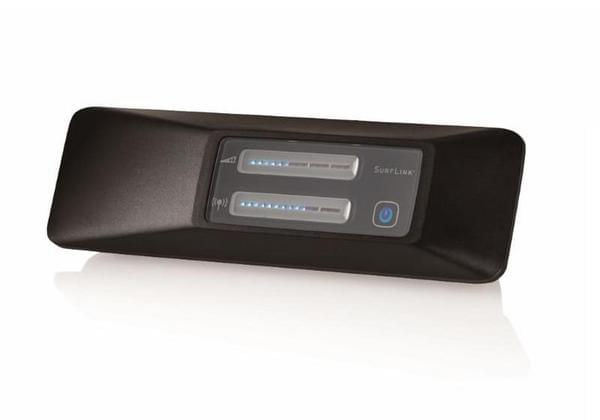 Surflink Media 2: $349
Plug it into the back of your TV or soundbar and the audio will be streaned directly to your hearing aids. Others can keep the TV at their preferred volume level, while you set your own volume via the app or on the hearing aids themselves.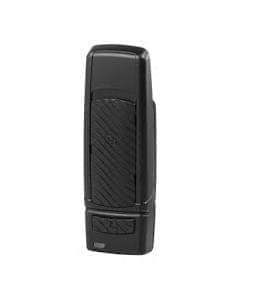 Surflink Mini Mobile: $199
Want to stream audio like music, phone calls, and podcasts from your smartphone to your hearing aids? This device is a must-have, giving you Bluetooth connectivity between your hearing aids and phone. Mini Mobile also allows you to have hands free phone calls, as the microphone on the unit picks up your voice for the caller to hear, so you don't have to hold the phone to your mouth. And if you have a hard time hearing in noise, Mini Mobile also works as a remote microphone, which can be a lifesaver. Attach the Mini Mobile to a companion's shirt and their voice will stream directly to your hearing aids. Their voice will come through much stronger than all the competing noise in the environment.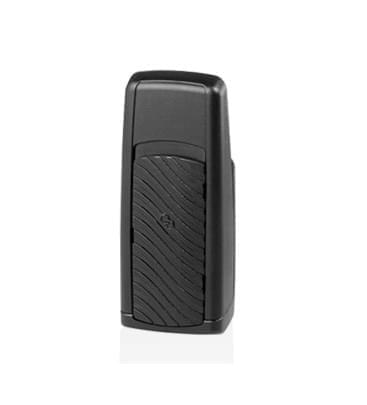 Surflink Remote Mic 2: $249
The SurfLink Remote Microphone 2 is designed to stream audio directly to your 900 MHz wireless hearing aids. This discreet, lightweight microphone can be worn by a conversation partner to aid in one-on-one conversations or settings with multiple speakers. SurfLink Remote Microphone 2 has two different modes of operation, known as "Focus" or "Surround". When clipped vertically to a speaker's clothing, the Focus mode, with directional microphones, activates to reduct background noise. This is useful for listening to a single speaker when background noise is present. When placed horizontally (on its clip), Remote Microphone 2 switches to Surround mode to receive sound from all directions. This is useful for listening to multiple nearby speakers in quiet environments.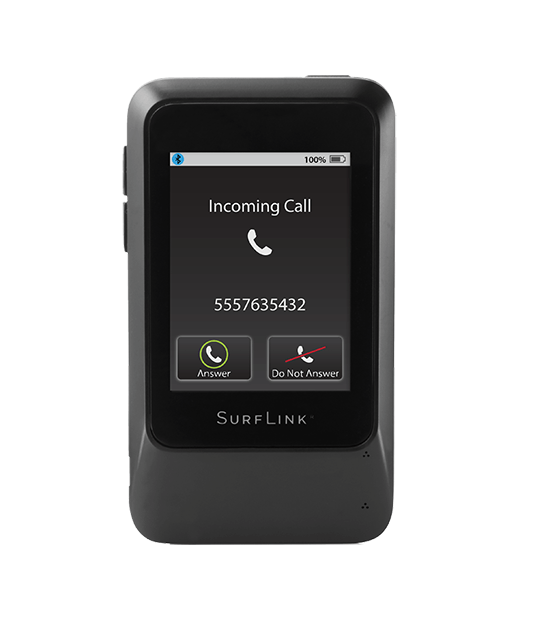 Surflink Mobile 2: $599
True hands-free cell phone conversations are here, thanks to Starkey's SurfLink Mobile 2 with JustTalk™. This multi-purpose accessory a mobile phone transmitter, remote microphone, media streamer and hearing aid remote all rolled into one. SurfLink Mobile 2 enables hands-free mobile phone conversations by turning 900 MHz wireless hearing aids into a wireless headset. Your hear the caller in both ears, through your hearing aids, and the caller hears you through the microphones in your hearing aids. As an audio streamer, SurfLink Mobile can receive input from Bluetooth devices (with the optional Mini Mobile adapter), wired input through the micro-USB jack, or through its own built-in microphones. The microphones have two modes: "Surround" for receiving sounds from all directions in a quiet environment, and "Focus" for hearing one person's voice in noisy environments.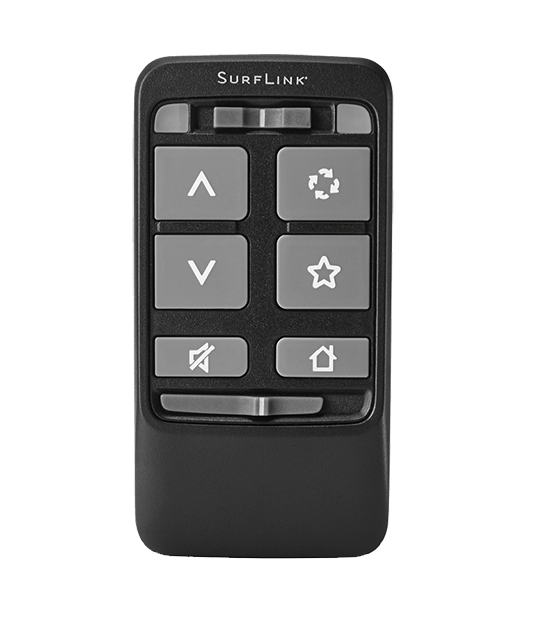 Surflink Remote: $199
SurfLink® Remote allows for easy and discreet adjustments to your hearing aids. With its long-life battery, your SurfLink Remote is always on and ready to work with your hearing aids. This handy remote allows you to adjust volume, change memory modes and more.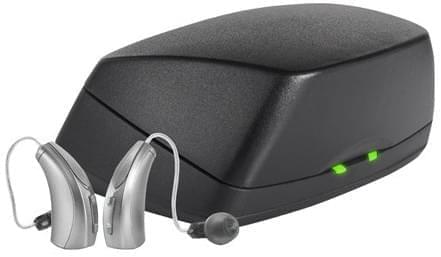 Li-ion Charger (included)
This is the standard charger that comes with rechargeable hearing aids. Fully charges hearing aids in 3.5 hours, providing 24 hours of power. The charger also has its own on-board battery which can store 3 full charges, in the event you don't have access to electricity. The charger has a built-in compartment for a dessicant puck (included), for dehumidifying the aids.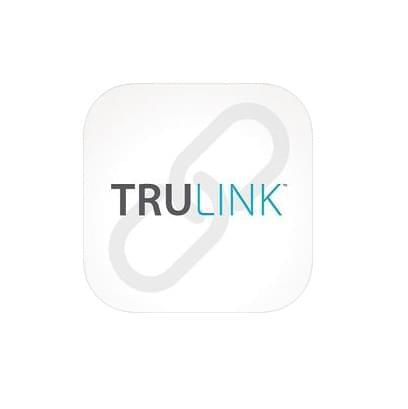 TruLink Hearing Control App
With TruLink and Starkey's Made-for-iPhone hearing aids, you can enjoy a more complete and convenient listening experience than ever before. That's because TruLink seamlessly connects your hearing aids to your iPhone®, iPad® or iPod touch®—so you can easily stream phone calls, music, FaceTime®, videos and more directly to your ears with pristine sound quality. What you can do with TruLink Hearing Control app: Control the volume of your hearing aids and switch between listening programs. Find a lost or misplaced hearing aid. Record, play back and email live sound sources. Use your smartphone as a remote microphone. These are great features, but some of the best are what you won't have to do, thanks to the app. For example, you can tie programs to specific locations, so you won't have to manually change the program anymore in those locations. Let's say you want a certain program to kick in automatically when you walk into the local coffee shop. The app can do that. Other examples? The app adapts automatically when you travel in a car and allows Siri® to read emails and texts to you through your hearing aids.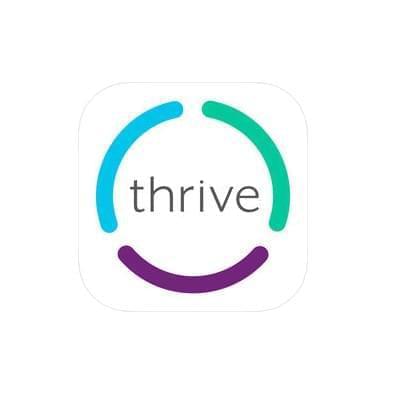 Thrive Hearing Control App
Take control of your hearing aids, with the most advanced app in the hearing aid industry. Adjust hearing aid volume, base and treble, create customized programs, and stream music or phone calls with the touch of a button. The Thrive app also gives you access to healthable features like brain and body activity tracking. You can set goals and your Brain Score and Body Score will let you know how close you are to meeting them. The Thrive Score is a combination of your Brain and Body scores. The Thrive app also offers information services like Thrive Assistant, Translate, Transcribe, and Self Check, which lets you check your hearing aid performance without an office visit.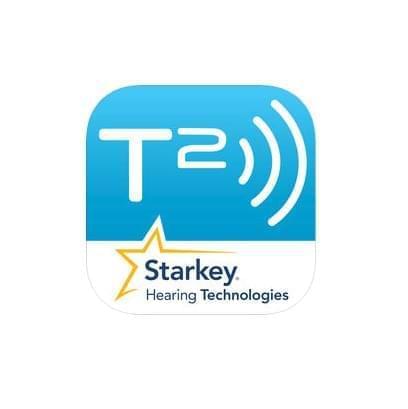 T2 Remote App
This app serves as a remote control for your hearing aids, allowing you to change the volume and program. Simply hold your phone near your ear while pressing a button in the app to make the change you desire. Your phone will then emit a sound, which the hearing aid interprets as instructions to make the change you requested.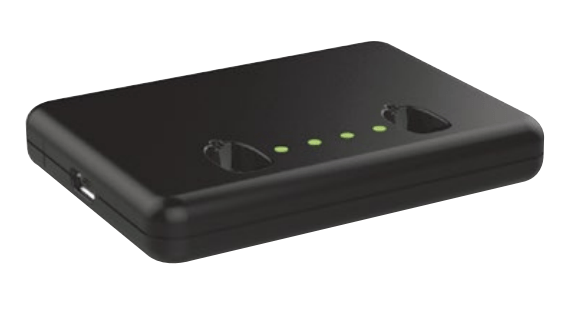 Mini Turbo Charger: $139
It's a pocket-sized turbo charger that can provide 3.5 hours of hearing aid use with just a 7 minute charge.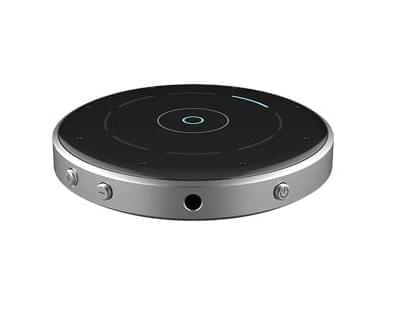 Table Microphone: $469
Set it in the middle of the table and enjoy group settings like family gatherings or noisy restaurants. It's eight built-in microphones detect the primary speaker's voice and stream it directly to the hearing aids.