Widex Moment 110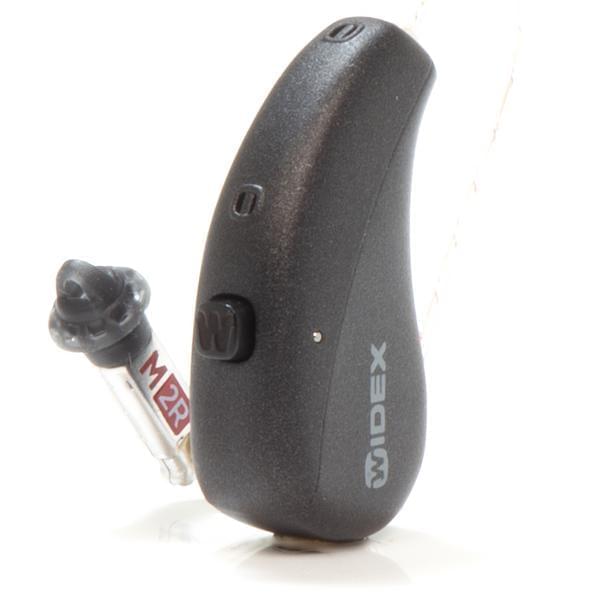 Chat for price
Start chatting now
Local fitting service included
Brand new factory direct
Flat-rate pricing, no hidden fees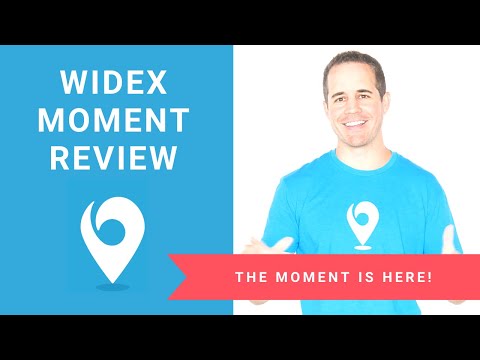 Hearing Aid Description & Features
Released by Widex on July 8, 2020 the Widex Moment 110 falls under Widex`s basic technology level within the Moment family.

As basic technology, this hearing aid is the lowest technology that Widex has to offer, making it a dependable choice for individuals with quiet lifestyles, who primarily wish to hear better around the home, in one-on-one conversations, watching TV, and in mostly quiet and small group settings.

The Widex Moment 110 hearing aid has 6 channels and 3 customizable programs, and that gives it the flexibility to digitally process sound in a way that sounds natural, and can also be adapted to the particular listening environment of the wearer.

The Moment 110 pictured above is rechargeable and is powered by a lithium-ion battery. This model is also available in a smaller RIC style, powered by a size 10 battery which will need to be changed every 3-5 days, or a size 312 battery which will need to changed weekly. With a maximum potential gain of 76 SPL, the Moment 110 is suitable for individuals with mild to severe hearing loss.

With its discreet RIC (receiver in canal) style, the Moment 110 sits comfortably behind the ear and is hardly noticeable to the wearer or others. This hearing aid is available in 13 color choices as shown below.

If you have questions about the Moment 110 that you don`t find answered on this page, or are looking for specs on this device, you might want to check out the downloadable documents (below), visit Widex`s website, or feel free to give us a call at 800-731-6794.
Real user reviews (pros & cons)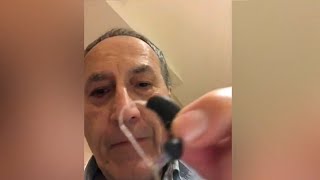 Bob's Review of Moment 440R
"I've tried 5 different major manufacturers of hearing aids, and haven't found one until now, that duplicates the high and low frequencies, the crescendos, in music, popular music, classical music, it's just a remarkable amount of authenticity and immediacy to listening to music."
Colors
Autumn Beige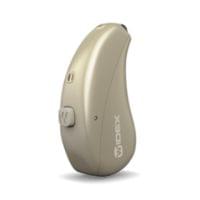 Honey Blonde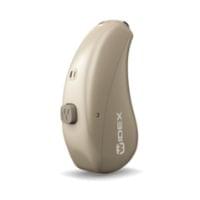 Golden Brown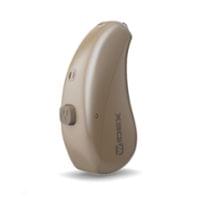 Chestnut Brown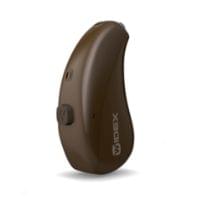 Dark Cherry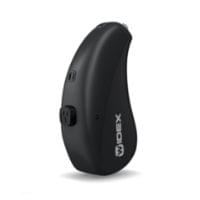 Tech Black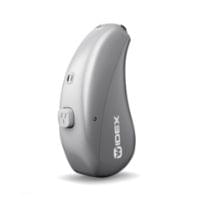 Silver Grey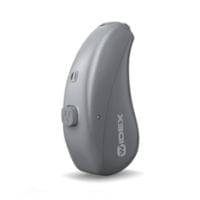 Titanium Grey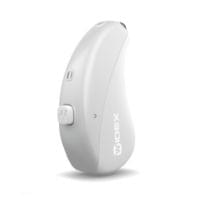 Pearl White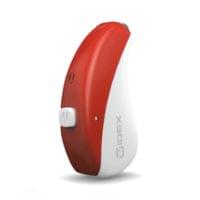 Sporty Red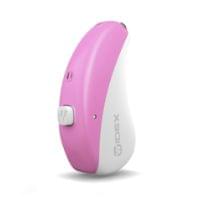 Shocking Pink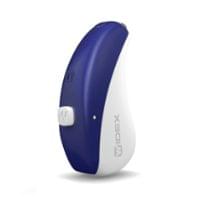 Deep Blue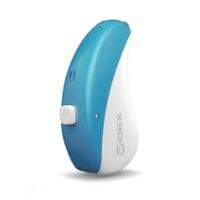 Mediterranean Turquoise
Accessories & Smartphone Apps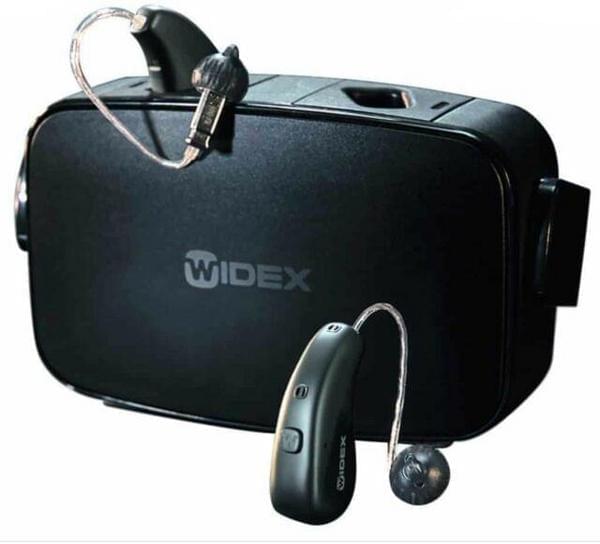 Charger (Included)
This is Widex's only charger and is the one that comes with all rechargeable hearing aids. Fully charges your hearing aids in 4 hours, providing 16-20 hours of power. A quick charge of 30 minutes will provide 4 hours of power.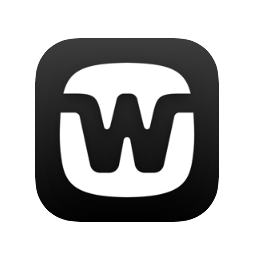 Moment App
Take control of your hearing aids. Adjust sound settings like volume, program, base & treble, and microphone directionality. Create your own listening programs for certain environments. Use the SoundSense Learn feature (powered by machine learning), to compare sound profiles and help your hearing aids get smarter over time.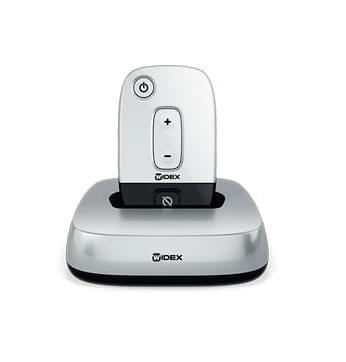 TV-DEX: $299
Plug it into the back of your TV or soundbar and the audio will be streaned directly to your hearing aids. Others can keep the TV at their preferred volume level, while you set your own volume via the app or on the hearing aids themselves.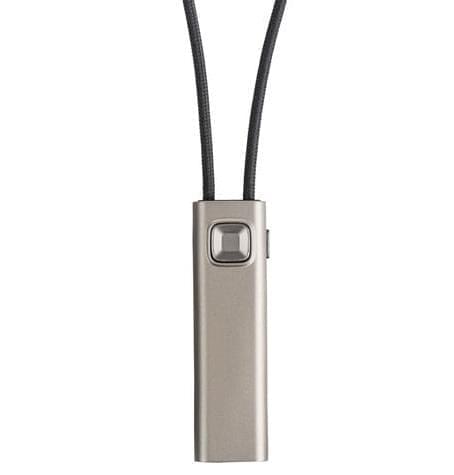 COM-DEX: $249
This is a Bluetooth streamer that allows you to stream audio from your phone to your hearing aids. If you have an iPhone, you don't need this, because iPhones directly stream to Widex hearing aids. If you have an Android or any other phone and you want to stream from your phone, you need this. Even if you have an iPhone, it still may make sense to get this, because it does allow for hands free phone calls. Wear it around your neck and the microphone picks up your voice for the person on the other end of the call to hear, so you don't have to hold you the phone to your mouth when speaking.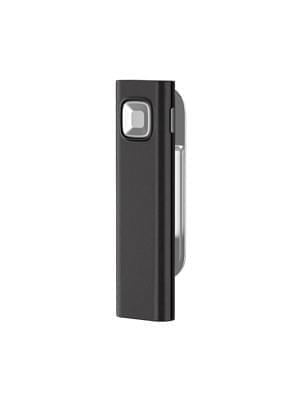 COM-DEX Remote MIC: $269
Used as an optional "add on" with the standard COM-DEX. Clip the COM-DEX Remote Mic to a companion's shirt and their voice will stream directly to the COM-DEX worn around your neck, and then to your hearing aids. Their voice will come through much stronger than all the competing noise in the environment.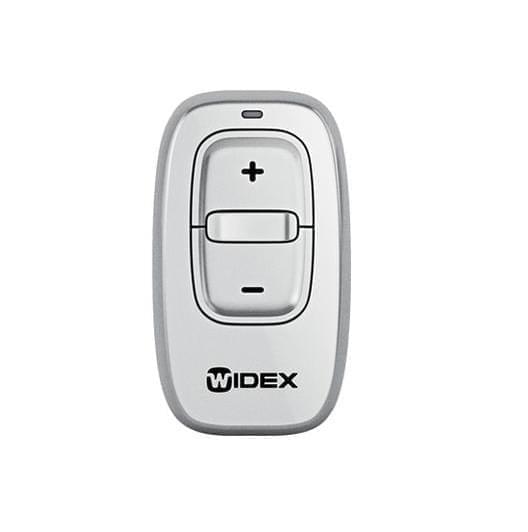 RC-DEX: $149
You probably don't need this. Most people use the app to control their hearing aids, and if not the app, then the push button on the hearing aid itself. But if neither of those suit you, this remote is a simple way to control the volume and program.
Included With Your Purchase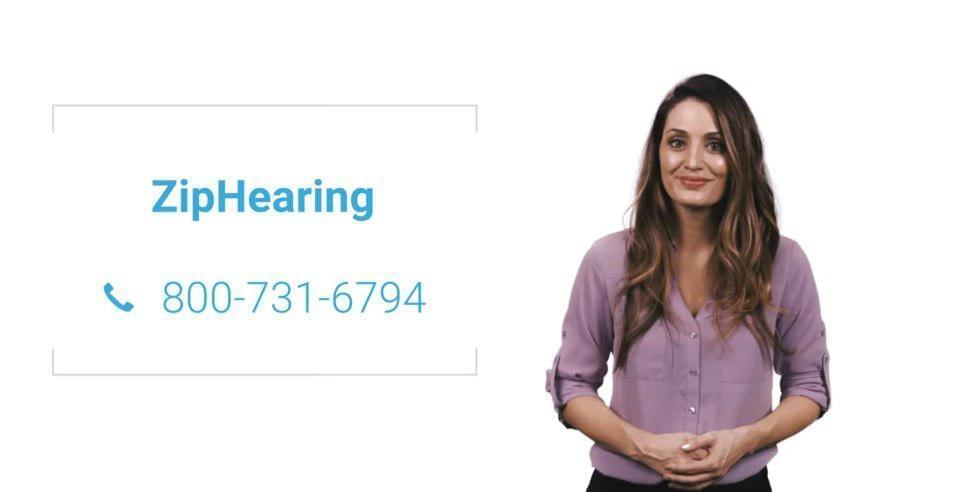 In-Person & Local Hearing Aid Fitting & Programming Service
Based on the results of your hearing test, your local ZipHearing provider will professionally fit and fine-tune your hearing aids to your unique needs.
45 Day 100% Risk-Free Evaluation Period
Once your hearing aids have been fitted, you'll have 45 days to evaluate them. All appointments with your local provider during your 45 day evaluation period are included at no additional cost. If you decide to return your hearing aids within the evaluation period, you'll be issued a 100% refund.
Follow-up Care
All follow up service appointments during your first year of ownership are included at no additional cost. After that time, your local ZipHearing provider may bill you privately for services at a rate not-to-exceed $50 per appointment.
3 Year Full Manufacturer Warranty
This hearing aid will come with a manufacturer's 3 year repair warranty and 3 year loss and damage warranty. If a hearing aid is lost or damaged beyond repair during the warranty period, your ZipHearing provider can file what is called a "Loss & Damage Claim" for you, and a new device will be issued, subject to a deductible payable to your hearing provider of $350/aid. As one of the few authorized Widex retailers on the web, you can rest assured that no matter what happens to your hearing aids during this time period- you're covered with a full factory warranty.
Charger
A small docking/recharging station is included. Rechargeable li-ion batteries are supplied with the units (built in).
Wax Filters, Domes, and Cleaning Supplies
Simple cleaning & maintenance supplies will be provided by the manufacturer and given to you at your hearing aid fitting appointment, along with rubber or silicone domes, and wax filters, which your hearing provider will show you how to use, ensuring your hearing aids remain free of wax, oil, and other debris.
Thank you!
Your review will be made public within 24 hrs.
Thanks! Our hours are 7am-4PM PST M-F. We'll call you when we're in!