Oticon Hearing Aid Models, Prices, & Reviews
Local fitting service included with all purchases
Need help choosing? Enter your info and we`ll call within 20 minutes!
Popular Oticon Hearing Aid Models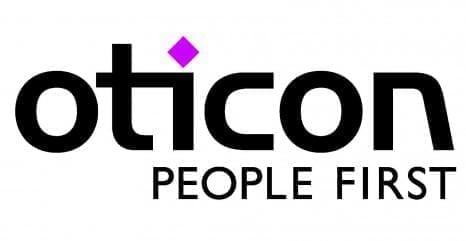 It takes something special for a company to thrive for more than a century, as Oticon has done. Part of what it takes is an extraordinary ability to satisfy customers, year after year, even when the times change. This Danish-born company has done just that since 1906. To put this in perspective—Oticon is not quite as old as The Washington Post Company (Est. 1877), and it's only two years younger than the Coca-Cola Bottling Company. Such longevity is impressive for any company. For a technology company that began almost half a century before the invention of transistors, it's downright remarkable. Today, the Oticon brand is still recognized globally as a leader in performance and innovation.
Oticon is no overzealous startup, but it isn't an immovable institution either. It's more of a seasoned veteran that knows where and when to move. Backed by a potent parent company (hearing industry giant William Demant Holdings), Oticon remains one of the most successful makers of hearing aids in the world. The tremendously popular Oticon More hearing aids are the latest evidence of this. Oticon also has a successful medical division best known for it's Ponto bone-anchored hearing solutions, and more recent entry into cochlear implants.
History is important, but it's Oticon's focus on the future that keeps the company relevant. Since the 1970s, Oticon has owned and operated a research facility dedicated exclusively to studying hearing loss. It is here, at The Eriksholm Research Centre in Denmark, that Oticon scientists explore some of the most innovative ideas. Areas of research and development include cognitive science (how the brain perceives sound) and augmented hearing (selective amplification based what listeners want to hear) to take hearing aids far beyond simply making sounds louder.
Not only do Oticon hearing aids consistently lead the pack in sound quality, they're also on the cutting edge when it comes to connectivity.
If you live in a smart home and like to sync your devices together via IFTTT, Oticon is for you.
Using the Oticon ON app, you can set up your Oticon hearing instruments to interact with other internet-connected devices and services.
Tech savvy Oticon wearers are using their hearing aids to turn on their lights, activate their home alarm and smart thermostat, notify them when their laundry is finished, and so much more.
Here is the bottom line: First, when you choose hearing aids from Oticon, you get cutting edge technology, designed by the best minds in the industry. Second, it's not all about technology. Hearing aids are meant to help people, so including the right features is just as important as pushing the limits of technology. Getting the details just right is only possible when the designers and engineers appreciate what matters most to people living with hearing loss, and know how to provide authorized Oticon hearing care professionals with the right technology. After more than 100 years of experience, Oticon gets this better than most.
Whether you are considering hearing aids for the first time or upgrading from an older model, Oticon hearing aids make a fantastic choice. If you would like help or advice on choosing an appropriate Oticon device, please feel free to call us.
Just released, January 12, 2021, More is the latest from Denmark-based Oticon. Coming off an amazing 2 year run with the previous generation Oticon OPN S device, More promises to deliver "more" of the BrainHearing™ technology that made OPN S so popular.
The BrainHearing™ approach was so popular that it earned Oticon a tie for first place in our "Best hearing aids of 2020" survey. We expect More to soon that take #1 spot, as it only builds on the success of OPN S, and takes it to a whole new level.
More is billed as "The world's first hearing aid with a built-in deep neural network."
Here's how Oticon did it, and what it means for you-
First, Oticon's research team got out of the lab, into real world sound environments. They took a 360° spherical microphone and put it through 12 million real world sound scenes.
Then, they used these recorded sounds to train the Deep Neural Network (DNN) technology to recognize each type of sound, and their relative importance to a hearing aid wearer.
Then, they put this DNN inside the More hearing aid. The result, is when you enter a sound scene, the hearing aid scans it, then utilizes its deep neural network to recognize the sound scene and make sure the sounds are clear and precisely balanced.
With More, Oticon has doubled down on their core philosophy (and what separates them from other brands)- that the wearer's soundscape should stay open and accessible to them, as opposed to closing it off with directional microphones and forcing the wearer to hear what the hearing aid thinks they should hear.
As of now, More is available in one style, Oticon's most popular miniRITE R style. It's a small receiver-in-the-ear style hearing aid with a built in lithium-ion rechargeable battery, and is the same design that was used for OPN S hearing aids. It's discreet, robust, and user-friendly.
Like almost all Oticon hearing aids, More will be directly compatible with iPhones, for Bluetooth streaming of audio. But (as a first for Oticon), More will also be compatible with select Android phones running 10, thanks to Android's relatively new ASHA protocol for streaming audio to hearing aids. In addition, Oticon More is ready for whatever Bluetooth innovations we see in the coming years, as Bluetooth's latest technology, LE Audio, gets rolled out.
Oticon Opn S is an outdated hearing aid and we recommend (in most cases), checking out the newer Oticon More.
OPN S is powered by the Velox processing platform, and builds on the previous generation of OPN hearing aids. Velox S is the fastest and most powerful processing platform Oticon has made. Opn S samples the sound environment a remarkable 56,000 times per second so the hearing aids can respond quickly and accurately to what's going on around you.
What difference does it make? Oticon says Velox S provides 15 percent better speech understanding in noise than the previous processor. According to the company's research, this reduces the effort required to understand, saving mental energy and improving how well listeners remember what they hear. Opn S also brings improvements in feedback prevention, to stop whistling noise before it starts.
Oticon's TwinLink™ wireless technology lets the two hearing aids communicate with each other to effectively analyze the three-dimensional soundscape. It takes two hearing aids to get the most from Opn S, because only by working in pairs can they perform to their full potential. TwinLink enables the hearing aids to pinpoint the direction of multiple voices and more effectively tame the noise.
Oticon Opn S comes in four models to match different levels of hearing loss. Each model comes in three performance levels, with Opn S 1 standing at the top. The maximum noise reduction is three times greater with Opn S1 than with the base model, Opn S3. All models are wireless and some offer a telecoil option, and the smallest OPN S MiniRite style is the most popular in the OPN S family.
Oticon now offers a version of this hearing aid for children, called the OPN Play. OPN Play has all the features of the OPN S, with some additional functionality helpful for children and parents.
Buy if:
Your top priorities are performance, performance, and more hearing performance. Note: these hearing aids perform best in pairs.
You want an open fitting with open sound quality, and you hope to wear a hat or hug someone without the hearing aids whistling.
Advertised as "the world's post powerful hearing aid," Xceed is Oticon's newest high power BTE hearing aid for users with severe-to-profound hearing loss. Available in two styles, super power (BTE SP), and ultra power (BTE UP), Xceed packs a ton of power- with up to 87 dB of gain. The introduction of the 675 battery ultra power BTE in particular is exciting, as it has been 15 years since Oticon has released their last ultra power 675 BTE, the Oticon Sumo.
Here are the three biggest improvements that we see in the Oticon Xceed, as compared to the previous power BTEs available from Oticon:
BrainHearing Rechnology: Oticon has enjoyed tremendous success in recent years, due in large part to their release of their BrainHearing™ technology in 2014. BrainHearing™ technology is a suite of features which is proven to help your brain understand and process sound more easily. Now, this technology has finally made its way to super power and ultra power BTE hearing aids, in the Oticon Xceed, allowing users with severe-to-profound hearing loss to enjoy all the benefits it provides.
2.4ghz connectivity: Oticon Xceed is Oticon's first high power BTE with 2.4 ghz connectivity, meaning it will connect directly with iPhones, and can connect to any other modern smartphone via the ConnectClip accessory. Finally, individuals with severe-to-profound hearing loss can wear Oticon hearing aids and benefit from the Bluetooth features available when hearing aids are paired to smartphones.
Improved feedback prevention: In March of 2019, Oticon introduced a new feature called, OpenSound Optimizer™, which handles whistling and static in a whole new way, preventing it from even happening. This new feature has been available in lower power hearing aids since that release, but has now made it's way to and is available in all Xceed models- giving users more power with less feedback.
Oticon Xceed is compatible with Oticon's full line of wireless accessories, so you can stream your favorite music and TV sound directly to both ears, enjoy hands-free phone calls, control your hearing aids via the Oticon ON App – and more.
Oticon OPN Play
OPN Play, released March of 2019, is Oticon's newest kid-friendly hearing aid. This is an exciting new release for Oticon, as their last pediatric hearing aid, Oticon Sensei, was released in 2013. Though Sensei is still a really popular pediatric hearing aid, we're pleased to see Oticon's pediatric hearing aid be updated with the newest technology they have to offer.
There are several key improvements with OPN Play as compared to the earlier Sensei model:
Built on the new Velox S platform: Earlier hearing aids usually presented one of two problems to the wearer. They either captured too much sound, overwhelming the wearer with distracting, non-essential sound, or, they made the field of sound too narrow, reducing the individual's ability to hear important and relevant sound that wasn't coming from directly in front of them. Oticon has found remarkable success in the past few years, with a new feature called OpenSound Navigator. The goal of OPN Play hearing aids, as the name implies, is to "open" the sound environment and give a child 360º access to the world so they can differentiate between meaningful sound and irrelevant, disturbing sound.
Made for iPhone & Rechargeable: OPN Play hearing aids are Made for iPhone®, which means they can connect directly to iPhones and iPads, allowing audio like phone calls, music, and more, to stream directly from these Apple devices with no intermediary Bluetooth adapter or streamer required. This Bluetooth connectivity also allows parents, teachers, and other caregivers to adjust children's hearing aid volume and program or check the battery status from a smartphone through the Oticon ON App. The Opn Play miniRITE R offers a rechargeable lithium-ion solution in a discreet design, helping to eliminate the hassle of handling and replacing batteries every few days. The charger features a stable magnetic connection and delivers a full day of power, including streaming, with an overnight charge.
Less feedback: Thanks to improvements Oticon has made to their feedback reduction feature, Oticon says OPN Play can deliver more gain (volume), with less feedback (whistling). This enables children to play, hug, interact, and wear hats and helmets without feedback.
Aside from the above improvements, OPN Play also offers tamper resistant battery doors, an IP 68 water-resistance rating, and an LED light for visual confirmation that the battery is functioning properly.
OPN Play is available in 4 four different styles, for hearing losses ranging from mild to severe. These styles include the traditional behind-the-ear power style, the discreet miniRITE style (with optional telecoil), and the new miniRITE R, which offers state of the art lithium-ion rechargeability. OPN Play is available in 12 different colors, to discreetly completely hair and skin, or to be bright and colorful.
Oticon Hearing Aid Reviews
Below you'll see our 10 most recent and real Oticon hearing aid reviews and complaints, on all the latest models such as
More
,
Opn S
,
Opn S Rechargeable
.
Any time you read a customer review on Oticon hearing aids, its important to note that a significant factor contributing to the customer`s review is the skill of the hearing provider who fit their hearing aids. For more information on this, we`d encourage you to check out our YouTube video:
Do Hearing Aid Reviews Matter
?
Oticon hearing aid apps & accessories
Have you ever thought about controlling your hearing aids from your smartphone? If so, check out some of the Oticon apps below. Be sure to check compatibility of these apps with your phone or tablet, because some apps are built exclusively for iOS devices, others for Android devices, and the functionality that you get from these apps may vary depending on the type of phone or tablet you use. In addition, sometimes apps may be built exclusively for iPhones (for example), and may not work on iPads. So it`s very important to check compatibility of your devices before selecting your hearing aids based on the apps available from Oticon.
You should also consider some of Oticon`s accessories, such as TV streamers and remote microphones. Again, it is important to do your due diligence as far as compatibility. Not all Oticon hearing aids will work with all of the below Oticon accessories. To find compatibility information, find the Oticon hearing aid on our site that you are looking for, then scroll down and you will see a section on the product page which reviews this information.
If you need Oticon supplies, such as domes, filters, or cleaning tools, we recommend contacting the local Oticon provider who sold you your hearing aids. You may also sometimes find these parts relatively inexpensive on sites like Amazing and eBay. For accessories, we do not recommend buying them on sites like Amazon or eBay, as that is not an approved sales channel for most major manufacturers, and sellers on those sites are likely not authorized Oticon retailers. You can also of course always buy these accessories from the local hearing provider which sold you your Oticon hearing aids.
Please note: We are only able to sell accessories & parts of supplies to customers who have purchased hearing aids through ZipHearing.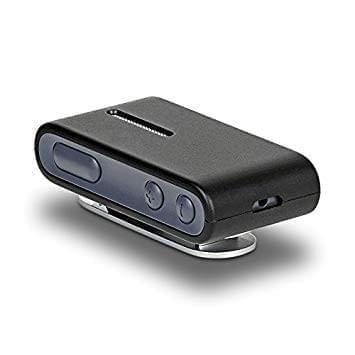 ConnectClip: $225
ConnectClip has two features. First, it's most commonly used as a Bluetooth streamer that allows you to stream audio from your phone to your hearing aids. If you have an iPhone, you don't need this, because iPhones stream directly to Oticon hearing aids. If you have an Android or any other phone and you want to stream from your phone, you need this. Even if you have an iPhone, it still may make sense to get this, because it does allow for hands free phone calls. Wear it around your neck and the microphone picks up your voice for the person on the other end of the call to hear, so you don't have to hold you the phone to your mouth when speaking. The second feature of ConnectClip is its ability to work as a remote microphone. If you have a hard time hearing in noise this accessory is a lifesaver. Attach the ConnectClip to a companion's shirt and their voice will stream directly to your hearing aids. Their voice will come through much stronger than all the competing noise in the environment.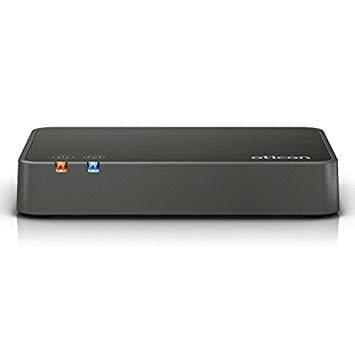 TV Adapter 3.0: $229
Plug it into the back of your TV or soundbar and the audio will be streaned directly to your hearing aids. Others can keep the TV at their preferred volume level, while you set your own volume via the app or on the hearing aids themselves.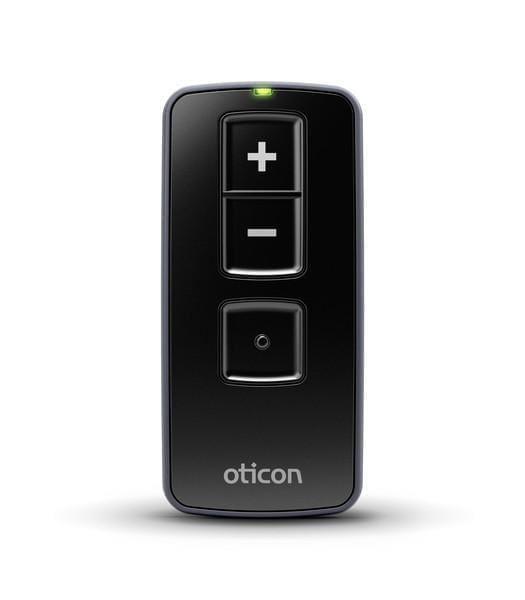 Remote Control 3.0: $179
You probably don't need this. Most people use the app to control their hearing aids, and if not the app, then the push button on the hearing aid itself. But if neither of those suit you, this remote is a simple way to control the volume and program.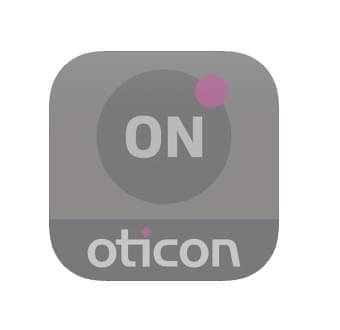 Oticon ON App
Take control of your hearing aids. Use the app to control settings like volume, program, background noise reduction and tinnitus relief sounds. Locate your hearing aids if you've lost them. Track valuable information on your hearing aid use, like wear time, and battery life.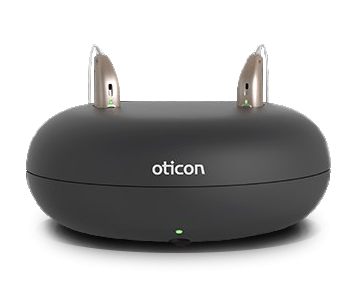 Charger (included)
This is Oticon's only charger and is the one that comes with all rechargeable hearing aids. Fully charges your hearing aids in 3 hrs, providing 24 hours of power. A quick charge of 30 minutes will provide 5 hours of power. There's also a compartment inside that has room for desiccant, which helps dry out the hearing aids overnight.