Swipe on hearing aid with two fingers for 3D preview
Phonak- "Life is On"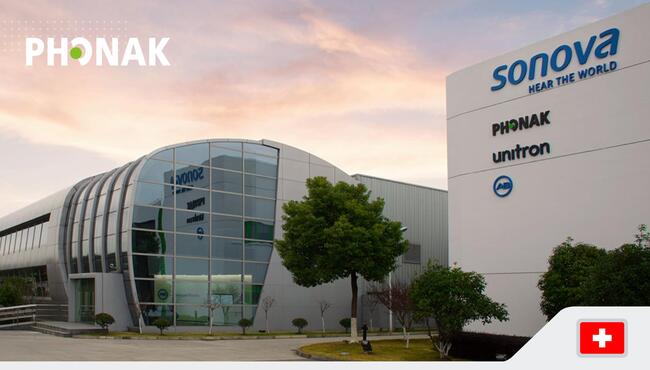 They're one of the few brands that has unique and innovative products in every category- from invisible, to rechargeable, to Bluetooth, to super power devices- the list goes on and on.

Swiss-based Phonak was founded in 1947 and has been making history all along the way. Lately, they seem to be going from strength to strength.

As of 2022, Phonak is best known for being the leader in Bluetooth hearing aids. While most hearing aids from other brands can only directly connect to iPhones and a few Android phones, Phonak hearing aids stand alone in being Bluetooth-compatible with nearly every cell phone on the planet.
Phonak at a glance
Relative sales popularity of Phonak models for:
Based on our internal sales data. Updated weekly.
Phonak hearing aid reviews
Expert reviews
Read what a few of our favorite ZipHearing providers have to say about Phonak
What I like
Phonak is consistently one of the faster innovators in the hearing aid world. They are among the first manufacturers to create a super-powered rechargeable hearing aid, which has been great for my patients. They offer some of the most comprehensive options for Bluetooth connectivity, and they provide creative solutions for hearing in background noise in the form of their Roger technology. The myPhonak app also allows users to have a good degree of control over their hearing aids and make small adjustments as needed. Phonak allows me to work with patients with a wide range of hearing difficulties -- from individuals who only struggle to hear in very noisy situations, all the way to people who have a hard time getting by even in one-on-one conversations. The current line of technology (Lumity), comes in four technology levels, which can be used effectively to meet different needs for each patient. Phonak's new Lumity hearing aids feature an updated design of the hearing aid charger, making it much easier to insert and remove the hearing aids. Additionally, a portable version of the charger is available, allowing for on-the-go charging without an additional accessory. Additionally, Phonak has created a waterproof model of their hearing aids, which I find to be great for folks who engage in activities that produce a lot of perspiration. Phonak has recently updated their myPhonak app, and it still has all of the same great features that it had prior to the update. However, I have received feedback from numerous patients that the app now looks cluttered and feels a bit more cumbersome to navigate.
What needs improving
Some maintenance parts, such as domes and wax traps, have proven challenging for some patients to utilize and change on their own. If someone has concerns about their grip strength or manual dexterity, there are some manufacturers that provide more usable solutions. I would like to see Phonak adopt a more user-friendly set-up for these parts so that more patients could effectively utilize their hearing aids.
What I like
Phonak's lineup covers all of my patients, including those with severe to profound hearing loss, which is a significant portion of our practice. For years, they've led the industry in directional microphone tech to improve speech understanding in noise and the current lineup continues in this tradition. For those who need a bit more help in this setting, their Roger microphone system is absolutely top notch.
What needs improving
Even though the Roger system lets people hear very well in noise, it's somewhat cost prohibitive. If they could bring the price down a bit, they would really have a great solution for almost everybody.
What I like
Phonak has been popular among our patients for several year now for having true Bluetooth connectivity that allows patients to be hands free when streaming phone calls with both Android and iPhones. It also allows them to connect to other Bluetooth enabled products such as laptop and desktop computers. They are now on the second generation of this feature with the Paradise line of behind the ear instruments, which comes with improved connectivity of multiple devices and an easier tap connection option on some models. Along with these cool Bluetooth features Phonak also does very well with sound quality and performance in difficult listening situations with the sophistication of their directional microphones and motion sensors.
What needs improving
Unfortunately, as happy as I am with Phonak's hands free streaming capabilities, their app/connectivity has some problems that does not always make for a perfect streaming experience for our patients. Phonak is aware of these issues and hopefully we will see improvements in the app experience and updates to the hearing aid firmware that will eliminate these issues. I also eagerly wait for more style options in the Paradise product line since not every patient wants something behind their ear.
Latest user reviews
Written Reviews
So much clearer
Was just fitted with the newest Phonak Lumity hearing devices, they are truly amazing! The sound quality is super crystal clear!  Very comfortable and even wearing a sun hat with the brim fitting next to my hearing devices there was not any sound issues. I had been wearing the Phonak Paradise 70's which would be comparable, but so much clearer sound.
I still struggle to hear
I have come to the conclusion that the hearing improvement that I had hoped for is just marginal in a quiet setting. I still struggle to hear my wife clearly on my left side. The Bluetooth was very good with phone conversations. The best part was in a noisy environment I was better able to hold a conversation with someone. I was hoping the new PRISM processor introduced in the Paradise series would help me with better speech clarity but it hasn't.
The best product on the market
I've had the Phonak hearing aids that preceded the "paradise" model for 5 very successful years. When people tried to convince me to use another manufacturer, I was adamant that I wanted  Phonak's "paradise". The Swiss made model is, in my opinion, the best product on the market.  Such features as multi volume settings, and automatic noise reduction, among others, made it the perfect hearing aid.
Happy with Phonak hearing aids
I have moderate to severe hearing loss at high frequencies. I have found the Phonak hearing aids to be very helpful in conversations when there is a lot of ambient noise and in discerning speech when listening to tv, my two main areas of concern. They are remarkably comfortable and I was accustomed to them before I got home from the delivery appointment. The sound quality is good. I like that they can stream music or siri via Bluetooth. You can even listen to a football game at a wedding without offending anyone. The phone calling or answering with an ear tap is a big plus. I like being able to adjust and control the Phonaks from my cell phone. I'm glad I opted for the waterproof version because it is so easy to forget you are wearing the aids, on a couple of occasions I have gotten into the shower while wearing them. Fortunately the waterproof Life version of the Phonak hearing aids tolerated the shower just fine. All in all, I'm very pleased with the Phonak paradise hearing aids.
Big improvement in clarity of speech
These new Phonak behind the ear hearing aids are significantly better than my previous older models. To me the difference is the improvement of clarity of speech over the back ground noise. I hear individual words clearer and that means the world to me!
It works well
First time user, so taking a little time to get used to them. I couldn't imagine how helpful it is to take phone calls through my hearing aids. Also I wound up using the bluetooth connection to my computer much more than expected. Phonak's commitment to full initegration with Android devices was important to me. It works well although I sometime have to wait after an unexpected disconnect.
Phonak Lumity Life
I tried several different brands before I bought the Phonak Lumity Life aids. Felt they were the best for me. I travel to dry and humid climates and felt the waterproof version was the best choice, had one aid prior that had to be dried out from being in rain. Now hopefully no issues there. They sound is great, picks up from all directions. Only complaint is the bluetooth to phone, hard to hear if in any noise area for the person you are talking to, they just hear the background noise. You hear them, but they hear the other noise. John S.
Phonak Naida P.90 PR are great!
I've had my new hearing aids a little over a month. I have a severe, high-frequency hearing loss. The Bluetooth technology on these are awesome. On the phone, I get responses like "you sound amazing!" They have made significant improvements on the myPhonak app from previous versions and I have a lot of flexibility to adjust programs in tough settings. I literally saved $2,300 from what I would have paid with my local provider. Thanks Zip Hearing, very pleased!
Highly recommend
I DO enjoy the benefits of wearing hearing aids. I have worn aids for the past nine years and recently replaced them with Phonak L70-RL hearing aids which I purchased through Zip Hearing. I've only worn them for about a week now, but I am very impressed. The quality of the Phonak product greatly exceeds my previous aids; which were from a big name provider. The sound is much clearer and more natural. The aids quickly adapt to the different hearing environments I am in. In addition, the MyPhonak app allows me to tailor my listening experience with my smart phone. I am very pleased with my purchase, and would highly recommend Phonak hearing aids.
Excellent sound quality
Sound quality for normal use and bluetooth for streaming books/music from my Samsung phone are all excellent.. When using for phone calls, I can hear fine, but I get complaints from most callers that my voice is harder to understand than when I'm using bluetooth or speaker phone. Subsequently, I rarely use the bluetooth capability while talking on the phone.. That defeats much of the purpose of the bluetooth capability. I wish there were a fix for this
Common questions about Phonak hearing aids
Who sells Phonak hearing aids near me?
We do! Call 800-731-6794 and we'll let you know our closest location to you. You can also find a Phonak seller and service center by visiting https://www.phonak.com/us/en/find-a-hearing-care-specialist.html.
Where are Phonak hearing aids made?
Phonak hearing aids are made in Aurora, Illinois, Stäfa Switzerland, and Vietnam.
How much do Phonak hearing aids cost?
Phonak hearing aids range in price from $1,000-$3,500 per hearing aid. Prices will vary based on the technology level of the hearing aid: 90 (premium), 70 (advanced), 50 (standard), 30 (essential). Other items included with your purchase may also affect the price, such as service plans, warranties, and accessories. Prices may vary significantly by region and retailer. At ZipHearing, our Phonak prices are *34% less than the national average retail price.
Based on pricing data published by HearingTracker.com
What is the best Phonak hearing aid?
What is the newest Phonak hearing aid?
The newest Phonak hearing aid is called
Naída Lumity
and it was released August 7, 2023.
How do you program Phonak hearing aids?
Phonak hearing aids, like all digital hearing aids, are programmed by computer to match the wearer's exact hearing profile. A Phonak hearing care provider wirelessly connects to Phonak hearing aids via an industry-standard programming device called Noahlink Wireless. Once connected, the hearing aids are programmed via a proprietary programming software that is only available to hearing care providers, called Target.
Are Phonak hearing aids waterproof?
Yes, Phonak Audéo Life is waterproof. All other Phonak hearing aids are water-resistant, but not waterproof.
How to pair Phonak hearing aids to an iPhone
Recent Phonak models that can stream audio directly from iOS devices (version 10.2.1 or newer):
2023: Naída Lumity
2022: Virto Paradise (wireless model only), Audéo Lumity
2021: Naída Paradise, Audéo Life
2020: Audéo Paradise, Naída Marvel, Virto Marvel (wireless model only)
2019: Audéo Marvel, Bolero Marvel, Sky Marvel
Not sure which model you have? Check your user guide, or call the Phonak provider who sold the devices to you.
Pairing Instructions
1. Make sure that your phone's Bluetooth is on. Go to Settings > Bluetooth, and make sure the toggle switch is set to On.
2. Open and close the battery doors on your hearing device. Or, if you use rechargeable Phonak hearing aids, switch the hearing aids off and on again, by pressing and holding the toggle down button for 3 seconds to turn them off, and repeating to turn them back on.
3. On your Apple device, go to Settings > Accessibility > Hearing, and select Hearing Devices.
4. Your Apple device will search for your hearing device.
5. Under MFi Hearing Devices, tap the name of your hearing device.
6. Tap Pair when you see the pairing request on the screen. If you have two hearing devices, you'll get two requests. Pairing could take up to a minute.
7. You can start using your hearing device when you see it under MFi Hearing Devices with a check mark.
How to pair Phonak hearing aids to an Android
Recent Phonak models that can stream audio directly from Android devices:
2023: Naída Lumity
2022: Virto Paradise (wireless model only), Audéo Lumity
2021: Naída Paradise, Audéo Life
2020: Audéo Paradise, Naída Marvel, Virto Marvel (wireless model only)
2019: Audéo Marvel, Bolero Marvel, Sky Marvel
Phonak hearing aids will stream to mostly any mobile device that supports Bluetooth, Hands Free Profile (HFP) and Advanced Audio Distribution Profile (A2DP). The pairing instructions below may differ on other devices; these were written for Android users.
Pairing Instructions
1. Go to the Android phone's home screen and tap on the "Settings" icon.
2. In the settings menu, tap on the Bluetooth icon.
3. Tap on the slider button to turn Bluetooth on.
4. Open the hearing aid battery doors for 5 seconds, then close the doors. This will put the hearing aids in pairing mode.. Or, if you use rechargeable Phonak hearing aids, switch the hearing aids off and on again, by pressing and holding the toggle down button for three seconds, and then repeating to turn the hearing aids back on.
5. On the Android phone, you will now see a message, "Available Devices."
6. The name of your Phonak hearing aid will appear on the screen with a telephone icon next to it. Tap on it to select.
7. A connection beep will be heard in the paired hearing aid.
8. Your Android phone is now connected to your Phonak hearing aids.