Swipe on hearing aid with two fingers for 3D preview
ReSound- "Rediscover Hearing"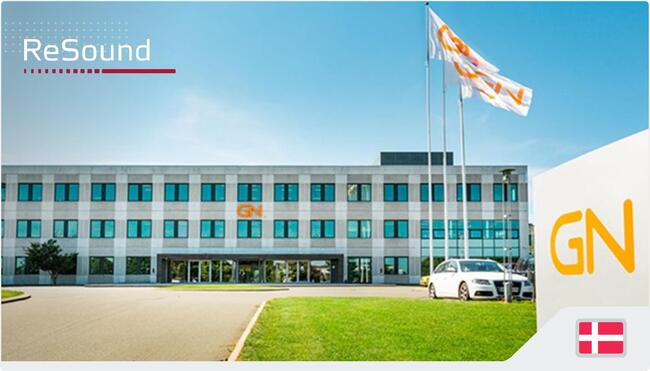 They're the company that introduced the world to the first Made for iPhone hearing aids in 2014. Almost overnight, it changed the way people think about hearing aids. Suddenly they were convenient, practical, and downright desirable consumer electronics.

Denmark-based ReSound was founded in 1943, and is located within miles of two other major hearing aid manufacturers. Perhaps it's this proximity to such a concentration of audio engineering talent that is fueling their innovation.

Most recently, ReSound introduced an innovative new receiver called M&RIE, which features a microphone in the ear, designed to help wearers better localize sound.
ReSound at a glance
Relative sales popularity of ReSound models for:
Based on our internal sales data. Updated weekly.
ReSound hearing aid reviews
Expert reviews
Read what a few of our favorite ZipHearing providers have to say about ReSound
What I like
Resound is the primary brand I dispense in my office primarily because my customer's prefer the sound quality of their devices over other brands and their devices have an extremely low repair rate. Resound is a pioneer in the industry, being the first manufacturer to develop a protective coating named iSolate that shields the internal and external electronics from liquids, moisture and dust, resulting in significantly fewer repairs. Resound is also one of the first manufacturers to release smart phone apps and rechargeable products to consumers and therefore those features perform well for customers.
What needs improving
Resound has the best custom product shell lab in the industry in my experience. Custom products fit the customer's ear perfectly on the first fitting and I never have to send it back for a remake to fit better. However, Resound needs work on its wireless CIC's. Currently, that style is only available with a large "antennae" that protrudes significantly out of the ear and is unsightly. Ultimately, I have to switch to another brand entirely for those customers who want a wireless CIC that is "invisible or nearly invisible".
What I like
Resound offers a wide array of hearing devices including comprehensive technology levels for all types and degrees of hearing loss. Development of the 2.4GHz wireless platform revolutionized the industry providing next gen solutions for my patients to enjoy. ReSound was the first to develop innovative "made for iPhone" technology; using Bluetooth Low Energy including applications for cosmetically appealing customized in the canal devices. As a mobile audiologist, I find the ReSound live assist feature very useful for my patient population. The specialized software allows virtual follow up opportunities in a safe and convenient environment for a multitude of scenarios including testing in-situ audiometry.
What needs improving
Patients would like increased lithium rechargeable battery life, an ability to utilize multiple Bluetooth devices simultaneously, and to have sustainable bilateral connectivity for Android devices.
What I like
Resound is the brand that I fit my mom's husband with, two of my aunts, my pastors' wife, and is the brand of RIC aids that I personally wear. I work with all the major hearing aid manufacturers, but there are a number of things that I believe Resound does top-notch. Resound has the Best cell phone app for Iphone and Android. Resound also has an outstanding feedback management system that allows a patient to experience all of the amplification gain they need without feedback. Resound has an AUTOMATIC Noise-Filtering system that filters noise in seven separate environments. There is also an Environmental-Optimizer that filters and ENHANCES speech in seven different environments. No other manufacturer has systems like these. The icing on the cake for Resound is their new M&RIE microphone system that adds a third microphone in the ear on the end of the RIC Receiver to give additional sound pickup and more natural sound quality.
What needs improving
Resound has had problems in the past with their charger box for their rechargeable RIC aids. The USB mini plug-in connection was not as durable as possible. Resound has rectified this problem recently by switching to the USB-C plug-in connector that has been more reliable. Resound could give us dispensers more program choices to give to patients, such as Television. With my 30 years of experience, I often create and program a television program for my patients. We are still anxiously awaiting Resound to come out with "Custom" in the ear aids for their highly successful Resound "ONE" product line….hopefully this fall.
What I like
I've been fitting ReSound hearing aids since they first came out in the late 1980s. Their approach to hearing loss has consistently helped my patients hear better in most setting. Their wireless connectivity to smartphones and accessories is very easy for patients and has proven to be rock solid. In particular, their MultiMic provides exceptional speech discrimination in noise as well as the ability to connect to several other inputs, and is very reasonably priced compared to similar microphones. Finally, their partnership with Cochlear Americas for connectivity to Nucleus Cochlear Implants and BAHA processors is a great bimodal solution for our patients with implantable hearing systems.
What needs improving
We work with a lot of folks with severe hearing loss. I'd love it if ReSound would extend the range of their frequency lowering (Sound Shaper) down to 1500 Hz. In more than a few cases, this was a deciding factor to move the patient to another product.
What I like
Our patients usually have great success with Resound hearing aids. Resound has been an innovator, especially when it comes to open fit technology and direct streaming to smart phones. They were the first to create made for iPhone hearing aids. We love the app that gives the user control of their Resound hearing aids allowing them to make adjustments to improve their hearing and understanding in challenging situations. The Resound One is their newest hearing aid with a brand new design that adapts to the patient's needs delivering a more natural sound.
What needs improving
While we really like the Resound ONE and the industry leading rechargeability with up to 30 hours of power from a 3 hour charge, we don't like that it's only available in the small over the ear style. Some people want a rechargeable custom design that fits only in the ear canal. In these cases we show the patients the pros and cons of that style and sometimes we have to order from a different manufacturer to get everything the patient wants.
Latest user reviews
Written Reviews
Sorry I Waited!
My new hearings aids have given me a new lease on life. The quality improvement in my hearing is fabulous. They even help drown out my tinnitus. Now my grandkids' voices are clear as a bell.
Excellent new hearing aids
The Omnia 9 powered by batteries 13 is incredible. I can now hear the doorbell and the phone ring. My voice sounds like my voice and the clarity is exceptional. The Omnia rechargeable was not reliable but I found the battery operated had clearer more natural sound and faster connectivity.The switch to the battery Omnia provided a much more satisfying experience. The app was faster and more automatic. Dealing with the courteous professional people at zip made buying hearing aids a comfortable process.
Top notch
Sound quality is excellent. Noise suppression is the best I've found and I had tried and returned several top rated aids prior to this one (I am single sided deaf.) The smartphone application gives you complete control over the sound. You can fine tune level of noise suppression as well as microphone focus. Supports T-coil if you go to the battery model (which I prefer) vs. rechargeable.
ReSound Enzo Q 98
The sound quality seems to be pretty good, as was the quality of other aids I tried from Phonak and Oticon. I chose the ReSound hearing aid because it seemed like it had more variability in the ways that the aid could be programmed. One thing all the hearing aids I tried seemed to lack was a directionality program which would only amplify sounds directly in front of the hearing aid. People with profound losses such as myself have a very hard time distinguishing what we want to hear from the "noise" in our environment. These aids seem to amplify everything, even in narrow directional mode, which makes it very difficult for me to distinguish the signal I want to hear from the cacophony of sound. Whereas, most people, and perhaps people with less severe hearing loss, may want to hear everything, for me it makes it almost impossible to pick up on the speech going on in front of me in a one-to-one conversation. I know that directionality is possible, because I have had hearing aids in the past that worked very well in reducing ambient noise and only amplifying what is in front. Since I just bought the hearing aid, I cannot speak to its durability, but other ReSound hearing aids I've worn in the past are still functioning, even decades after I bought them. One thing I noticed is that the ReSound hearing aids are susceptible to moisture, specifically in the form of sweat during athletic engagement. Even my new hearing aid got a little staticky during a tennis match, but returned to normal after being aired out. I believe there are other brands that may be more waterproof, as I believe they are given ratings to this effect.
Extremely happy with new hearing aids
I have only had the hearing aids for 2 weeks, but have no complaints so far. Sound quality is great! These hearing aids are a newer model of the hearing aids they replaced, but these new ones are a massive improvement over my last pair. I really like that they are rechargeable and I no longer have to fuss with batteries. I do a lot of streaming from my iPhone and TV and I was changing batteries about every other day.
New to Hearing Aids
I first tried a custom (earbud style) from a maker I will not name and was unsatisfied. With no questions asked, they were returned within 45 days. I switched to Resound Omnia RIE 61R's and could not be happier. Great sound, superb tinnitus management, front focus, and unbelievable in windy conditions. The premium charger works as advertised. My only complaint is the app is hard to see in bright sunlight (not enough contrast). I could not finish this review without noting that Jeff Hall is the epitome of excellent customer satisfaction!
These do not show much improvement
Good Sound Quality. My mild Tinnitus is significantly amplified. My wife complains she hears the sound whenever I enter the room or sit next to her. After reviewing ReSound One on the internet prior to buying, Tinnitus reduction was mentioned. With my previous premium seven year old ReSound's this was not a problem. I bought the ReSound One's to hear better in noisy rooms like restaurants. These do not show much improvement.
Very comfortable
I've been wearing the ReSound LiNX Quattro 9 Rechargeable for approximately 2 weeks.
This is my first hearing aid, but I did have a 2 week trial of the Widex 440 F2 prior to purchasing the ReSound.
The ReSound is easy to insert and remove; I've had no difficulties with that aspect of the product at all.
I have worn it continuously for up to 18 hours. I find it to be very comfortable; there have been several times I've forgotten that I had them on.
They charge quickly and hold charge well so far. Streaming audio with Bluetooth does indeed impact charge longevity. I haven't yet done a lot of experimenting with how quickly streaming depletes the charge.
I have an phome running Android 9 so I have to use the Clip device for streaming. I expect the phone will update to Android 10 in early 2020, making the Clip unnecessary.
So far, I am very pleased with the sound quality. We are still in the process of tuning the device to match my needs, so it will only get better.
I think the device may need some work on streaming performance. I occasionally experience 1 second dropouts on either side from time to time when listening to music or audiobooks. Other devices connected to my phone via Bluetooth do not exhibit these dropouts so I know it its the hearing aids. These is nothing unusual going on when those dropouts occur (not low on charge, no interference from nearby Bluetooth devices, the Clip is with definitely within range, etc.).
Streaming sound is not as good as I expected, but I think I know why:
My hearing needs a boost on the higher frequency ranges, so when streaming plays, that is what the hearing aids do. During normal (i.e. non-streaming) use, the hearing aids provide a higher frequencies supplement to the lower frequencies from my normal hearing. Streaming therefore sounds different because I'm not getting the low frequencies anymore; the hearing aids are acting like hearing aids, not ear buds or headphones.
So, it would be nice if when the device is being used in streaming mode, that the frequency range could be expanded to make it sound more like an ear buds or headphones.
I'll have to talk to my hearing professional and/or ReSound to see if this is possible.
Overall, I like the product. It definitely improves my quality of life which is my primary objective.
I love my new hearing aides!
The sound quality is excellent, as if it's my own hearing as I was able to hear before. They are durable & reliable. I'm so, so thankful to finally be able to hear clearly once again! They are so small that even when I try to show a friend, they have trouble seeing them!
Common questions about ReSound hearing aids
What is ReSound's best hearing aid?
The best ReSound hearing aid is ReSound Omnia 9.
Does Costco sell ReSound hearing aids?
Yes! Costco's ReSound Preza is based on ReSound's best-selling hearing aid from 2019- ReSound LiNX Quattro. The Preza does not have all the same features as the standard ReSound LiNX Quattro that can be purchased from an independent ReSound retailer- but that is normal for Costco hearing aids.
What is the newest ReSound hearing aid?
The newest ReSound hearing aid is called
ReSound Omnia
, and it was announced August 16, 2022.
How much do ReSound hearing aids cost?
ReSound hearing aids range in price from $1,000-$3,500 per hearing aid. Prices will vary based on the technology level of the hearing aid: 9 (ultimate), 7 (mid), 5 (basic). Other items included with your purchase may also affect the price, such as service plans, warranties, and accessories. Prices may vary significantly by region and retailer. At ZipHearing, our ReSound prices are *36% less than the national average retail price.
*Based on pricing data published by HearingTracker.com
Who sells ReSound hearing aids near me?
We do! Call 800-731-6794 and we'll let you know our closest location to you. You can also find a ReSound seller and service center by visiting https://www.resound.com/en-us/find-a-professional.
Where are ReSound hearing aids made?
ReSound hearing aids are made in Bloomington, Minnesota, Denmark, and China and Malaysia.
How to pair ReSound hearing aids to an iPhone
Recent ReSound models that can stream audio directly from iOS devices (iOS version 12 or newer):
2022: Omnia
2020: ONE, Enzo Q
2018: LiNX Quattro
Not sure which model you have? Check your user guide, or call the ReSound provider who sold the devices to you.
Pairing Instructions
1. Make sure that your phone's Bluetooth is on. Go to Settings > Bluetooth, and make sure the toggle switch is set to On.
2. Open and close the battery doors on your hearing device. Or, if you use rechargeable ReSound hearing aids, switch the hearing aids off and on again, by pressing and holding the push button for 3 seconds to turn them off, and repeating to turn them back on.
3. On your Apple device, go to Settings > Accessibility > Hearing, and select Hearing Devices.
4. Your Apple device will search for your hearing device.
5. Under MFi Hearing Devices, tap the name of your hearing device.
6. Tap Pair when you see the pairing request on the screen. If you have two hearing devices, you'll get two requests. Pairing could take up to a minute.
7. You can start using your hearing device when you see it under MFi Hearing Devices with a check mark.
How to pair ReSound hearing aids to an Android
Recent ReSound models that can stream audio directly from Android devices (requires Android 10):
2022: Omnia
2020: ONE, Enzo Q
2018: LiNX Quattro
Please note that not all Android devices can directly stream to ReSound hearing aids. Check compatibility.
Pairing Instructions
1. Go to the Android phone's home screen and tap on the "Settings" icon.
2. In the settings menu, tap on the Bluetooth icon.
3. Tap on the slider button to turn Bluetooth on.
4. Open and close the hearing aid battery doors. Or, if you use rechargeable ReSound hearing aids, switch the hearing aids off by pressing and holding the push button for 3 seconds, then repeating to turn them back on again.
5. Open the "Settings" app on your phone
6. Tap "Connected devices", and "Pair new device."
7. If you have more than one hearing aid: Wait for the first hearing aid to connect, then tap the other hearing aid in the list of available devices.
8. Your Android phone is now connected to your ReSound hearing aids.
How do you program ReSound hearing aids?
ReSound hearing aids, like all digital hearing aids, are programmed by computer to match the wearer's exact hearing profile. A ReSound hearing care provider wirelessly connects to ReSound hearing aids via an industry-standard programming device called Noahlink Wireless. Once connected, the hearing aids are programmed via a proprietary programming software that is only available to hearing care providers, called Smart Fit.
Are ReSound hearing aids waterproof?
No. Some ReSound hearing aids have an IP rating of 68, which makes them very water-resistant, but they are not waterproof.