Swipe on hearing aid with two fingers for 3D preview
Signia- "Life Sounds Brilliant"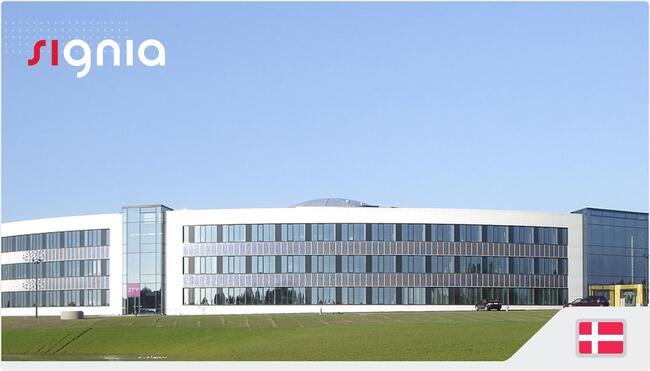 You may have never heard of Signia, but you've likely heard of the German technology company Siemens. In 2016, Siemens sold their hearing aid business and the brand name was changed to Signia.

Signia brought a startup mentality and several new innovations to a company with roots in the industry dating back to 1878. In just a few short years, Signia has introduced several innovative products and has carved out a market share it rightfully earned.

Signia's most recent notable achievement is the release of their Augmented Xperience (AX) platform, which powers their best-selling Pure Charge&Go AX hearing aids.
Signia at a glance
Relative sales popularity of Signia models for:
Based on our internal sales data. Updated weekly.
Signia hearing aid reviews
Expert reviews
Read what a few of our favorite ZipHearing providers have to say about Signia
What I like
Signia is definitely one of my go-to hearing aids because of their reliability and quality of materials. I have worked with every hearing aid manufacturer and have the fewest repairs with my Signia products. Outside of the terrific sound quality and integrated noise suppression circuitry I find that patients take easily to their sleeve domes that will not accidentally come off in their ear with the built in positive snap connection.
What needs improving
On the negative side of Signia, I find that they are a little conservative when I ask them to make deep or long custom instruments. I think they tend to give insertion comfort priority over power requirements when building their custom shells. Sometime we just need to make the hearing aids as deep into the ear as possible and they hold back a little
What I like
I have often mentioned that out of the 7 leading manufacturers, Signia would more than likely be my choice if I were to need hearing aids. For years, I have seen tremendous growth and innovations in their newer products and they have one of the most extensive lists of options to match most consumers' lifestyle and budget. Their latest chip, Signia A/X, focuses on improving speech understanding in noisy environments by having one processor focus specifically on noise while a seperate one focuses on the speech source. This separation has led to our patients stating that it's the clearest sound they have ever heard. These improvements, paired with being the only company with a dedicated face mask mode for improved understanding, are just a fraction of the tools available to help the patient hear better than they ever have with hearing aids.
What needs improving
Now like all companies their hearing aids aren't without faults. I have long wished for Signia to insert an LED light on the physical housing of their Receiver in the Ear Canal hearing aids so that when users manually power them off/on that they can see an indicator flashing and confirm that it was done so successfully. Most users just power them off on the charger which is a breeze, however some may want to power them off when going to the pool or beach in our warm Florida climate. Also, the A/X chip is their first to support the ASHA protocol for Binaural content streaming from Android mobile phones. Although this is a major leap and one most manufacturers do not support, I still feel that Iphone users will still have a much smoother listening experience when streaming VS the Android users. Nevertheless, these cons dont take away from the incredible listening experience they are providing and I will continue recommending their products for most consumers when appropriate.
What I like
Signia designs really impressive, unique consumer features. With everything from the rechargeable bluetooth in-the-ear Active X to the sleek and stylish Styletto RIC, they have a product that will likely fit your aesthetic preference. In addition, features like motion sensors, dual processors, and Own Voice Processing allow the potential for great hearing even in noisy places.
What needs improving
Their RIC devices don't fit all ear canals comfortably. We'd love to see a curve in the speaker outlet for a better all-around fit
What I like
I have found Signia to be one of the hearing aid manufacturers that consistently releases meaningfully-different and consistently-improving technology. Their new product, the Augmented Xperience (AX) hearing aids provide some of the longest-lasting rechargeable battery life in the industry. Additionally, they have a portable charger that holds its own charge, which is useful if you want to travel lightly on short trips. The AX now comes in a variety of form factors. A rechargeable in-the-ear hearing aid is available, as is a super thin behind-the-ear "Styletto" model. These options allow me to serve a wide range of patients with a variety of needs. On the programming side, I particularly enjoy their "Own Voice Processing" which helps patients acclimate to the sound of their own voice when they start wearing hearing aids. This can be difficult for new hearing aid users, so it is nice to have a specific feature to help mitigate this challenge. The app for mobile phones is very user-friendly and easy to use, and Signia has begun including select Android phones in their list of Bluetooth streaming-capable phones.
What needs improving
I would like to see Signia reach the level of Bluetooth streaming capabilities that Phonak has reached. As of now, only certain Android phones can stream phone calls and other audio into Signia hearing aids.
What I like
The Signia brand of hearing aid technology has always been proven to be a top level performing hearing aid for our customers. They have a great performing hearing aid for all different types of hearing losses that I come across in my office. Signia has a wide variety of different styles of hearing aids as well. This makes it easy for customer's expectations and preferences to be met and exceeded. Signia's new pure charge and go AX hearing aid technology has some of the best sound quality and clarity I've worked with. Their hearing aid's Bluetooth phone call streaming technology is clear sounding and works easily.
What needs improving
Even though Signia is in most cases my go to hearing aid hearing for my customers, I do find that the super power hearing aids users can prefer another manufacturer's sound quality from time to time. It would also be very helpful if they came out with a rechargeable custom hearing aid to their hearing aid technology portfolio.
What I like
Signia produces hearing instruments that provide wearers with maximum clarity in all situations. With an extended bandwidth Signia makes music sound much more realistic than ever before. Signia hearing instruments have been tested to provide better hearing in noise than normal hearing. We appreciate the variety of styles Signia offers to meet everyones needs. Some of the unique hearing instruments Signia offers are the invisible Silk devices along with the Styletto which has a very appealing style and a carrying case with an internal battery to charge your aids on the go!
What needs improving
We would like to see some better options for the in the ear hearing devices.
What I like
Signia is one of the "Big 6" hearing aid manufacturers internationally. Signa was founded by Siemens a 100-year-old German multinational company known for telecommunications, MRI's and other industrial technologies. That electrical engineering and innovation background made Signia one of the leaders in hearing technology. Like its other Big 6 competitors, Signia offers Bluetooth connectivity, rechargeables, and different styles from BTE's for severe hearing loss to tiny mini CIC's for those with mild to moderate hearing losses seeking discreet hearing assistance. Signia's current AX model platform boasts the only hearing device on the market with two separate processors, one to seek and process speech and the other to reduce background noise. The AX platform also utilizes a feature termed "Own Voice Processing" in which the processors can recognize the user's voice to minimize it from being amplified and sounding "artificial" or plugged up which can be a problem for 1 st timer hearing aid users. I find myself fitting more and more Signia products because patients really are pleased with sound quality of the device and I receive increasingly more phone calls requesting Signia products.
What needs improving
Signia makes a great "off the shelf" RIC product but their shell lab is lacking. Despite being the first hearing aid manufacturer to develop scanning technology of ears to make custom products, those models typically don't fit well. This is puzzling and find myself looking to different hearing manufacturer when a patient wants a custom products or needs earmolds. I would like to see Signia work on its advertising and market penetration. Signia has shrunk in terms of name recognition the last 4-5 years, likely due to more aggressive marketing by several of its competitors. As a hearing aid dispenser, this sometimes makes it tough to encourage patients to try their product if they are not as familiar with the Signia brand as much as other manufacturers.
Latest user reviews
Written Reviews
Work how they should
Signia Insio AX7 ITC aids provide not only great sound, but with its microphones inside the pinna provide better directionality and stereo sound sound versus traditional RIC hearing aids. Their dual processing units do, as they claim, separate noise from voice making understanding of speech in noisy environments easier.
Love these Signia hearing aids
I love my new hearing aids! This is my third pair and they are better by far from the previous two pair!
I am hearing conversations and tv more clearly and music is wonderful to listen!
Love these Signia hearing aids!
The quality is very good
This is my second pair from Zip hearing, these were purchased as a back pair but because they are a newer upgraded version I am using these all if the time and keeping my others as a backup. The quality is very good on both versions, these are supposed to be a little better on background noise. I do use these every day and they have become a important part of my life.

They work well and are simple to control
I find the Signia Active Pro aids to be a great solution to my hearing difficulty. They work well, are simple to control and are a comfortable fit. I have experienced other aids that didn't satisfy me.
I am very pleased
I am very pleased with the Signia Pure Charge and Go 7X that I purchased from Zip Hearing about a month ago. They are far and away better than my 10 - year old set in every way. They are smaller than I expected, the sound is excellent, and they can be programmed for different hearing situations. Being able to adjust them using my iPhone is a plus. Unfortunately in today's HA market, there is a direct relationship between cost and quality, so I recommend buying the best you can afford. I also suggest that you try different models before you buy and find the best one for you.
The sound quality is excellent
I have never worn a hearing aid, so I wasn't sure what to expect. I forget that it's there! It's very comfortable and the sound quality is excellent. You can't hardly see the little tube going into my ear and people don't notice it even when my hair is up in a ponytail. I am not self conscious about it at all. I had forgotten how loud my turn signals in my car really were.
I am extremely pleased
I opted for the Signia Silk X hearing aid after conducting extensive research on the available "CIC" brands and was fortunate enough to find Zip Hearing, who is an authorized distributor for most major brands. I am extremely pleased, not having used any devices prior, and I am now able to hear quite a bit better and picking up the high frequency sounds that I was missing before. These can be programmed to your needs and are extremely comfortable. I decided I had no risk as Zip provides 45 day return policy if you are not satisfied. I would highly recommend Zip as they have ( at least I have found) qualified affiliates throughout, who will provide an audiology test and let you know if you are a candidate for these "Completely In Canal" devices and will continue to service them when needed. The entire experience was excellent. No BS and no high pressure. Reasonably priced for the technology. The best thing is that you do not need a special molded ear piece.
Good, with issues
Better sound quality than my old hearing aid.
The main problem I've had with them is that the domes keep falling out -- the audiologist is now trying a different size. The design on my previous model, with a double dome, worked better.
Common questions about Signia hearing aids
What is Signia's best hearing aid?
Who sells Signia hearing aids near me?
We do! Call 800-731-6794 and we'll let you know our closest location to you. You can also find a Signia seller and service center by visiting https://www.signiausa.com/store-locator/.
What is the newest Signia hearing aid?
The newest Signia hearing aid is
Styletto AX
and it was released Sept 1, 2022.
Where are Signia hearing aids made?
Signia hearing aids are made in Piscataway, New Jersey, Singapore, Poland, and as of September 2022, Mexico.
How much do Signia hearing aids cost?
Signia hearing aids range in price from $1,000-$3,500 per hearing aid. Prices will vary based on the technology level of the hearing aid: 7 (premium), 5 (advanced), 3 (standard), 2 (essential), 1 (economy). Other items included with your purchase may also affect the price, such as service plans, warranties, and accessories. Prices may vary significantly by region and retailer. At ZipHearing, our Signia prices are *28 % less than the national average retail price.
*Based on pricing data published by HearingTracker.com
How to pair Signia hearing aids to an iPhone
Recent Signia models that can stream audio directly from iOS devices (iOS version 11.0.3 or newer):
2022: Pure 312 AX
2021: Pure Charge&Go AX, Active X, Insio Charge&Go AX
2020: Styletto X
2019: Pure Charge&Go X, Pure 312 X
2018: Insio NX
Not sure which model you have? Check your user guide, or call the Signia provider who sold the devices to you.
Pairing Instructions
1. Make sure that your phone's Bluetooth is on. Go to Settings > Bluetooth, and make sure the toggle switch is set to On.
2. Open and close the battery doors on your hearing device. Or, if you use rechargeable Signia hearing aids, switch the hearing aids off and on again, by pressing and holding the push button down button for 3 seconds to turn them off, and repeating to turn them back on.
3. On your Apple device, go to Settings > Accessibility > Hearing, and select Hearing Devices.
4. Your Apple device will search for your hearing device.
5. Under MFi Hearing Devices, tap the name of your hearing device.
6. Tap Pair when you see the pairing request on the screen. If you have two hearing devices, you'll get two requests. Pairing could take up to a minute.
7. You can start using your hearing device when you see it under MFi Hearing Devices with a check mark.
How to pair Signia hearing aids to an Android
Recent Signia models that can stream audio directly from Android devices (requires Android 10).
2022: Pure 312 AX
2021: Pure Charge&Go AX, Active X, Insio Charge&Go AX
Please note that not all Android devices can directly stream to Signia hearing aids. Check compatibility
Pairing Instructions
1. Go to the Android phone's home screen and tap on the "Settings" icon.
2. In the settings menu, tap on the Bluetooth icon.
3. Tap on the slider button to turn Bluetooth on.
4. Open and close the hearing aid battery doors. Or, if you use rechargeable Signia hearing aids, switch the hearing aids off by pressing and holding the push button for 3 seconds, then repeating to turn them back on again.
5. Open the "Settings" app on your phone
6. Tap "Connected devices", and "Pair new device."
7. If you have more than one hearing aid: Wait for the first hearing aid to connect, then tap the other hearing aid in the list of available devices.
8. Your Android phone is now connected to your Signia hearing aids.
How do you program Signia hearing aids?
Signia hearing aids, like all digital hearing aids, are programmed by computer to match the wearer's exact hearing profile. A Signia hearing care provider wirelessly connects to Signia hearing aids via an industry-standard programming device called Noahlink Wireless, or Signia's own device, called ConnexxAir. Once connected, the hearing aids are programmed via a proprietary programming software that is only available to hearing care providers, called Connexx.
Are Signia hearing aids waterproof?
No. Some Signia hearing aids have an IP rating of 68, which makes them very water-resistant, but they are not waterproof. Curious how Signia hearing aids hold up in water? We put them to the test in
this video
.