Oticon- "People First"
It enjoys perhaps the best overall reputation with near universal praise from the hearing care provider community. This isn't a brand you'll hear many hearing providers or hearing aid wearers criticizing.

Based in Copenhagen, Denmark and founded in 1904, Oticon is the second-oldest of the big 6 hearing aid brands. They got a decades-long head start at perfecting their craft, and it shows.

Oticon's most recent claim to fame is their release of the More hearing aid, which is the first hearing aid with a Deep Neural Network built-in.
Oticon at a glance
Relative sales popularity of Oticon models for:
Based on our internal sales data. Updated weekly.
Best selling Oticon hearing aids as of Mar 24, 2023
Based on our internal sales data. Updated daily.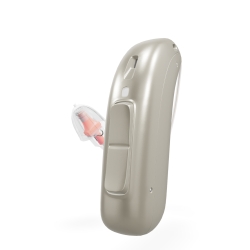 Oticon Real
0 reviews
|
0

video reviews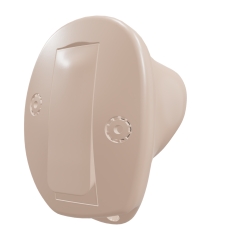 Oticon Own
Oticon hearing aid reviews
Expert reviews
Read what a few of our favorite ZipHearing providers have to say about Oticon
What I like
Oticon has been one of my favorite brands for the past 15 years because of their fantastic sound quality for both music and speech in noise and quiet situations. Consistently patients report great success with their devices! I am also greatly confident in their reliability of devices and prompt customer service provided. Oticon's newest model called the Real has changed so many lives with their deep neural network digital chip that provides hearing aid users with an ease of speech in more challenging situations. Their newest chip also allows for both comfort and audibility in most listening situations! Oticon's diversity is shown in other products they have for individuals. The Oticon Zircon is helping many people who are in quieter and more controlled environments. The Oticon Xceed continues to deliver consistent quality of sound and ease of speech to those individuals with a more moderate to profound hearing loss.
What needs improving
While I am super happy as an Audiologist with Oticon, I would like to see rechargeable options for custom in the canal aids. Other than that, I only have happy patients coming in for follow-up because of their fantastic devices!
What I like
My first choice of manufacturers to fit my patients with has been Oticon for the past several years now. While I work with all manufacturers, I've been pleased with Oticon because their approach to amplification is different compared to most manufacturers. Oticons 'Brainhearing' is essentially- 'if it's in the environment you need to hear it'. They use this philosophy for improving speech in noisy situations by enhancing the actual speech signal directly vs the traditional method of utilizing ONLY directional microphones and noise reduction. Time and again I've had my patients report back that they heard more but still felt the sound quality was pleasing, not too harsh or bothersome as with previous aids.
What needs improving
Oticons app for smartphones is lacking. Oticons approach to remote controls has always been: 'its not needed' because their hearing aid will do the work for the listener. Technically I would agree. Honestly, at a lot of yearly rechecks patients will tell me they are not using the remote control features. They report that the hearing aid setting we worked on does as good of a job, or better, then anything they try to adjust on their own in noisy environments. However, some patients WANT that flexibility. They want to make adjustments especially if they see their friends pulling out their phones and showing how they can make this change and that. For patients that want more control over their hearing aid features…. Oticon falls short compared to other manufacturers
What I like
I've successfully dispensed Oticon hearing aids to my patients for over 14 years. Oticon is among the top three hearing aid companies worldwide. The company backs up its "People First" motto by researching all facets of hearing loss, including related psychological factors in their audiology research center in Denmark. Oticon is known for innovative product offerings that allow for the brain to access the full sound scene, delivering a pure and precise signal. Their advanced technology aims to reduce listening effort and supports auditory brain function at the highest level. Oticon offers a broad range of hearing aid styles and products to meet all consumer needs, including the pediatric population. The product lineup incorporates advanced technology such as artificial intelligence (AI), a mobile application for iOS and Android, and rechargeable battery versions.
What needs improving
Although Oticon often paves the way when it comes to innovation and technology, I feel that they fall short in their ability to manufacture a quality custom in-the ear (ITE) product. Due to market demand for behind-the-ear (BTE) hearing devices, Oticon has failed to keep up it's technology offerings in their in-the-ear (ITE) products. Patients in search of a small ITE product are often forced into antiquated sound processing technology in a larger than desired custom hearing aid shell. Other hearing aid companies may offer more enticing ITE options for patients.
Latest user reviews
Written Reviews
Not sure they're worth the investment
Been using the Oticon More aids every day consistently since they arrived 2 weeks ago. Have had 3 programming sessions with my audiologist. Overall I have experienced enough positive benefits from these aids to be 100% sold on the idea that hearing aids are worth my investment; however, I am not sold these Oticon More aids are the best for me.

I have outlined a few of my experiences (positive and negative) below.

* trouble connecting to Oticon app. Often one side will connect and the other will not.
* very ineffective in noisy environments; noisy environment program only seems to turn up the noises I am trying to eliminate!; tried MoreSound Booster and it has no effect; I am not convinced delivering "30% more sound" to my brain is an effective strategy for me.
* hissing noise has developed, requiring me to turn down setting. Still working with provider to remedy.
* still have difficulty hearing person next to me while driving or while sitting at a bar. I tried separating control of the sides, turned down left side and turned right side up and that helps a little but not much.
* they do work great for face to face conversations in quiet settings.
* they do work great in a quiet public speaker setting.
* they generally work great for phone (IPhone) calls but I have had periodic connectivity isssues (clicks or delay in one side connecting) when accepting calls.
* work super to help hear Google Maps driving directions.
Very disappointed right now
I have had my Oticon hearing aids since 6/2021 and they had to replace the right one because it quick working all together. For the past month now, I can put them in in the morning and they are working fine but either one will loose the connection to my blue tooth and only one will let the sound come in from my phone. I can restart the connection but it will not stay connected. Very disappointed right now.
Sound of my hearing aids is fabulous
The sound of my hearing aids is fabulous, far superior to the previous pair I had. They are comfortable and easily charged.
While I'm happy to be saving money by not having to buy batteries I am disappointed at the outrageous price of the filters they use. I used to buy those cheaply by the dozen for my previous hearing aids.
Other than the filters I have no complaints at all.
Highly recommended
I love the Oticon More aids and I've tried many many different brands in the past. The clarity of the sound and the constant connection with my Bluetooth device make streaming my favorite music or listening to a telephone call through my ear pieces just perfect. Highly recommended.
A big improvement
I was lucky enough that Oticon Real was released during my trial period with Oticon More, the previous generation model. I honestly didn't expect to notice a tremendous difference between the 2 models, but have been pleasantly surprised that the Real are indeed noticeably better than More. As advertised, they are better at reducing wind noise, and touching noises when I adjust the hearing aids. Grateful that the timing worked out that I could exchange the More for the newer Real model. 5 stars overall.
Very pleased with them
Excellent Top quality. Very pleased with them. I had been putting off getting hearing aids for years, and had tried an inferior lower end brand about 4 years ago. At that time, I was disappointed. However, my provider fitted me with superb high quality Oticon hearing aids.The transition was amazing. I quickly adapted and am so pleased with the ease of use and how clearly I can hear now.
Sound quality is excellent
Sound quality is excellent and surpasses my Oticon Nera 2 Pro by a sizable margin. Especially good in a restaurant setting. The integration with the iPhone 13 really sets them apart. The iPhone app is simple and easy to use and allows one to increase volume when needed. Having the audio from telephone calls fed directly into the aids from the iPhone is fantastic. As is audio from music, which is not fantastic, or audiobooks, which is great. The miniRITE R battery life is excellent and recharging is a straight forward. Am debating whether to get the TV adapter. I almost don't need it in my current living situation, but I can imagine a time when it would be nice to have. As to durability and comfort, I've never had a complaint about Oticon hearing aids, and these are no exception. Do wish the travel case/battery was included in the purchase price. Summing up, I don't feel that the More 1 or 2 would give me more than the More 3 gives me. Overall, very satisfied with the purchase.
Common questions about Oticon hearing aids
What is the best Oticon hearing aid?
What is the newest Oticon hearing aid?
The newest Oticon hearing aid is
Oticon Real
, February 23, 2023.
How to pair Oticon hearing aids to an iPhone
Recent Oticon models that can stream audio directly from iOS devices (iOS version 11 or newer):
2023: Real
2022: Zircon
2021: More
2020: Ruby
2019: Opn S, Opn Play, Xceed
2018: Siya
Not sure which model you have? Check your user guide, or call the Oticon provider who sold the devices to you.
Pairing Instructions:
1. Make sure that your phone's Bluetooth is on. Go to Settings > Bluetooth, and make sure the toggle switch is set to On.
2. Open and close the battery doors on your hearing device. Or, if you use rechargeable Oticon hearing aids, switch the hearing aids off and on again, by pressing and holding the toggle down button for 3 seconds to turn them off, and repeating to turn them back on.
3. On your Apple device, go to Settings > Accessibility > Hearing, and select Hearing Devices.
4. Your Apple device will search for your hearing device.
5. Under MFi Hearing Devices, tap the name of your hearing device.
6. Tap Pair when you see the pairing request on the screen. If you have two hearing devices, you'll get two requests. Pairing could take up to a minute.
7. You can start using your hearing device when you see it under MFi Hearing Devices with a check mark.
Who sells Oticon hearing aids near me?
We do! Call 800-731-6794 and we'll let you know our closest location to you. You can also find an Oticon seller and service center by visiting https://www.oticon.com/hearing-center-locator.
Are Oticon hearing aids waterproof?
No. Some Oticon hearing aids have an IP rating of 68, which makes them very water-resistant, but they are not waterproof.
How much do Oticon hearing aids cost?
Oticon hearing aids range in price from $1,000-$3,500 per hearing aid. Prices will vary based on the technology level of the hearing aid: 1 (premium), 2 (mid), 3 (essential). Other items included with your purchase may also affect the price, such as service plans, warranties, and accessories. Prices may vary significantly by region and retailer. At ZipHearing, our Oticon prices are *33% less than the national average retail price.
*Based on pricing data published by HearingTracker.com
Where are Oticon hearing aids made?
Oticon hearing aids are made in Somerset, New Jersey, Copenhagen, Denmark, and Mierzyn, Poland.
How to pair Oticon hearing aids to an Android
Recent Oticon models that can stream audio directly from Android devices (requires Android 10).
2023: Real
2022: Zircon
2021: More
Please note that not all Android devices can directly stream to Oticon hearing aids. Check compatibility
Pairing Instructions:
1. Go to the Android phone's home screen and tap on the "Settings" icon.
2. In the settings menu, tap on the Bluetooth icon.
3. Tap on the slider button to turn Bluetooth on.
4. Open and close the hearing aid battery doors. Or, if you use rechargeable Oticon hearing aids, switch the hearing aids off by pressing and holding the push button for 3 seconds, then repeating to turn them back on again.
5. Open the "Settings" app on your phone
6. Tap "Connected devices", and "Pair new device."
7. If you have more than one hearing aid: Wait for the first hearing aid to connect, then tap the other hearing aid in the list of available devices.
8. Your Android phone is now connected to your Oticon hearing aids.
How do you program Oticon hearing aids?
Oticon hearing aids, like all digital hearing aids, are programmed by computer to match the wearer's exact hearing profile. An Oticon hearing care provider wirelessly connects to Oticon hearing aids via an industry-standard programming device called Noahlink Wireless. Once connected, the hearing aids are programmed via a proprietary programming software that is only available to hearing care providers, called Genie 2.



Get Oticon hearing aids with local care included!
Talk with one of our friendly team members.
No hassle, no sales pressure.