Swipe on hearing aid with two fingers for 3D preview
Widex's best overall model
This sound changes everything
Released on July 8, 2020, MOMENT is Widex's flagship line of hearing aids, available in all styles, and for all hearing losses. MOMENT is most wel... READ MORE
Outdated: Widex's best overall model from Jan '19-Feb '20
The world's first smart hearing aid
As of July 8, 2020, Evoke is an outdated model. If you're interested in Evoke, check out the next generation model, MOMENT. Evoke was a mostly soli... READ MORE
Widex - "High Definition Hearing"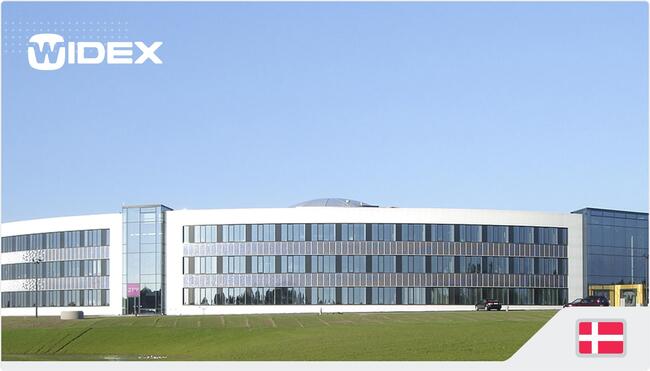 If a hearing aid manufacturer could have a personality, Widex would be an avowed perfectionist. They may not be a household name or have the largest market share in the US, but it's about quality with this brand, not quantity.

The Copenhagen, Denmark-based company is known for its singular focus on audiophile-pleasing hearing aids.

Widex's current claim to fame is its flagship MOMENT hearing aids, which have the fastest sound processing of all the major hearing aids on the market. The result, is you hear sound the moment it happens, resulting in the natural sound quality Widex is known for.
Widex at a glance
Relative sales popularity of Widex models for:
Based on our internal sales data. Updated weekly.
Widex hearing aid reviews
Expert reviews
Read what a few of our favorite ZipHearing providers have to say about Widex
What I like
Widex may not be a household name, but in the hearing industry, Widex is recognized to be a pioneer and leader in hearing aid technologies. Widex has the most advanced true-input chip technology at all price points, making it affordable and accessible for everyone's budget. Widex hearing aids provide extraordinary hearing performance in noise and consistent ability to hear in a variety of everyday environments, including superior music representation with the widest frequency fidelity and highest input range. Widex's hearing aids can connect to a greater variety of BlueTooth enabled devices than any other brand and provides the most clean, pure, and best sound quality in the world. As far as batteries, Widex, having the industry's best battery life, has a full range of products that use either rechargeable lithium-ion or standard disposable batteries. Widex revolutionized tinnitus management with their patented ZEN tinnitus and relaxation therapy management system and is the most effective sound therapy system available in an ear level worn device.
What needs improving
As advanced as Widex hearing aids are, particularly those rechargeable instruments using Lithium-ion batteries, the device will eventually need to have the battery replaced at the factory and this interruption can be inconvenient to patients using the hearing aids. It is for this reason that we stock loaner hearing aids for patients to use as they will be without their hearing aid while it is being serviced and/or replaced. Also, Widex only offers rechargeable batteries in the Receiver-in-the-Canal style hearing aids. Rechargeable batteries in custom hearing aids, as well as replaceable rechargeable batteries in RIC style hearing aids would be a significant feature to be able to offer our patients.
What I like
Absolutely the most natural sounding hearing aids available currently. Digital hearing aids have always had a bit of a delay to process all the sounds of life and, as a result, that makes them sound artificial - such as voices sounding like they are through a "tin can". With Widex, especially now with their "PureSound" program and blazing fast processing, the sound is more comparable to normal/natural hearing. In other words, audiophiles, musicians, people who have had perfect hearing until recently, only have one ear that needs some help, and/or people who are otherwise used to normal hearing or high end audio, absolutely LOVE the sound of the Widex Moment hearing aids. Their app is also excellent - very comprehensive, versatile, and consistent.
What needs improving
Inside the devices are excellent, however the design of the Moment RIC is a bit clunky and not as streamlined in my opinion. If you have hair to cover the devices, it's a non-issue, but for those of us with limited hair available, it could be. Additionally, while most people tend to want to adjust their hearing aids via the app, there is limited manual control available outside the app.
What I like
We recommend Widex devices quite often at our clinic and have phenomenal patient outcomes! In addition to what they're known for, which is excellent sound quality and clarity for speech, they also have a diverse product platform which enables us to meet the needs of our patients, whether you're a musician, have tinnitus, looking for something discreet, want comprehensive app features, etc. Bonus points for Widex customer service being one of the best in the industry! The Widex Moment has proven to be a fantastic hearing aid time and time again!
What needs improving
Although the wired version offers more stability with streaming, we would love to see Widex come out with a wireless option for their remote microphone system. It would also be great if they added a custom rechargeable option to their Moment lineup for those patients who are interested or would benefit from those features.
What I like
I love Widex Hearing aids & so do my customers. I love how easy they are to fit, and my customers love the exceptional sound quality. Widex Moment implements a new technology for natural-sounding hearing. While most hearing aids have delayed processing times that interfere with the natural sound and can create echoes, Widex has significantly sped up these processing times so wearers hear sounds the "moment" that it happens. MOMENT hearing aids currently have the fastest processing time in the industry. I have fit many musicians with the Widex Moment Hearing Aids, and they have been thrilled with the natural sound quality. I have heard comments such as "The Widex has a cleaner, more precise sound quality that allows me to hear all the various textures and colors of sound I've not been able to hear with other hearing aids." The comfortable fit, attractive design, superior sound quality, and robust connectivity features make them a particularly attractive option for anyone looking for great hearing aids!
What needs improving
I'd like to see more styles such as in-the-ear hearing aids available with rechargeable capabilities & direct to Bluetooth options. I would also like to see recharger options such as portable rechargers that can recharge without being plugged in, or rechargers that have Dry Aid kits built in to help those with moisture issues.
What I like
The Widex line of hearing instruments has been very successful with our patients. Patients report that they have better clarity of speech than they had before with other products. Lately, they also enjoy how natural the new PureSound technology sounds to them with the new Moment line of hearing aids. The app is streamlined and easy to use, for the beginner to the more tech-savvy. As a practice, we enjoy seeing our patients be successful from the benefits with Widex hearing aids.
What needs improving
The transition to the Moment line of products with Android streaming capabilities has had some issues with bluetooth connectivity, but those issues have been resolved with current firmware and software updates.
What I like
One of the biggest questions I always get from new patients is which hearing aid brand will deliver the best sound quality. When it comes to clear and natural sound, my go to is Widex. The extended bandwidth and Pure Sound program, although not appropriate for all hearing losses, provides patients with a pleasant listening experience. Another great feature is their Cell Phone Application. The app gives users the freedom to make adjustments and create their own personalized settings without coming into the office, which I find is very helpful for those with busy schedules.
What needs improving
While the sound quality and overall appearance of Widex hearing aids are major benefits, one limiting factor is lack of direct Bluetooth connectivity and Streaming to Android devices. Although this shouldn't be deal breaker for patients, the fact of the matter is that people want to stream, and many of them are Android users. Widex does have accessories patients can purchase that will allow them to stream, however it is another thing that someone has to buy and carry around in their pocket, which in my opinion is dated and inconvenient by today's technology standards.
What I like
The Widex Moment is the smallest rechargeable hearing device in the industry. It has a superior sound quality and excellent device reliability. It has a very slim design on the case for comfort and discreet looking fit. Widex has the longest lasting battery life for devices in the industry. It will connect to many optional accessories seamlessly and without other components needed.
What needs improving
It is unfortunately only able to connect directly through Bluetooth capability to Apple phone devices at this time. It is not scheduled to be Android compatible until fall of 2021.
Latest user reviews
Written Reviews
Amazed
I previously had a pair of high end Widex hearing aids for 8 years and felt it was time to update with a new pair.. I again choose Widex and was amazed as to how much better the new technology Is.
I'm real happy with the Widex Moment
I've worn hearing aids for over a dozen years and have difficulty understanding people and separating words and particularly higher frequencies. I'm happy with these Widex Moment- they're hardly visible at all, most people don't even know I'm wearing them, and I like that they don't require batteries like my old Widex. Another thing that I really like about these that I didn't have before is the Bluetooth capability, where these automatically hook to my phone so if I have a phone call come in, or I'm listening to anything on the phone it automatically goes to my hearing aids and I really like that.
Game changer
The Widex hearing aid with Bluetooth connectivity and the Moment App for personal control is a game changer for me. I work with clients by telephone. My hearing was getting so bad I couldn't hear on the phone and that I thought I was going to be forced into retirement. Bluetooth connecting my cell phone to my hearing aids saved my career. I can actually hear better on the telephone now than I can in person.
Thanks to my audiologist for perfection
My hearing loss was minor. The Widex hearing aids recommended by my provider are amazing. I'm calling my new hearing ability a super power. It is a luxury that I am enjoying.
Hearing like I'm 20
Convinced Widex Moment HA have given me sound quality comparable to what my 20 year old ears had, music choices are different though. Jazz has those soft brush drum sounds and the high pure horn notes. Classical has all the strings and horns. Custom programs let you easily dial it back when grandkids are around. Batteries are lasting Much longer with these HAs.
Natural
I have the new Widex Moment RIC (rechargeable). The sound quality is excellent and natural. These hearing aids fit in my ear very comfortably. As with all of the brands I tried, the hearing aids do have to compete for room behind my ear with my glasses. But there is no discomfort.

I really like the controls I have for the hearing aids with the app on my phone. I have about 7-8 programs saved and can easily switch between them through the app. If I think a program is not right for the environment I am in, I make adjustments to volume, tone, etc. I can save this as a new program if I want, but I don't always do that because I don't want to have so many programs that I spend too much time trying to get to the perfect sound fit. Simply make an adjustment.

Lastly, the hearing aids stay charged all day. I wear them between 12-14 hours a day. There is no loss of sound or quality. I don't stream music or other sounds through them often, but I do use them consistently as a phone earbud. The hearing quality on my end works great. I do notice sometimes that the person on the other end may not hear me completely. So far when that has happened, I have been 3-5 feet away from my phone, which may be the cause. When I hold the phone or keep it near me, their reception improves.
Top quality
I got Widex Moment hearing aids. They are the most transparent hearing aids I have tried (meaning I don't notice them as much and I hear well). As a musician I am quite happy with the sound and love the way you can design your own programs in the app. One downside: Their one button can be used EITHER for volume adjustment or program selection, but not both. (You choose which via your provider.) That's an annoying omission.
A Revelation
After I lost 90% of my hearing (due to a Covid-caused inner ear infection), I made the decision to get hearing aids. While my ear infection was successfully treated I still had my previous hearing loss which, while not profound, was enough to interfere with activities in my daily life. Following conversations, especially in noisy environments, were difficult. Music had lost its 'sparkle' and understanding dialogue in television and films, particularly with the mumbling of modern actors, was becoming impossible. So, after consulting with some of my friends, I explored my options. I found the internet site ZipHearing, which was highly rated and offered a substantial discount. The site works as a brokerage, working with selected audiologists, to send customers their way and handle all the billing issues. I got in touch with Jeff (who is also the president of ZipHearing!) and he explained everything and got the ball rolling. After a consultation with a certified audiologist who had an office near me, I sprung for a pair of Widex 440 Moment hearing aids. I was now hearing things as I used to years ago. I had avoided hearing aids for years due to the older models having problems with latency and 'artificial-ness'. The Widex is very natural sounding. The sound processing they do is very sophisticated, yet I remain unaware of what it is doing, it also has a iPhone app to tweak the sound if needed. The earpieces, while fairly comfortable, can be tiring (especially after a full day's use) and a lot of the restored high frequency sounds are really just noise (crackling paper, creaks and squeaks) that I could live without!
Outstanding Upgrade
I have worn Widex hearing aids for six years. Recently I looked into upgrading into more improved hearing aids, and after trying another brand, went back to Widex. The primary reason was the fit. They are a bit smaller than my originals, and they simply fit my small ears and the curve of my outer ear better than the Oticons I tried. They are much easier to charge than having to change a battery, but that was not a terrible drawback for my original hearing aids. And traveling is actually easier with batteries, since I don't have to remember the charger. So that's kind of a wash. But for daily use, nothing beats the simple ability to pop them right in each morning. The Bluetooth is great, although I am still getting used to hearing texts and the phone ringing right in my ears. There is a learning curve with this newer technology, and I am still learning how to get the most from it. Overall, I am very happy with these hearing aids, and especially the Widex brand.
So far so good
So far so good. They have definitely improved my hearing of high pitch sounds and that is why I got them. I have not had them for a long enough time to give them a 5 star rating but they have worked as described by the doctor. It does take a while to get use to hearing aids since this is my first set.

Common questions about Widex hearing aids
What is the newest Widex hearing aid?
The newest Widex hearing aid is
MOMENT
, released July 8, 2020.
What is Widex's best hearing aid?
How much do Widex hearing aids cost?
Widex hearing aids range in price from $1,000-$3,500 per hearing aid. Prices will vary based on the technology level of the hearing aid: 440 (premium), 330 (advanced), 220 (standard), 110 (basic). Other items included with your purchase may also affect the price, such as service plans, warranties, and accessories. Prices may vary significantly by region and retailer. At ZipHearing, our Widex prices are *28% less than the national average retail price.
*Based on pricing data published by HearingTracker.com
Who sells Widex hearing aids near me?
We do! Call 800-731-6794 and we'll let you know our closest location to you. You can also find a Widex seller and service center by visiting https://global.widex.com/en/shop-finder.
Does Costco sell Widex hearing aids?
No, Costco does not sell Widex hearing aids.
Where are Widex hearing aids made?
Widex hearing aids are made in Hauppauge, New York and Copenhagen, Denmark.
How to pair Widex hearing aids to an iPhone
Recent Widex models that can stream audio directly from iOS devices (iOS version 13.2 or newer):
2020: MOMENT
2018: EVOKE
Not sure which model you have? Check your user guide, or call the Widex provider who sold the devices to you.
Pairing Instructions
1. Make sure that your phone's Bluetooth is on. Go to Settings > Bluetooth, and make sure the toggle switch is set to On.
2. Open and close the battery doors on your hearing device. Or, if you use rechargeable Widex hearing aids, switch the hearing aids off and on again, by pressing and holding the push button for 3 seconds to turn them off, and repeating to turn them back on.
3. On your Apple device, go to Settings > Accessibility > Hearing, and select Hearing Devices.
4. Your Apple device will search for your hearing device.
5. Under MFi Hearing Devices, tap the name of your hearing device.
6. Tap Pair when you see the pairing request on the screen. If you have two hearing devices, you'll get two requests. Pairing could take up to a minute.
7. You can start using your hearing device when you see it under MFi Hearing Devices with a check mark.
How to pair Widex hearing aids to an Android
Recent Widex models that can stream audio directly from Android devices (requires Android 11 or later and Bluetooth 5.0):
2020: MOMENT
Pairing Instructions
1. Go to the Android phone's home screen and tap on the "Settings" icon.
2. In the settings menu, tap on the Bluetooth icon.
3. Tap on the slider button to turn Bluetooth on.
4. Open and close the hearing aid battery doors. Or, if you use rechargeable Widex hearing aids, switch the hearing aids off by pressing and holding the push button for 3 seconds, then repeating to turn them back on again.
5. Open the "Settings" app on your phone
6. Tap "Connected devices", and "Pair new device."
7. If you have more than one hearing aid: Wait for the first hearing aid to connect, then tap the other hearing aid in the list of available devices.
8. Your Android phone is now connected to your Widex hearing aids.
How do you program Widex hearing aids?
Widex hearing aids, like all digital hearing aids, are programmed by computer to match the wearer's exact hearing profile. A Widex hearing care provider wirelessly connects to Widex hearing aids via an industry-standard programming device called Noahlink Wireless, or Widex's PROLINK or USBLINK devices. Once connected, the hearing aids are programmed via a proprietary programming software that is only available to hearing care providers, called COMPASS GPS.
Are Widex hearing aids waterproof?
No. Some Widex hearing aids have an IP rating of 68, which makes them very water-resistant, but they are not waterproof.