Resound Hearing Aid Models, Prices, & Reviews
Local fitting service included with all purchases
Need help choosing? Enter your info and we`ll call within 20 minutes!
Popular Resound Hearing Aid Models

Is it a coincidence that a Danish-born inventor created the first loudspeakers and that Danish companies account for three of the world's six companies that produce nearly every hearing aid on the planet? We're not sure, but we can say for certain that ReSound, headquartered in Ballerup, Denmark and with worldwide distributors, has led the industry in hearing aid innovation and wireless accessories lately – and the company seems to keep going from strength to strength.
ReSound launched the world's first made-for-iPhone hearing aids in 2014, changing almost overnight the way people think about and use hearing aids. Thanks to this groundbreaking launch, and ReSound's collection of 2.4 GHz wireless accessories, hearing aids suddenly became a convenient, practical, and downright desirable consumer electronics gadget instead of what many people previously saw as strictly a medical necessity. Taking the transformation even farther, ReSound's comprehensive and user-friendly mobile device apps have stood at the forefront of personalized hearing care, offering location-based adjustment, remote fine-tuning by your hearing care professional, and customized soothing sounds for tinnitus relief. It should go without saying that the design, fit and finish, reliability, and sound quality of ReSound hearing aids are also excellent.
ReSound's current flagship product is called ONE. It's a receiver-in-canal (RIC) hearing aid, featuring an innovative new recciever (speaker)- more on that below. ReSound one is best for individuals with mild to moderately-severe hearing loss. ENZO Q is the best choice for severe-to-profound hearing loss while ReSound One is ideal for everything else.
ENZO Q comes only in a BTE style, ReSound One comes in three different RIC styles, with a rechargeable battery, 13 battery, or 312 battery. And ReSound of course still offers a complete line of custom in-the-ear hearing aids, called LiNX Quattro. All of these models come in in three performance levels: 5, 7, and 9, where level 9 offers the most advanced features.
In the sections below, you'll find information on ReSound's current and most popular hearing aids models, along with pricing and feature information so you can determine which ReSound hearing aid is appropriate for you. If you're simply looking to get your ReSound hearing aids repaired, or looking for ReSound parts, like wax filters or domes, feel free to give us a call and we'll point you in the right direction. Otherwise, feel free to review the popular models below, and at the top of this page you'll find links to each ReSound hearing aid model, along with prices, features, and online ratings, and more in-depth ReSound reviews on each product page.
ReSound's newest hearing aid is called ONE. We're not sure why, but perhaps it's because ReSound is the
one
and only hearing aid manufacturer to offer an innovative new receiver style never before seen in a hearing aid, and they call it the M&RIE (Marie) receiever.
So what's all the fuss about? All other receiver-in-canal (RIC) hearing aids,
only
the receiver (speaker) is inside the ear canal. However, as you may've guessed from the name, with One hearing aids, the microphone (M),
and
receiver are both in the ear canal. ReSound says that having a microphone inside the ear canal makes the hearing aid work in a way that is more natural to our human ears (capturing sound at the canal opening), and that this leads to better localization of sound and background noise reduction.
Important to note, is that M&RIE receivers do not come standard with ReSound One orders, so if you'd like to take advantage of this technology, be sure to let your hearing specialist know at the time you order. M&RIE receivers are at this time only compatible with ReSound One 9 and One 7 models.
At this time, ReSound One is available in 3 models, with either a 312 battery, 13 battery, or rechargeable lithium-ion battery. The models are (respectively), RT61-DRW, RT 62-DRW, and RT61-DRWC. ReSound One is not yet available in custom in-the-ear models.
ReSound was the first company ever to offer made-for-iPhone hearing aids supporting direct wireless streaming of music, phone calls and more. It was a game-changing innovation and totally changed the hearing experience for wearers.
The original ReSound LiNX hearing aids were immensely popular, so it's not surprising that competitors rushed to follow suite by launching their own own wireless hearing aids. ReSound, meanwhile didn't rest on its laurels or wait for the competition to catch up. Instead, the company created a second, third, and now fourth generation of LiNX hearing aids—each one better than the previous.
As of September 2019, ReSound LiNX Quattro can even connect to some Android-based phones, like the Google Pixel 3, thanks to a new Bluetooth low energy protocol developed as a collaboration between Google and ReSound. This new protocol, called ASHA (Audio Streaming for Hearing Aids), will eventually allow ReSound hearing aids to connect directly to many Android devices with no intermediary devices.
LiNX Quattro hearing aids have kept everything great about LiNX 3D and added several enhancements—all designed to create a brilliant sound experience. ReSound promises clearer, fuller sound with LiNX Quattro for a richer listening experience. The LiNX Quattro also delivers improved wireless connectivity and longer battery life.
The LiNX 3D product line already offered a fantastic user experience with a class-leading ecosystem of apps and wireless accessories. These hearing aids didn't need much of a makeover, but ReSound has done it anyway, making significant improvements in the just right areas to bring you the ReSound LiNX Quattro.
From bustling streets to busy restaurants, follow conversations and still hear the other sounds going on around you. ReSound's new technology is designed to make it easier for listeners to focus on speech in noisy environments. With LiNX Quattro, low and high-pitched sounds are fuller and more natural. Quiet situations are truly quiet and louder sounds are comfortable, crisp and distortion-free. Children's laughter and the high notes and deep tones in music, are now fuller and more enjoyable.
A new more powerful and more efficient processing platform lies at the heart LiNX Quattro. ReSound explains that the new platform delivers twice the memory, 100% more speed, and 30% more computational power. One result of the changes is a larger dynamic range and wider frequency response than previous models. This translates to more nuanced sound with increased clarity, especially for soft sounds, music, and speech in noise.
Now you can Immerse yourself in full-quality stereo streaming from your mobile phone, TV and other audio sources without draining your batteries in double-time. A new power-saving wireless radio gives LiNX Quattro a boost in signal strength while reducing power consumption by 20%. The hearing aids are compatible with ReSound's entire ecosystem of wireless accessories.
Buy if:
You want made-for-iPhone hearing aids with reliable, premium-quality audio streaming and an advanced rechargeable solution.
Other hearing aids you have tried sound too noisy, even in a quiet environment.
You're looking for a complete ecosystem of fully-featured apps and easy-to-use wireless accessories.
The ReSound LiNX Quattro rechargeable is ReSound's first lithium-ion rechargeable hearing aid. It offers all the features and functionality of the standard ReSound LiNX Quattro, but with a rechargeable battery instead of disposable batteries. LiNX Quattro rechargeable hearing aids feature completely sealed lithium-ion batteries for long-lasting power in a small and discreet size. The use of an inductive charging system means that placing your hearing aids in the case is all it takes to recharge them. The portable charging case delivers a full charge in less than three hours, providing more than a full day of hearing. In addition, the charger holds enough reserve for three more full charges, even when you are off the grid.
Completing ReSound's Quattro line of hearing aids, Enzo Q is ReSound's newest hearing aid for severe hearing loss and profound hearing loss. Enzo Q is created with the most advanced technology yet so you can enjoy clear and comfortable sound, plus extensive connectivity and support.
Enzo Q is available in a high power size 13 battery BTE unit, or a super power size 675 battery BTE, in up to 13 different colors.
There are a few reasons to consider Enzo Q hearing aids:
Direct connectivity: Enzo Q hearing aids can stream audio directly from iOS and some *Android devices. Whether it's talking on the phone, watching TV, or listening to music, streaming to Enzo Q hearing aids is as simple as using wireless stereo headphones.We can't think of anyone with hearing aids that would not appreciate this functionality, because every word counts when you really want to hear and understand. Every bit of hearing counts too, so if you want to make the most of yours while using a mobile phone, there is no better way to do it than with direct audio streaming and a video call to let you see the other person's face while you talk. Hearing aids like Enzo Q are perfect for this. Direct audio streaming isn't just a neat feature. Research shows that when streaming to their hearing aids, users can understand 50% more of the conversation on average, compared to a regular phone call. *Full streaming compatibility with Android devices requires minimum Android v10 and Bluetooth 5.0 and that functionality has been enabled by the phone manufacturer and service carrier. ReSound cannot guarantee full compatibility with all Android devices.
Improvement in hearing in noisy environments: Some high-powered hearing aids include a lot of power and not a lot of anything else. For example, ENZO Q includes Binaural Directionality III. This sophisticated audio processing relies on the wireless connection, which most high-powered hearing aids don't have, between the right and left hearing aids. This enables more effective noise reduction and speech enhancement than possible with hearing aids that lack ear-to-ear connectivity. ReSound boasts that Enzo Q provides a 60% improvement in recognizing speech from in front in noisy environments.
Compatibility with Cochlear™ implants: People with a cochlear implant on one ear may experience great benefits with a hearing aid fitted on the opposite ear. The Cochlear™  implant and the ReSound Enzo Q hearing aids create a complementary bimodal solution that may improve speech recognition in noise and sound source localization, while providing superior sound quality, among other benefits, compared with using a cochlear implant alone.
Buy if:
You have severe-to-profound hearing loss and want to enjoy seamless mobile connectivity and a range of easy-to-use wireless accessories.
You want high-powered hearing aids with advanced features – not just one or the other – all in an elegant and compact package
You intend to wear the hearing aid in one ear to complement a Cochlear™ Implant in the other ear.
Resound Hearing Aid Reviews
Below you'll see our 10 most recent and real ReSound hearing aid reviews and complaints, on all the latest models such as
One
,
LiNX Quattro Rechargeable
,
LiNX Quattro
.
Any time you read a customer review on ReSound hearing aids, its important to note that a significant factor contributing to the customer`s review is the skill of the hearing provider who fit their hearing aids. For more information on this, we`d encourage you to check out our YouTube video:
Do Hearing Aid Reviews Matter
?
Product reviewed: ReSound One 9
VERIFIED BUYER | Dayton, OH
The sound quality is unbelievable compared to my first pair which my new pair replaced due to having lost one of them. The clarity is unbeatable and they have been extremely comfortable since I picked them up on Dec.21st. I have not had any problems since then. The ease of using my smart phone with the new pair has been a definite plus.
Product reviewed: ReSound One 9
VERIFIED BUYER | Libertyville, IL
I ordered the ReSound One 9R hearing aids which had clearer sound and little background noise. I still felt the clarity was not enough when in a group the streaming to my phone was not so clear. The audiologist increased the clarity to the max and put a different dome or receiver on the hearing aids. This made me feel like there was an echo under some circumstances and like I was wearing ear plugs. My hearing borders on profound loss in some areas and I'm not sure what will be better for me, but I felt that for the money I should be able to hear better and more comfortably.
1 person found this review helpful
Product reviewed: ReSound One 9
VERIFIED BUYER | Las Cruces, NM
Excellent sound quality and build quality. TV streaming with optional streaming device is excellent. Microphone in ear provides additional sound detail and directionality. No issues with rechargeable batteries. Iphone app with multiple listening programs is very convenient and each program can be adjusted to suit local environment. Covid-19 has greatly restricted social interaction but I am sure performance will be excellent in restaurants, concerts and crowded venues. Due to the products complexity there is a learning curve but well worth the effort. Overall I am extremely pleased with the purchase and highly recommend this product.
2 people found this review helpful
Product reviewed: ReSound One 9
5 stars IF they had better feedback suppression. I'm pleased with the hearing aids, but I am displeased that I'm going to have to use standard receivers, not the marie receivers, bc my hearing loss is just past the acceptable threshold to wear the marie receivers without feedback. With maries, just an inordinate amount of whistling, it's too bad, and I hope that one day the maries can handle a more severe hearing loss.
2 people found this review helpful
Product reviewed: ReSound One 9
VERIFIED BUYER | Skokie, IL
I got the new Resound One M&RIE 90 hearing aids and as a first time wearer I love them. Everything sounds very natural and they even do a great job in a noisy environment like a restaurant, where I can hear clearly without a lot of background noise. I definitely give these Resound Hearing Aids a Five Star Plus rating.
2 people found this review helpful
Product reviewed: ReSound One 9
Disappointed that the heavily advertised marie receivers will not work for my hearing loss. Overall I am satisfied with my one 9s, regular battery model, but was really looking forward to trying maries. Should be made for clear in adverts that it won't work for severe cases.
2 people found this review helpful
Product reviewed: ReSound One 9
ReSound ONE 9 is my first hearing aid I've ever bought, so bear in mind that I have nothing to compare the ONE 9 to. Having said that, the pair of ONE hearing aids have made a huge difference in my everyday life. I bought the premium ONE 9 aid in hopes that once covid clears it'll help me in restaurants and noisy places since that is where I struggle the most. But for now, just wearing them around the home, on walks (I can hear the birds!) has been a huge improvement and frankly, blessing in my life. I have no complaints with the battery life, simply put them in the charger each night and at end of day I still have more than enough charge left for several more hours of use. I understand these li-ion batteries do go down over time, so maybe that won't last, but for now I'm one happy camper, as that was a big concern. I have friends who own the RESOUND linx model with rechargeable batteries and they have had terrible luck and had to stop using rechargeable batteries altogether. So, glad these are holding up thus far and optimistic they will continue to do so. As another review stated, Bluetooth has issues from time to time, but honestly all of my Bluetooth devices do, from my landscape lighting to Alexa...just goes with the territory for. All in all very satisfied!
2 people found this review helpful
Product reviewed: ReSound One 9
Enjoying my ReSound One 9 hearing aids and I can definitely tell that it is easier to hear where sound is coming from, thanks to the M&RIE receivers. A few Bluetooth glitches here and there, losing connection with my iPhone, but I understand all hearing aids have these issues, based on my research.
1 person found this review helpful
Product reviewed: ReSound One 9
VERIFIED BUYER | Lewes, DE
They seem to be working great , had some problems with Bluetooth but it was a phone glitch it seems . Really enjoying the clarity with my new hear aids .
1 person found this review helpful
Product reviewed: ReSound LiNX Quattro Rechargeable 7
VERIFIED BUYER | Mechanicsville, VA
The sound quality is.fine. Yes they are comfortable. It's taking me a while to learn how to install them quickly. I will get them adjusted soon, as I'm hearing too loudly.
1 person found this review helpful
Resound Hearing Aid Prices
Authorized online Resound retailers do not post prices online. For this reason, it can be hard to find a pricelist for Resound hearing aids on the internet. However, you can always call us at 800-731-6794 and we will be happy to let you know our prices. As a rule of thumb, your cost for Resound hearing aids will usually be 20-30% below usual retail prices when purchased through ZipHearing, and our prices for Resound start at $999 per hearing device.
The final price of your Resound hearing aids through ZipHearing is shown below. When purchased from other retailers, your final price will vary based on style chosen, warranty, length of service plan, terms of the trial period, and more.
If you find an online seller who is posting Resound prices on their website, there is a very good chance that the retailer is not an authorized Resound retailer, and you should proceed with caution before purchasing from that retailer.
How much do Resound hearing aids cost?
From most retailers, Resound hearing aids start at $1000 each, and go up to $3000+.
Resound hearing aid apps & accessories
Have you ever thought about controlling your hearing aids from your smartphone? If so, check out some of the Resound apps below. Be sure to check compatibility of these apps with your phone or tablet, because some apps are built exclusively for iOS devices, others for Android devices, and the functionality that you get from these apps may vary depending on the type of phone or tablet you use. In addition, sometimes apps may be built exclusively for iPhones (for example), and may not work on iPads. So it`s very important to check compatibility of your devices before selecting your hearing aids based on the apps available from Resound.
You should also consider some of Resound`s accessories, such as TV streamers and remote microphones. Again, it is important to do your due diligence as far as compatibility. Not all Resound hearing aids will work with all of the below Resound accessories. To find compatibility information, find the Resound hearing aid on our site that you are looking for, then scroll down and you will see a section on the product page which reviews this information.
If you need Resound supplies, such as domes, filters, or cleaning tools, we recommend contacting the local Resound provider who sold you your hearing aids. You may also sometimes find these parts relatively inexpensive on sites like Amazing and eBay. For accessories, we do not recommend buying them on sites like Amazon or eBay, as that is not an approved sales channel for most major manufacturers, and sellers on those sites are likely not authorized Resound retailers. You can also of course always buy these accessories from the local hearing provider which sold you your Resound hearing aids.
Please note: We are only able to sell accessories & parts of supplies to customers who have purchased hearing aids through ZipHearing.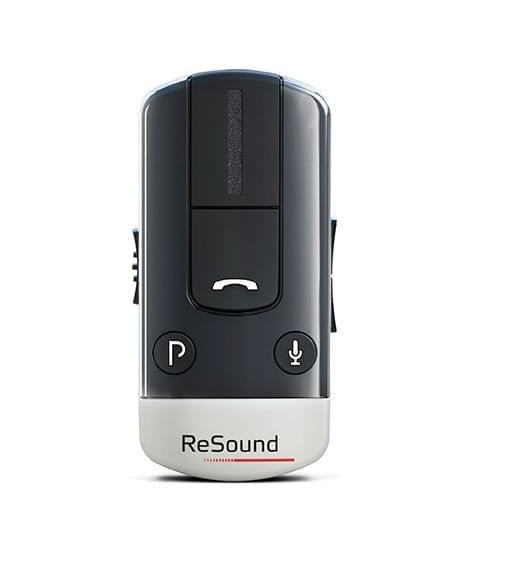 Phone Clip +: $259
The ReSound Phone Clip+ lets you stream phone calls and audio straight to your hearing aids from any Bluetooth-enabled mobile phone or smartphone. So you – and the person you're talking to – can enjoy comfortable conversations, even if one of you is located in a noisy environment. ReSound Phone Clip+ also allows your Smart Hearing aids to connect to two separate Bluetooth devices at the same time. This makes it easy to stay connected. For example, you might want to connect your Bluetooth-enabled private and work phones simultaneously. You can even use the Phone Clip+ to change the volume and program of your hearing aids. Once you've paired you phone with the Phone Clip+ simply clip it on and you are ready to take calls. With one push of a button you'll hear the caller's voice, crystal clear, in your hearing aids, even if you're in a busy street. When the ReSound Phone Clip+ is used in conjunction with the ReSound TV Streamer 2, your phone's ringtone will override the audio streamed from the TV and allow you to decide whether to answer or reject a phone call. Phone Clip+ lets your hearing aids work like wireless stereo headphones, so you can listen to music or podcasts, as well as taking phone calls. You can choose whether to mute the background noise or let other sounds in too.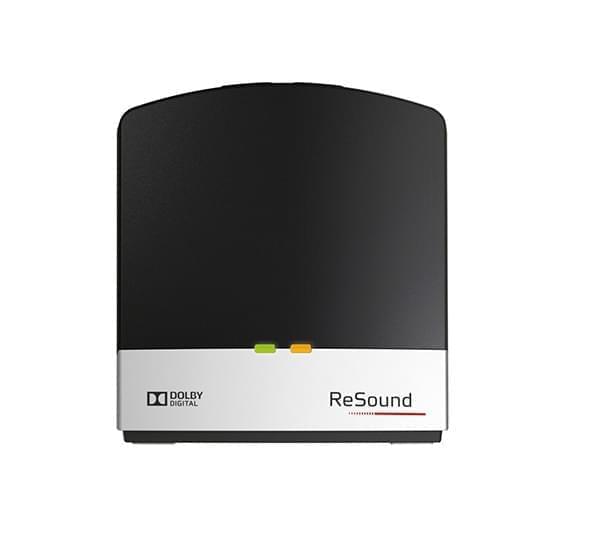 TV Streamer 2: $379
Transform your hearing aids into wireless headphones. With the ReSound TV Streamer 2, you can enjoy watching TV with your family and friends again. ReSound TV Streamer 2 allows you to stream crystal-clear stereo sound from the television directly to your hearing aids from up to 22 feet away in clear line of sight. If you leave the room and go out of range, TV Streamer 2 automatically reconnects to your hearing aids when you return within five minutes.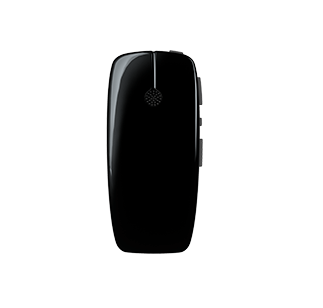 Multi Mic: $359
Extend your hearing. With the ReSound Multi Mic, you can enjoy conversation and focus on the sounds you want to hear, even in noisy places. Mutli Mic can do everything the ReSound Micro Mic can do, and more. It's great for use on shopping trips, in busy restaurants or for talking in the car. With a range of more than 80 ft., you can listen from afar as if you were right next to the sound source. Multi Mic streams audio from the microphone directly to your 2.4 GHz wireless hearing aids. Multi Mic also doubles as a tabletop microphone. When place flat, Multi Mic automatically switches to tabletop mode, so you can hear everyone around the table. This is especially helpful when you are seated at one end of the table and want to participate in conversation with people at the other end, as well as those seated next to you. Multi Mic even has a mini-jack, so you can stream from virtually any audio player with a headphone output. Multi Mic is also compatible with loop and FM systems*
*FM receiver required.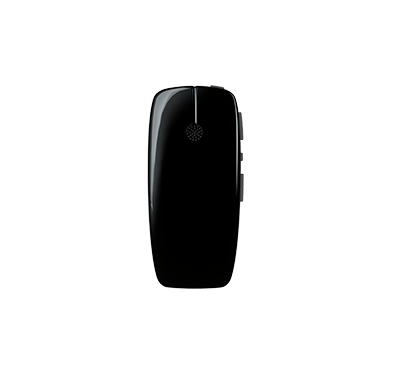 Micro Mic: $269
Hear what's being said – even on the other side of the room. Don't let your hearing loss limit your enjoyment at restaurants, college classes, community get-togethers, family functions or business events. No matter if the speaker is on the other end of the table or the other side of the room, with a range of over 80 feet, the ReSound Micro Mic can help you hear sounds you want to hear.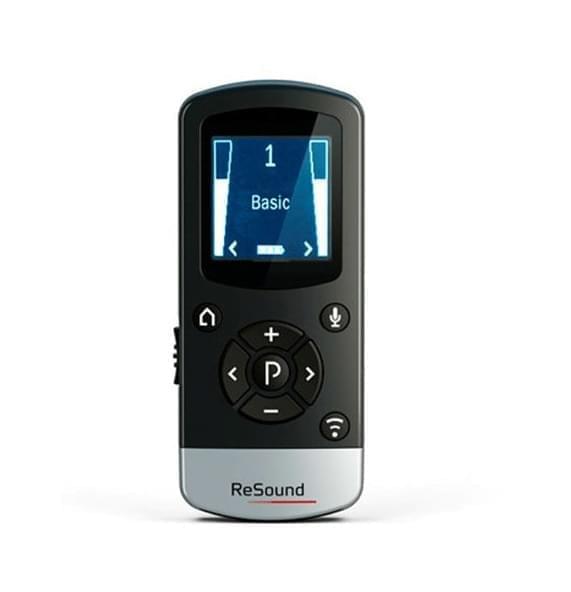 Remote Control 2: $239
ReSound's Remote Control 2 gives you simple control and an overview of the volume and program settings of your hearing aids. You can adjust the volume and mute your hearing aids, or change between different programs. It's easy to see all your settings at once on the backlit display. RemoteControl 2 provides a convenient way to switch to a ReSound wireless accessories for streaming audio to your hearing aids, or balance the volume between your hearing aids and streaming accessories.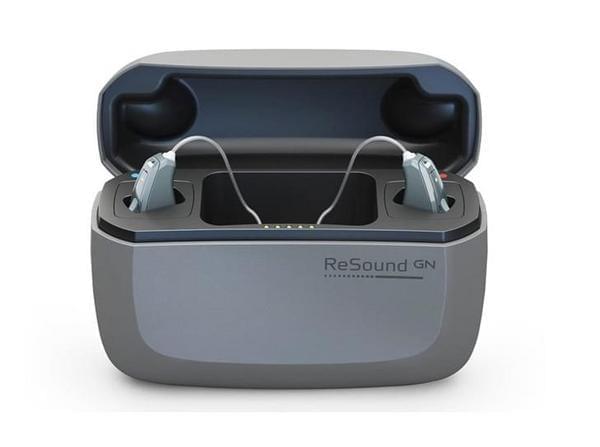 Li-ion Charger (included)
With its small, discreet size and long-lasting battery, the ReSound LiNX Quattro charging case gives you get power that lasts more than a full day, without having to fiddle with any batteries. The portable case's built in battery holds enough reserve for three full charges of power—perfect for a weekend away!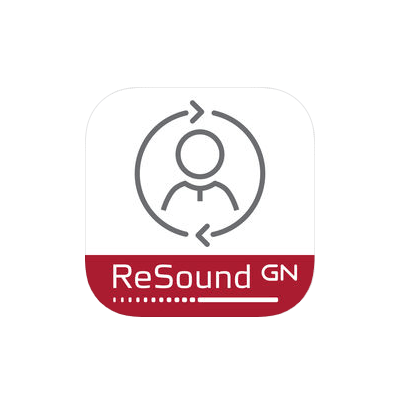 Smart 3D App
The ReSound Smart 3D app offers user friendly control and customization of your hearing aids directly from your mobile device. Using the app is easy, because it helps you discover what you can do and shows you how. Use the Smart 3D app to customize and save your listening program, for personalized hearing in any environment. You can also request program adjustments and receive software updates remotely, without making a trip to the clinic. The Smart 3D app can even help you find your hearing aids if you lose them! Here are a few more of the things you can do with the ReSound Smart 3D app Stream audio from virtually any source, without lag time. Great for directions, updates and notifications from your phone, and for listening to music. Access quick hearing aid adjustments for your smartphone's start screen. One-tap access makes it quick and easy. Use the Sound Enhancer to adjust treble/mid/bass, noise reduction, speech focus or wind noise reduction. Track the battery status of your rechargeable hearing aids and receive notifications when they are ready for use or need recharging.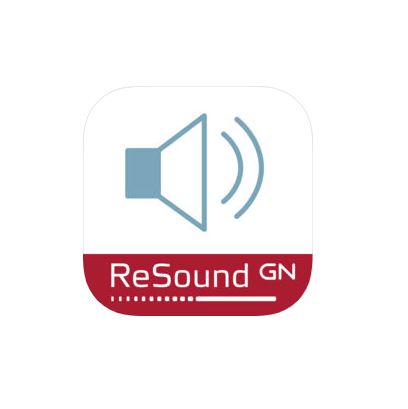 Control App
ReSound Control is a fully-integrated remote control app for wireless hearing aids and accessories. The ReSound Phone Clip+ is required to use this app. With the Phone Clip+, ReSound Control lets you use your mobile device to view and control your connected hearing aids and ReSound Unite accessories. The ReSound Control app allows your smartphone to adjust the volume of your hearing aids quickly without having to touch the hearing aids. It also lets you switch programs or control wireless streaming devices. For example switch to a program meant for restaurants when out dining, or start streaming from the ReSound TV Streamer 2 when you watch your favorite TV shows, all from the app.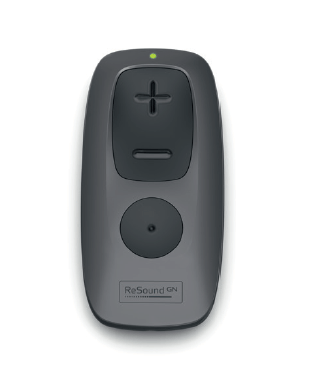 Remote Control 3: $239
Adjust the volume and program of your ReSound hearing aids easily and discreetly. The simple keypad style design features large buttons, which are concave, tactile, and ergonomic. The buttons have raised symbols in the center, so they are easy to locate and glide a finger over. The standard CR2032 Lithium coin cell battery is widely available and easy to replace.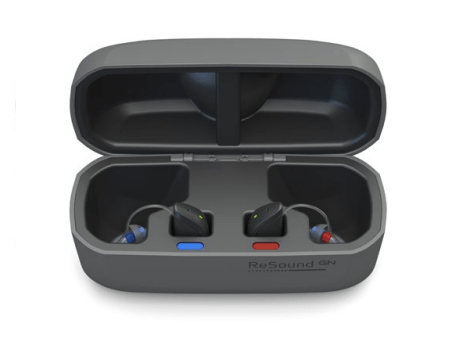 Standard Charger (included)
All the power you need in a simple design, with color-coded bays for right and left hearing aids. While your hearing aids are charging, the on/off light on your hearing aid will blink slowly. When fully charged, the light remains on (not blinking) until your hearing aid is removed from the charger. Your hearing aids will be fully charged in 3 hours and that will provide enough power for a full days' use.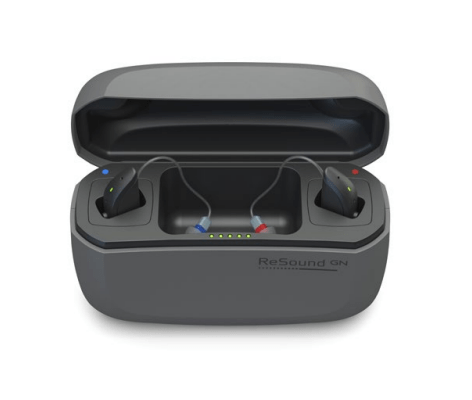 Premium Charger ($199)
The premium charger is just like the standard charger (included), but with an onboard rechargeable lithium-ion battery for up to three days of on-the-go portable charging, without the need for a power outlet.