Low Frequency Hearing Loss
Symptoms, causes, and treatment options
Approximately 15% of American adults (37.5 million) aged 18 and over report some trouble hearing.
The vast majority of these individuals have what is called high frequency hearing loss.
Less common is what is called low frequency hearing loss.
According to hearing researcher Dr. Charles Berlin, there are only a few thousand cases of severe low frequency hearing loss in the U.S.
Low frequency hearing loss has unique causes, symptoms, and treatment options.
In this post we'll review everything you need to know about low frequency hearing loss and hopefully get you the answers you're searching for.
What is low frequency hearing loss?
As the name implies, low frequency hearing loss is when you have a hard time hearing low frequency sounds.
What are low frequency sounds, and how do you know if you have a hard time hearing them?
To answer the first part of that question, it's important to first understand the nature of sound.
All sounds fall somewhere on the frequency spectrum, from low, to mid, to high frequency.
The "speech banana" (shown below) is a chart used to help illustrate where common sounds and phonemes fall on the frequency spectrum.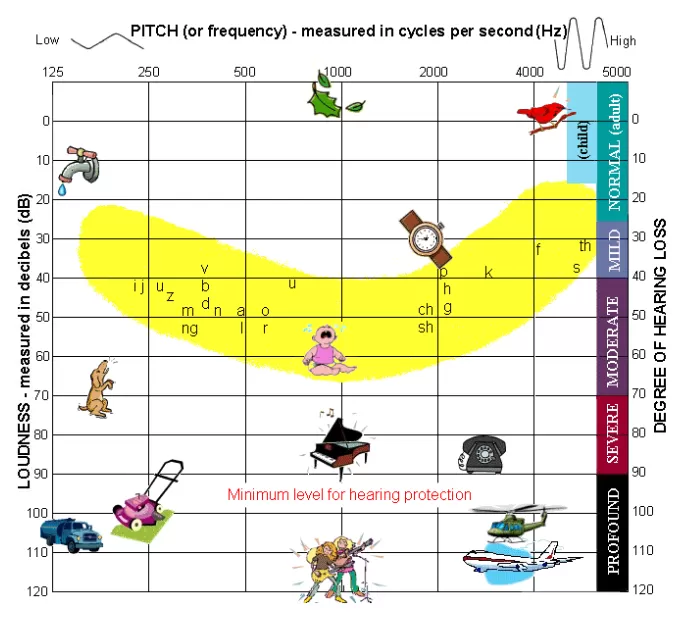 The horizontal axis at the top of the chart shows the frequency ranges, and anything left of 2000 Hz is considered low frequency sound.
So for example, the dog barking and the water running are low frequency sounds, because they are to the left of 2000 Hz.
How do you know if you have a low frequency hearing loss?
You probably have a low frequency hearing loss if you have difficulty hearing any of the sounds or phonemes on the left side of the speech banana above, or if you've experienced any of these symptoms.
To verify that you indeed have a low frequency hearing loss, it's best to have a licensed hearing care provider administer a hearing test.
During a hearing test, you'll be asked to raise your hand or press a button when you hear a beep.
The beeps sound like different pitches, like the keys on a piano. Your hearing care provider calls them different frequencies, and based on your responses, makes a graph called an audiogram.
If you have a low frequency hearing loss, your audiogram will look similar to this: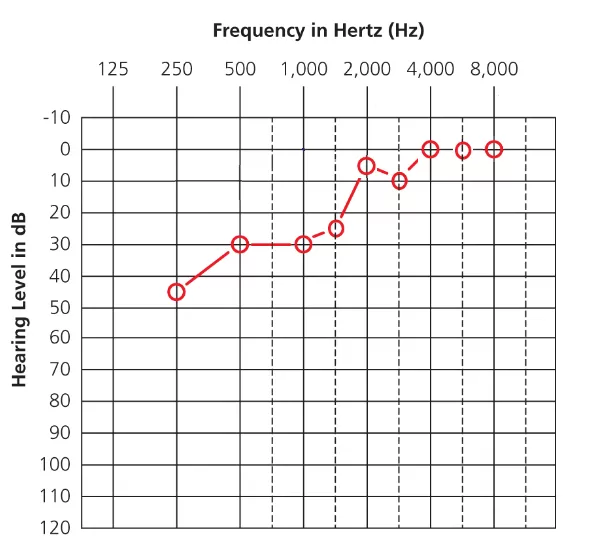 In the audiology world, red = right, so this audiogram is showing the individual's hearing ability in their right ear.
The frequencies are charted on the horizontal axis along the top, from 125 Hz - 8000 Hz.
Along the vertical access is the loudness level at which the individual reported hearing the given sound.
The further towards the bottom the point is plotted, the worse the individual's hearing at that frequency.
If you remember, we consider everything left of 2000 Hz to be low frequency sound.
So on the audiogram above, the marks closest to the bottom of the chart are to the left side of 2000 Hz, indicating the individual has a harder time hearing low frequency sounds.
Why is it called reverse slope hearing loss?
You may hear some hearing care professionals call a low frequency hearing loss a "reverse-slope" hearing loss.
"Slope" is a frequently used term to quickly describe the shape of the audiogram results of a high frequency hearing loss.
The audiogram below depicts a typical high frequency hearing loss, which looks like a hill "sloping" down.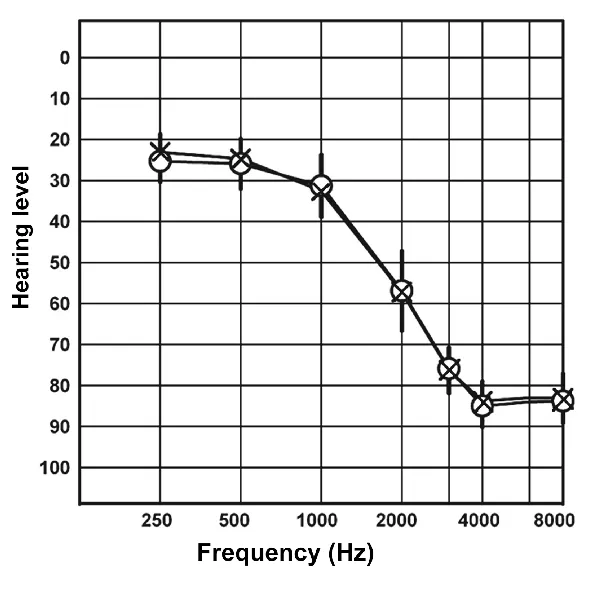 If you imagine the top left of the chart above being the top of the hill, and the bottom-right being the bottom of the hill, you can see how the hill "slopes" downward.
High frequency hearing losses are often referred to as "gently sloping" or "steeply sloping," as a quick and general way for hearing providers to describe a hearing loss.
Low frequency hearing loss is sometimes referred to as reverse slope, simply because the plotted points on the audiogram would create a hill sloping in the opposite direction of the chart above, like a mirror image.
Symptoms of low frequency hearing loss
Some low frequency hearing losses may be conductive, meaning that they result from a blockage somewhere in your ear canal or behind your eardrum.
In this article, we're talking primarily about low frequency sensorineural hearing loss.
This means that the hearing loss results from problems in your inner ear (cochlea) or the nerves that carry sound to your brain.
People with low frequency hearing loss may have complaints such as:
Difficulty talking on the phone: This is because telephones only transmit sounds up to around 3000 Hz.
Less enjoyment of music: Bass tones are very important to giving music a rich tonal feel.
Challenges distinguishing speakers: Low frequency information in vowels help us tell male and female voices apart.
Causes of low frequency hearing loss
Low frequency hearing loss usually results from one of two causes:
1. Changes in the levels of fluids in the inner ear or brain
2. Hereditary syndromes and congenital birth defects
Specific disorders that affect inner-ear or brain fluid levels and can lead to low frequency hearing loss:
Specific hereditary syndromes and birth defects known to cause low frequency hearing loss:
Enlarged vestibular aqueduct syndrome, a malformation in the inner ear's bone structure present from birth. Can cause both hearing loss and balance problems.
Wolfram syndrome, a genetic disorder that leads to childhood-onset diabetes, hearing loss, and progressive vision loss.
Mondini dysplasia, a condition where a child is born with an inner ear (cochlea) that has fewer turns.
Other potential causes:
Susac syndrome, a rare autoimmune disease affecting small blood vessels in the brain, retina, and inner ear.
Renal failure, when the kidneys no longer work as well as they should.
Treatment options
Treatment options will vary from trying hearing aids, to altering your diet, to buying new phones or using assistive listening devices.
Best Hearing Aids for Low Frequency Hearing Loss
There isn't one best hearing aid for people with low frequency hearing loss. The most important factor is getting a hearing care professional who understands how to adjust hearing aids for this type of loss.
Your provider can't just plug your hearing test into the computer and accept the manufacturer's fitting recommendations. These programs are generally based on research with people with high-frequency hearing loss.
You may need these adjustments to the manufacturer's default program in order to hear your best:
Turn down low frequency gain. This may sound counter-intuitive- after all, your hearing loss is worse in the low frequencies- but too much low frequency amplification may make speech sound muddled.
Increase mid and high-frequency gain. This may again sound counter-intuitive, especially if you have normal hearing in these frequencies. However, a boost at and above 2000 Hz may make speech more clear to you.
Consider different hearing aid programs. You may want more of a bass boost to listen to music, but need less low frequency gain when listening to speech. Most hearing aids allow you to store multiple programs and switch between them with the press of a button.
It may also be a good idea to find a provider that does real ear measurement. Since this type of hearing loss can be challenging to fit, a hearing provider should take advantage of every tool that exists to increase your likelihood of satisfaction. Real ear measurement is a great tool that does just that.
Conclusion
If you have low frequency or reverse slope hearing loss, you've joined a select club.
You have different problems and needs than people with typical age related high frequency hearing losses.
If you decide to try hearing aids, your loss requires a professional who thinks outside of the box.
The provider has to approach you differently from most patients.
When looking for a hearing care provider, it's wise to ask questions about how much experience the professional has with fitting this type of hearing loss.
If you already have hearing aids, and you're not yet satisfied with them, consider asking your provider to try the adjustments that we suggested in the last section. They might learn a thing or two from you.