Hearing Health News – April '22
In this recurring blog series, we take a look at a few of the prior month's biggest stories in the world of hearing health care
Senators Grassley, Warren introduce bill to increase pressure on FDA to issue final rule on over-the-counter hearing aids
Almost five years ago, Senators Grassley and Warren passed the Over-the-Counter Hearing Aid Act, with the goals of increasing competition, lowering costs for consumers, and ensuring that people can buy hearing aids right off the shelf.
On April 7th, 2022, Grassley and Warren introduced a new bill that would apply additional pressure on the FDA to finalize the rule.
As it stands, the public comment period closed Jan 18, 2022, and we're all now waiting for the Secretary of Health and Human Services to issue a final rule to establish a category of over-the-counter hearing aids.
It's been a long time coming, but it's now looking like the rule will be finalized by the fall of '22.
Once the final rule has been issued, there may be an increase in direct-to-consumer and over-the-counter hearing aid options on the market.
It's unclear how this bill will actually change the hearing aid industry or adoption rates, and how many manufacturers are really waiting for the rule to be finalized before bringing their products to market.
Phonak expands waterproof Audéo Life to all technology levels
Phonak announced their waterproof Audéo Life hearing aid back in August of '21, but made it available only in the premium (90) technology level.
Due to that limited release it was inaccessible to folks who didn't need or didn't want the 90 technology level and the premium price that goes along with it.
We're happy to report that Audéo Life can now be ordered in all Phonak tech levels, including 90, 70, 50, and 30.
So far Audéo Life hasn't been as popular as we thought it might be with our customers, and only about 2-3% of our Phonak customers are choosing the Life model.
But, those who have ordered it have been happy with their choice and the freedom that a waterproof hearing aid provides.
Our recent customer Jerry shares his experience with Audéo Life (below).
Phonak announces two new hearing aids designed for active lifestyles, and health and fashion-conscious wearers
Phonak has announced two new hearing aids that we expect to be available this summer— Phonak Slim, and Phonak Audéo Fit.
Both are built on Phonak's current Paradise platform and offer some new functionality, and a new unique design.
First, a bit on what we consider to be the more exciting release—Phonak Audéo Fit.
Phonak Audéo Fit
Audéo Fit is a new rechargeable receiver-in-canal style hearing aid that will utilize built in sensors to let the wearer know about various health indicators, including heart rate, steps, activity levels and distances walked or run.
With access to personal activity data from sensors that are built into this innovative hearing aid, users can also pursue healthy habits and set personal goals to the sound of their own fitness.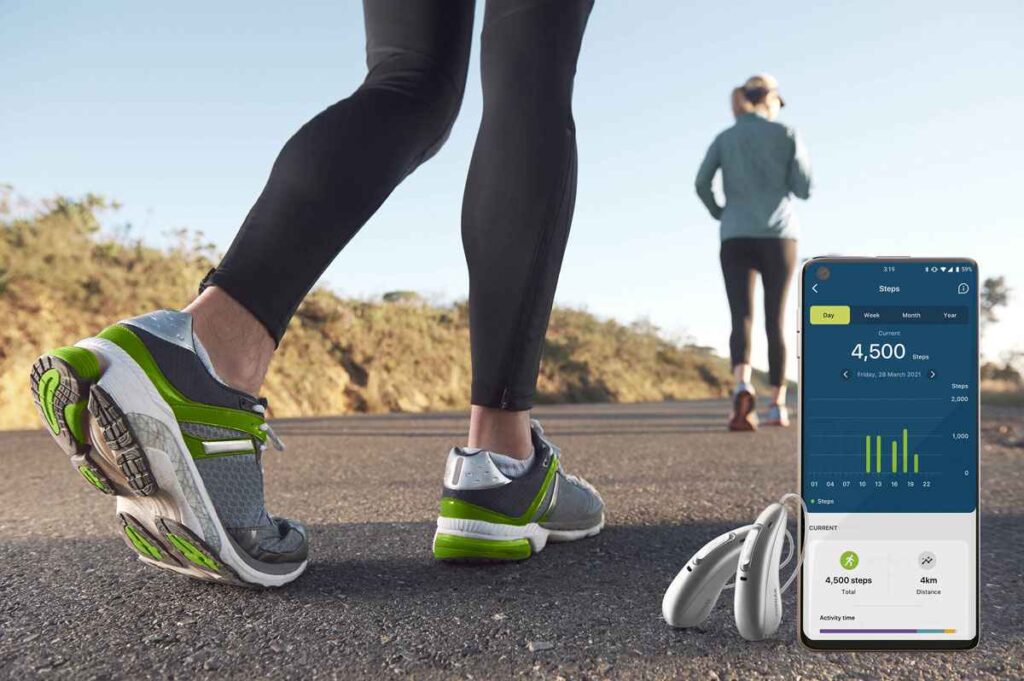 We don't know much about Audéo Fit beyond what the press release says, but we think Fit will be available in 70 and 90 technology levels initially.
We also think that some of these new "activity-data" features (like step counting), will be available in and backwards compatible with all Audéo Paradise models.
Some releases (like maybe the Slim, shown below) are more experimental in nature, to test consumer demand.
However we think the features Phonak is making available with Audéo Fit, and the updates to the myPhonak app, are most likely here to stay and will probably be available in all Phonak hearing aids in the future.
Phonak Slim
Phonak describes this new hearing aid as "stylish and designed to look and feel different."
It should definitely look different, because Slim is the first receiver-in-canal style hearing aid (ever), that is uniquely designed for the right and left ear individually.
With all other receiver-in-canal hearing aids on the market, the right and left hearing aids are actually interchangeable, whereas the Phonak Slim is designed for either a right or left ear.
We'll see how that translates to the physical fit of the device.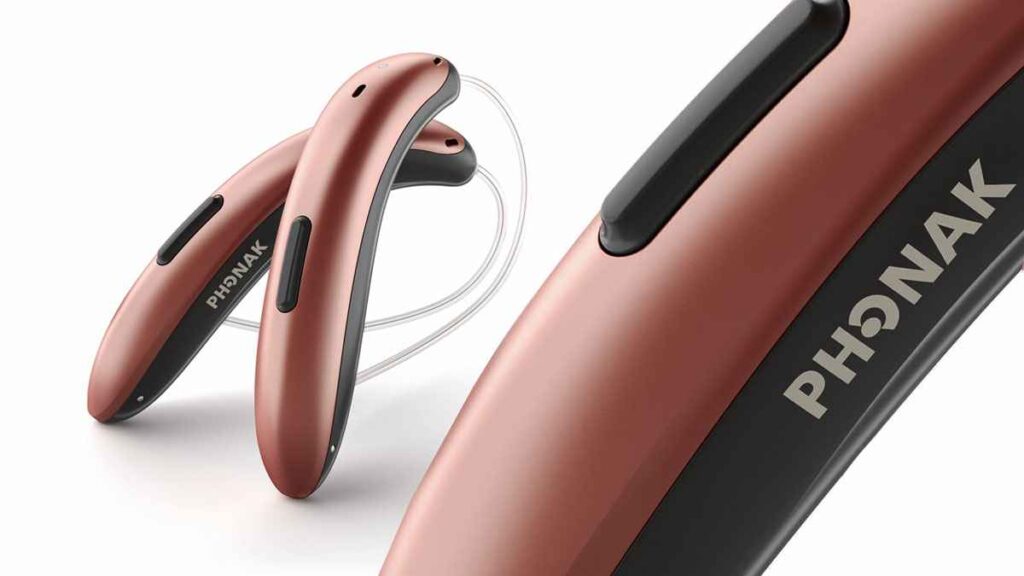 Phonak Slim comes in a variety of two-tone colors - silver/black, graphite/black, and copper/black.
We think Slim will be available in the 90, 70, and 50 tech levels.
Slim will be a rechargeable hearing aid, and that means it'll require a new charger, but that hasn't been announced yet. We're hoping for a sleek portable charger something along the lines of an Airpod charger.
If Phonak Slim looks familiar, that's because it shares the same pin-shaped lithium-ion rechargeable battery style as the Signia Styletto, as some savvy consumers have pointed out over at the HearingTracker forum. 
We don't expect Slim to be more popular than the Audéo PR style that 77% of our Phonak customers buy—we expect it to have around the same popularity as Audéo Life, low single digits.
On their own, none of these announcements from Phonak are game changing. However, when Phonak ultimately converges all this tech (and more) in their next flagship product, that'll be a different story.
Signia expands the Augmented Xperience platform with a new 312 AX RIC and upgraded features
Signia's most popular hearing aid is the Pure Charge&GO AX, released May 18, 2021.
Signia has just announced that on May 2nd they'll begin taking orders for the non-rechargeable version of this hearing aid, called Pure 312 AX.
There will be 3 models available, in the 7, 5, and 3 technology levels.
Signia has also released a new CROS transmitter with a 312 battery.
This will be Signia's first non-rechargeable hearing aid on the new(ish) Augmented Xperience platform.
We hope Signia will soon bring their other models onto the AX platform, such as Silk, Styletto, and Active
In addition to these new products, Signia is adding 3 new features to the AX platform:
OVP 2.0 (Levels 7,5,3)- Own Voice Processing 2.0 makes it easier for users to acclimate to wearing hearing aids by making their voice sound less artificial.
Auto EchoShield (Level 7 only)- helps reduce the echo so users can hear clearer regardless of their listening environment.
AX HandsFree – iPhone only (Levels 7, 5, and 3)- lets users take or make hands-free calls while their hands are busy with other tasks.
Any new hearing aids on the AX platform that are shipped after May 2nd will include these new features.
If you purchased a Signia AX hearing aid prior to May 2, you can contact your hearing provider and get a firmware update on your current hearing aids which will make these features available.