Hearing Health News — September '22
In this recurring blog series, we take a look at a few of the prior month's biggest stories in the world of hearing health care
Widex introduces Moment Sheer
On September 7th Widex announced a new model called Moment Sheer.
The technical or shorthand name of this model is the Widex Moment sRIC R D, and it replaces the now discontinued and previously best-selling Widex Moment mRIC R D.
It was a unique move by Widex that we don't often see in the hearing aid industry.
Rather than creating a whole new line or family of hearing aids with a new name, which would render their current Moment family of products obsolete, Widex has simply added the new 'Sheer' model to the existing Moment family, and given all other existing Moment models an update at the same time.
Here is how Moment Sheer (sRIC R D), differs from the previous and now discontinued Moment mRIC R D model—
Slightly updated physical design
Updated charger and ear inserts (domes)
Updated MySound 2.0 feature, available within the MOMENT App, which provides users with more sound customization parameters
New 'SoundRelax' tones inside the MOMENT App, which can be played through Moment hearing aids
Those last two features (MySound 2.0 and SoundRelax), are available for all existing Widex Moment users- there is no need to purchase new hearing aids or hardware. By updating the MOMENT app, users will immediately have access to the improved MySound 2.0, but getting access to the SoundRelax tones will require a quick in-person appointment with a Widex provider.
Signia releases Styletto AX
Although Signia's latest AX platform (Augmented Xperience) has been out since October of 2021, not all Signia models are available on this platform yet.
In September Signia added their popular Styletto model to the AX platform, meaning users who prefer the sleek design of Styletto can now get it with Signia's latest technology and don't have to compromise performance for cosmetics.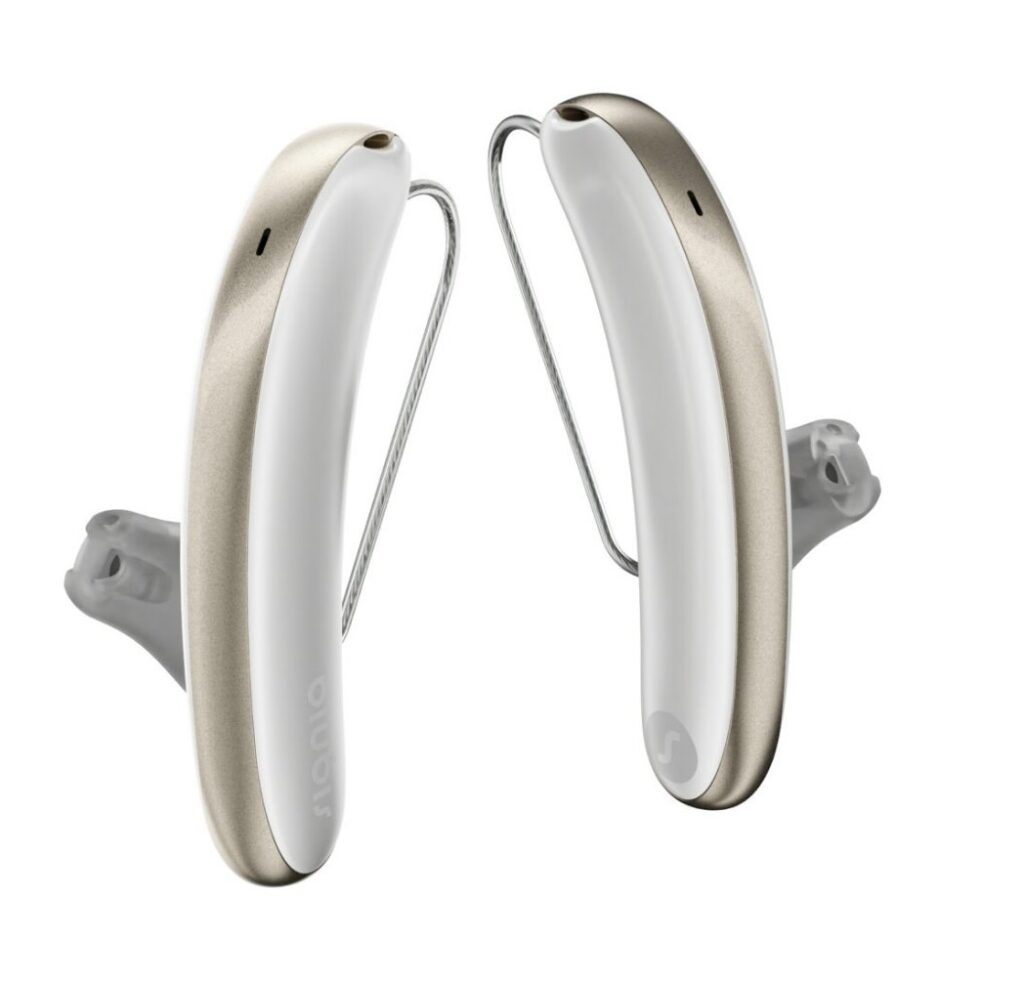 Styletto AX features expanded color options (12 in total), and an updated housing, giving the hearing aids a slightly more rounded appearance compared to the previous Styletto X model.
Starkey Evolv AI gets updates
In what we're hoping is a new trend with hearing aid manufacturers, Starkey (like Widex mentioned above), has also pushed some new updates to their Evolv AI hearing aids, without making wearers pay for them, or buy new hearing aids.
Rechargeable battery capacity has been improved and battery drain as been reduced.
Wind noise and machine noise will get an additional 40% reduction.
Updates to the on-demand feature, Edge Mode, make speech even clearer in noisy environments like cars and other vehicles.
These enhancements are available to new users or users who already wear Evolv AI hearing aids.
All that is required is a quick appointment with your hearing care provider so they can download a firmware update onto the hearing aids.
Starkey & Oticon hearing aid update allows for hands-free phone calls
If you use Oticon or Starkey hearing aids, you've likely been waiting for this feature—hands-free phone calls.
If you have an iPhone 11 or newer, with iOS 15.2 or newer, you can now use the button on the back of the hearing aid to answer, end, and reject incoming calls.
The microphones on the hearing aids are now able to pick up your voice so the caller can hear you, allowing you to keep the phone in your pocket, providing a truly hands-free calling experience.
If you have an iPhone 11 or newer and you want this functionality, call your hearing provider. They'll download an update onto your hearing aids and you can then utilize this convenient feature.
As of now this feature works with iPhones only. If and when it works with other phones we'll be sure to post about it here.
Compatible Starkey models: Livio AI, Evolv AI