Signia Hearing Aid Models, Prices, & Reviews
Local fitting service included with all purchases
Need help choosing? Enter your info and we`ll call within 20 minutes!
Popular Signia Hearing Aid Models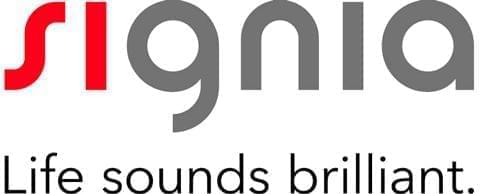 Signia is among the most popular brands at ZipHearing, and for good reason. No other hearing aid manufacturer brings more history, sets higher standards, or packs more technology into its hearing devices. Formerly known as Siemens, Signia represents the future of a company that began producing hearing aids more than a century ago. Siemens had (and still does) a reputation for what the company describes as cutting-edge technology with German engineering and premium quality. Now under the Signia moniker, the company has kept its robust portfolio of cutting-edge hearing aid technology while introducing a new emphasis on personalized hearing care. Keep reading to learn more about what this means.
Signia's most popular RIC hearing aid, Pure Charge&Go AX, should be on your short list if you like the sound of a hearing aid designed to enhance speech understanding in background noise while maintaining a natural quality for your own voice. We realize that every company seems to make this promise, but Pure Charge&Go AX is one hearing aid that fulfills it better than many others. We also recommend the discreet instant-fit Signia Silk, the sleek Styletto with lithium-ion rechargeable battery, and the custom in-the-ear models called Insio. Most of these hearing aids come in several different styles and performance levels, so you are sure to find a combination to suit your needs.
As you delve a little deeper into the options for Signia hearing aids, you may find it helpful to know that a simple numbering system designates the performance level of each model. The higher the number, the higher the performance or technology level. The abbreviation following a performance level signifies which product family the hearing aid belongs to. For example, Pure Charge&Go AX hearing aids come in 3AX, 5AX, and 7AX models, so if you are looking for the top-of-the line check out 7 AX. If you are looking for the latest hearing solutions Signia offers, but with a smaller price tag, consider 3AX instead. Some models include the battery size in their name (e.g., 13 or 312), when the hearing aid comes in different styles or with a choice of battery sizes.
In the sections below, you'll find information on Signia's current and most popular hearing aids models, along with pricing and feature information so you can determine which Signia hearing aid is appropriate for you. If you're simply looking to get your Signia hearing aids repaired, or looking for Signia parts, like wax filters or domes, feel free to give us a call and we'll point you in the right direction. Otherwise, feel free to review the popular models below, and at the top of this page you'll find links to each Signia hearing aid model, along with prices, features, and online ratings, and more in-depth Signia reviews on each product page.
Signia Pure Charge&Go AX
As of May 18, 2021, Signia Pure Charge&Go AX is the newest rechargeable RIC-style hearing aid from Signia, built on the all new Augmented Xperience (AX) platform.
The body of the hearing aid features a slightly updated sleek and modern design. With this release, Signia has also released a new and improved receiver (miniReceiver 3.0), along with a broader assortment of ear tips which seem to be partly inspired from Widex, perhaps as a result of the recent merger between the two hearing aid giants.
All that is nice, but it's what's on the inside of a hearing aid that really counts.
What's so special about the AX platform? Signia says they're taking a fundamentally different approach to processing sound. Traditionally, hearing aids have processed all sounds under one set of rules, resulting in signals competing against each other. If you prioritize one part, another is neglected.
The Augmented Xperience platform is rooted in a world's first Augmented Focus™ technology that processes speech and background noise separately to create a clear contrast between the two. It then recombines them to deliver outstanding speech clarity even in a fully immersive soundscape – like a crowded cafe or an open office environment.
Augmented Focus leverages two independent processors – the first of which addresses 'focus' sounds like the speech of a conversation partner, while the second addresses 'surrounding' sounds like background music or ambient laughter, which create situational awareness and excitement. The two processors capture focus and surrounding sounds independently to create a greater contrast between the two – pulling focus sounds closer and placing surrounding sounds further away.
Charge&Go AX is powered by a lithium-ion rechargeable battery that delivers up to 24 hours of use on a single charge, including 5 hours of streaming, and Signia has provided three different charger options- a sleek portable charger, a small desktop charger, and a larger USB-powered Dry&Clean Charger which charges the hearing aids and offers UVC cleaning and drying.
And finally- this hearing aid offers direct streaming from both iOS and ASHA-compatible Android smartphones. For most people, this will mean no more lugging around the Streamline MIC Bluetooth streamer- because AX hearing aids can connect wirelessly via Bluetooth to most smartphones.
And Signia didn't forget about accessibility. Charge&GO AX is CROS compatible, and is also available with a telecoil. We think the telecoil model is a smart choice, because that slightly larger model provides an unmatched 36 hours of power on a single charge.
For the time, Pure Charge&Go AX is available in the 7, 5, and 3 technology levels. This is the first and currently only hearing aid on the AX platform, and we expect further models and form factors to be released in the coming months, including some options for folks who prefer disposable batteries.
Insio Charge&Go AX
Released by Signia on September 22, 2021, Insio Charge&Go AX is a custom, in-the-ear, rechargeable hearing aid, for mild-to-severe hearing losses.
Insio Charge&Go AX is most well-known for being Signia's first custom-made rechargeable in-the-ear hearing aid, and the industry's only custom hearing aid with contactless charging. What does contactless charging mean? It means is the Insio hearing aids do not have metal contacts on them that need to be carefully positioned/aligned with the contacts on the charger. Signia says this will make charging the hearing aids easier and more intuitive.
Insio Charge&GO AX devices are built on Signia's newest Augmented Experience (AX) platform, which Signia says delivers "an almost superhuman level of hearing." These hearing aids connects directly to iOS®, and most Android™ devices so you can stream audio in excellent quality directly to your hearing aids. For time time being, this hearing aid is available in 3 technology levels (starting with the highest-end) Insio Charge&Go 7ax, 5ax, and 3ax.
Active & Active Pro
Released by Signia on March 1, 2021, Signia Active is a first-of-its-kind device. Active is most well known for being one of the first devices to blur the line between consumer electronic products like personal sound amplifiers and FDA-regulated hearing aids. It's available in 2 technology levels, "Active" and "Active Pro". The "Active" level is considered low end tech, suitable for folks who primarily want to hear better in quiet environments like around the house. The "Active Pro" has features that are found in other premium hearing aids, like a high number channels for precise sound processing, and background noise supression technology.
Active features a modern design akin to other Bluetooth earpieces, allowing wearers to simply pop them in when they need a little hearing boost, while also being discreet and comfortable enough for a full day's use.
Active hearing aids are quickly and easily fit by a hearing care professional to create a sound profile that's perfectly tailored to the wearer's unique hearing profile. Like most other Signia hearing aids, Active connects directly to your iOS® devices so you can stream audio in excellent quality directly to your hearing aids.
Signia Pure X is Signia's newest RIC style hearing aid using traditional size 312 disposable batteries (as indicated by the 312 in the product's name). There are a few enhancements to the Pure 312 X model, as compared to the previous Pure 312 Nx.
New(ish) platform: At the time this hearing aid was released, Signia had just released their Xperience platform, and Pure 312 X was the first hearing aid built on it. The platform is essentially the "brain" of the hearing aid, like an operating system or algorithm that controls how the hearing aid sounds. The main advantage of the Xperience platform, is a feature Signia calls "Dynamic Soundscape Processing." This feature refers to the functionality provided by the motion sensors that are now embedded into Signia hearing aids (as opposed to in the iPhone, where they were before). Why is this beneficial? As a result of having these motion sensors, wearers report improved ability to understand speech, with significantly reduced listening effort, both when in motion and when stationary. Signia has indicated that 90% of Xperience wearers report a natural sound experience when in motion.
New "Signia App": Along with the release of the Xperience platform, Signia has released a new app, called simply, "Signia App." Prior to this app, Signia had multiple apps with fragmented functionalities across various apps, which didn't lead to the best user experience. This new app combines all existing app functionality into one unified environment, so this new app consolidates the previous three apps, (touchControl, myControl, and myHearing App), all into one app. The new app is backwards compatible with earlier models such as Signia Nx hearing aids.
Last but not least, Signia has redesigned this new RIC device, with a slimmer housing, providing for a more discreet fit.
Pure X hearing aids, like the earlier Pure Nx hearing aids are Made for iPhone, meaning they can stream music and calls directly from Apple devices without the use of additional accessories. For streaming from Android devices, you will need the StreamLine Mic (which is also compatible with Apple devices). It's small, easy-to-use, and is useful with or without a smartphone, because it functions as a remote microphone for meetings or lectures where you need to hear from across the room. Of course, there is nothing wrong with using your phone the old-fashioned way – by holding it up to your ear. If that is your style, Pure X is still a great choice, because the full-bandwidth link between the two hearing aids transmits the phone signal wirelessly from one hearing aid to the other.
Signia's Silk are small, discreet, instant-fit hearing aids with superior sound quality. That's a unique combination, because these are the only invisible-style hearing aids with premium features like Signia's Binaural OneMic Directionality that also come ready to wear. Previously available only at the highest performance level, OneMic Directionality is now included in all Silk hearing aids. Another new addition that comes standard is TwinPhone, which uses Signia's HD e2e wireless capability to automatically transmit phone audio from one hearing aid to another so you can hear in both ears.
Silk feature a soft and flexible silicone sleeve that conforms to your ear canal for a precise instant fit. This means you don't have to wait for custom devices to get a comfortable fit. The replaceable silicone sleeve simply clicks onto the tip of the hearing aid, so it's easy to get the right fit with minimal fuss. Many people actually prefer these Click Sleeves over custom hearing aids. While the X platform is new to Silk hearing aids, the Click Sleeves are not. It's a form factor that proved popular and comfortable in Silk primax, the predecessor to the new Silk hearing aids. What has changed is that Silk are 20 percent smaller than their predecessor, for even more discretion. It's enough of a difference that Signia has added one additional size (smaller) to the line up.
Silk not only feel comfortable to wear, they sound great too, thanks to the advanced sound processing of the X platform. A key feature is Signia's Ultra HD e2e processing. It's a full bandwidth wireless connection that can transfer audio and data between a pair of hearing aids. This makes it possible for two hearing aids to work together for more effective noise reduction than is possible in independent hearing aids — and it makes a big difference.
When invisible-style hearing aids first hit the market several years ago, consumers loved their small size and the natural sound quality provided by having the microphones located in the ear canal. But those hearing aids were too small to house the dual microphones essential for advanced directional processing, so slightly larger behind the ear hearing aids became more popular. With Signia's Binaural OneMice Directionality, the situation has changed. Each Silk hearing aid has only one microphone, but the two hearing aids work together to provide effective noise reduction and directional hearing without adding bulk to the hearing aids.
Signia Silk come in 5 performance levels, to suit a variety of needs and budgets, and are suitable for up to severe hearing loss. If you need more power or are interested in Signia's unique Own Voice Processing, consider a RIC hearing aid such as Signia Pure. Otherwise, Signia Silk are a great choice.
Buy if:
You want the only nearly invisible hearing aids with ear-to-ear wireless and an instant fit.
You have no usable hearing in one ear, and want a wireless CROS system for streaming audio from one ear to the other.
You prefer invisible-style hearing aids, but dislike the feel of acrylic or other hard materials used in custom hearing aids.
Signia Styletto offers a uniquely stylish form factor, full featured connectivity, and state-of-the-art lithium-ion rechargeability. Released in Spring of 2019, Styletto aims to be much more than just a traditional hearing aid, and is advertised as a "revolution in sound, style, streaming, and charging on-the-go." There are 3 primary features that make Styletto unique in the marketplace.
Stylish slim-RIC form factor: Featuring an awarding winning Slim-RIC style, the Styletto is the slimmest RIC hearing aid on the market. Styletto fits discreetly behind the ear so no one will ever see it, but with a hearing aid this good looking, you may just want to show it off. It's available in three contemporary color combinations, is IP 68 rated (moisture resistant) and feels more like it's built by a smartphone manufacturer than a hearing aid manufacturer.
Portable, cord-free charging: Included with your Styletto purchase is a pocket-sized and portable charging case that provides a full day of power, even with up to 5 hours of streaming. Three times smaller and half the weight of comparable chargers, it's the only one you can fit in your pocket to carry with you all day. When your hearing aids are low on battery, just pop them in the charging case for a 30 minute fast charge, which provides an additional 5 hours of use. With a full charge, the charger is capable of providing 4 full charges to your hearing aids, in the event you don't have access to an electrical outlet or USB port to charge your hearing aids. A full charge to the charger takes 3 hrs, and a full charge to the Styletto hearing aids takes 2 hrs.
Connectivity and control: With built-in Bluetooth connectivity, Styletto allows you to stream music, phone calls and more, directly from your phone to your hearing aids (Streamline MIC accessory required on non-Apple products). To improve the sleek design and appearance of Styletto, there is no on-board control on the units themselves. Instead, users download the Signia App for iOS and Android phones, which offers advanced remote control options.
Styletto is more than just a stylish, rechargeable, Bluetooth hearing aid. Styletto is built on the Signia X platform, which includes Ultra HD e2e with Narrow Directionality for speech understanding in noise. It also has Signia's renowned Own Voice Processing (OVP™) feature to make the wearers own voice sound more natural.
Styletto is currently available in 5 performance levels, starting from the premium level 7, mid-range level 5, entry level 3, basic level 2, and economy level 1. All technology levels include the portable charging case.
Signia Hearing Aid Reviews
Below you'll see our 10 most recent and real Signia hearing aid reviews and complaints, on all the latest models such as
Pure
,
Pure Charge&Go X
,
Silk
.
Any time you read a customer review on Signia hearing aids, its important to note that a significant factor contributing to the customer`s review is the skill of the hearing provider who fit their hearing aids. For more information on this, we`d encourage you to check out our YouTube video:
Do Hearing Aid Reviews Matter
?
Signia Hearing Aid Prices
| Model | Our Price |
| --- | --- |
| Pure Charge&Go 7 AX | $2299 |
| Pure Charge&Go 5 AX | $1849 |
| Pure Charge&Go 3 AX | $1399 |
| CROS Pure Charge&Go AX | $1649 |
| Pure Charge&Go 2X | $1299 |
| Pure Charge&Go 1X | $1199 |
| CROS Pure Charge&Go X | $1649 |
| Pure 7X | $2299 |
| Pure 5X | $1799 |
| Pure 3X | $1399 |
| Pure 2X | $1299 |
| Pure 1X | $1199 |
| CROS Pure 312 X | $1649 |
| Silk 7X | $2199 |
| Silk 5X | $1699 |
| Silk 3X | $1449 |
| Silk 2X | $1349 |
| Silk 1X | $999 |
| Silk CROS | $1649 |
| Styletto 7X | $2299 |
| Styletto 5X | $1799 |
| Styletto 3X | $1549 |
| Styletto 2X | $1399 |
| Styletto 1X | $1299 |
| Active | $1349 |
| Active Pro | $2099 |
| Insio Charge&Go 7 AX | $2299 |
| Insio Charge&Go 5 AX | $1899 |
| Insio Charge&Go 3 AX | $1649 |
| Insio 7Nx | $2299 |
| Insio 5Nx | $1899 |
| Insio 3Nx | $1649 |
| Insio 2Nx | $1399 |
| Insio 1Nx | $1299 |
| Streamline Mic | $199 |
| Streamline TV | $199 |
| Smart Dryer Li-ion Case | $75 |
Signia hearing aid apps & accessories
Have you ever thought about controlling your hearing aids from your smartphone? If so, check out some of the Signia apps below. Be sure to check compatibility of these apps with your phone or tablet, because some apps are built exclusively for iOS devices, others for Android devices, and the functionality that you get from these apps may vary depending on the type of phone or tablet you use. In addition, sometimes apps may be built exclusively for iPhones (for example), and may not work on iPads. So it`s very important to check compatibility of your devices before selecting your hearing aids based on the apps available from Signia.
You should also consider some of Signia`s accessories, such as TV streamers and remote microphones. Again, it is important to do your due diligence as far as compatibility. Not all Signia hearing aids will work with all of the below Signia accessories. To find compatibility information, find the Signia hearing aid on our site that you are looking for, then scroll down and you will see a section on the product page which reviews this information.
If you need Signia supplies, such as domes, filters, or cleaning tools, we recommend contacting the local Signia provider who sold you your hearing aids. You may also sometimes find these parts relatively inexpensive on sites like Amazing and eBay. For accessories, we do not recommend buying them on sites like Amazon or eBay, as that is not an approved sales channel for most major manufacturers, and sellers on those sites are likely not authorized Signia retailers. You can also of course always buy these accessories from the local hearing provider which sold you your Signia hearing aids.
Please note: We are only able to sell accessories & parts of supplies to customers who have purchased hearing aids through ZipHearing.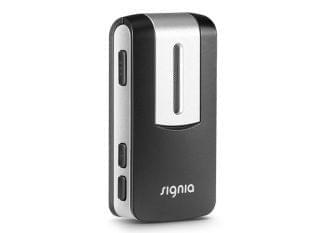 Streamline MIC: $199
If you have an Android phone or any non-Apple smartphone, you'll need this device if you wish to stream audio from your phone to your hearing aids. If you have an iPhone, you won't need this device, because Signia hearing aids are directly compatible with iPhones. Even if you have an iPhone, it still may make sense to get this, because it does allow for hands free phone calls. Wear it around your neck and the microphone picks up your voice for the person on the other end of the call to hear, so you don't have to hold you the phone to your mouth when speaking.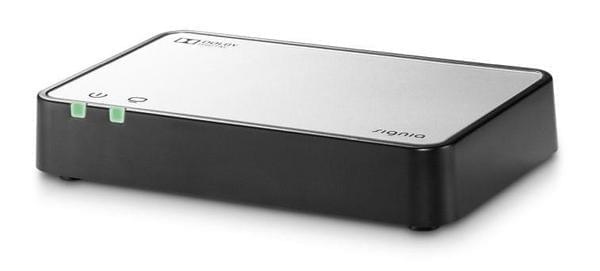 Streamline TV: $199
Plug it into the back of your TV or soundbar and the audio will be streaned directly to your hearing aids. Others can keep the TV at their preferred volume level, while you set your own volume via the app or on the hearing aids themselves.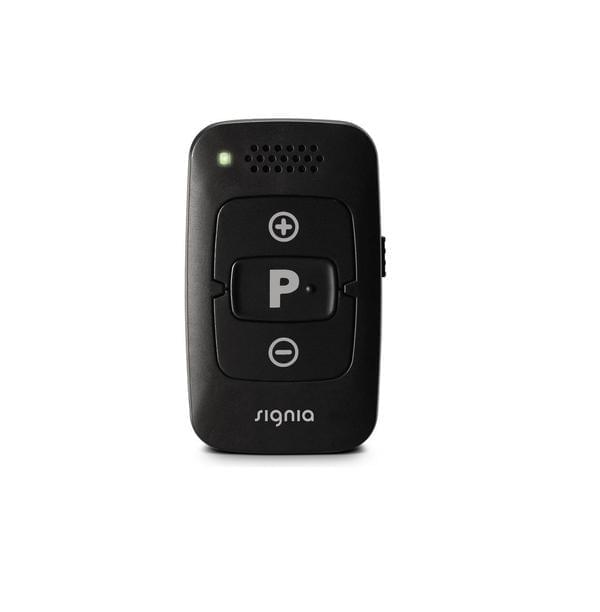 miniPocket Remote: $139
You probably don't need this. Most people use the app to control their hearing aids, but if that doesn't suit you, this remote is a simple way to control the volume and program.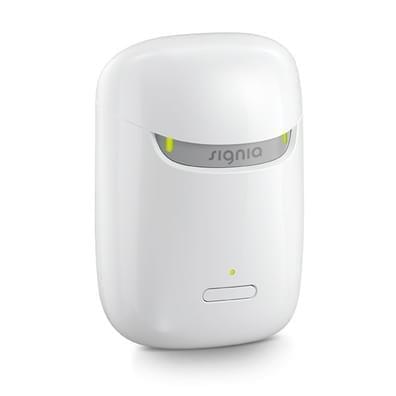 Styletto X Charger (Included)
This is the charger that comes with all Styletto X orders. Hearing aids are fully charged in 4 hours, providing 16-20 hours of power. A 30-minute quick charge will provide an extra 5 hours of power. This charger case also features a built-in litium-ion battery which can store 3 full charges, so in the event you don't have access to electricity, you can still charge your hearing aids by pulling the reserve battery from the case.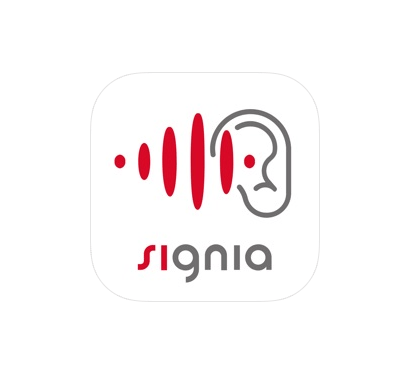 Signia App
Take control of your hearing aids. This app allows you to control sound settings like volume, program, and microphone directionality. In some cases, your hearing provider can even make remote adjustments to your hearing aids through the app.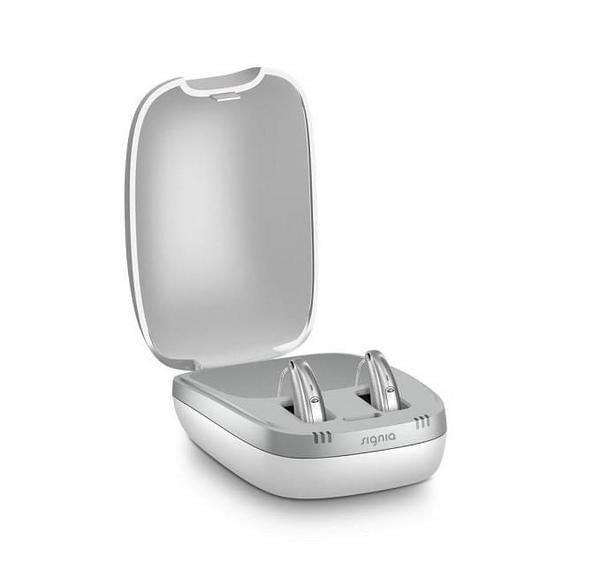 Inductive Charger II (Included)
This charger comes with all Pure Charge&Go X hearing aids in the 7, 5, and 3 tech levels. It fully charges hearing aids in 3-5 hours, providing 16-20 hours of battery life. A 30-minute fast charge gives an additional 7 hours of battery life. This charger also doubles as a dehumidifer to keep hearing aids moisture-free.