Hearing Health News – November '21
In this recurring blog series, we take a look at a few of the prior month's biggest stories in the world of hearing health care.
Supply chain issues persist— but there's some reason for optimism
The hearing aid industry continued to be plagued by supply chain issues and semiconductor chip shortages in the month of November.
In an industry that typically sees next-day delivery of hearing aids ordered from manufacturers, we're continuing to see wait times of 1 week+, with some products taking months to arrive in hearing provider offices.
Key accessories like TV streamers continue to be nearly impossible to source from several manufacturers, and it is not uncommon for new hearing aid orders or hearing aid repairs to take several weeks to ship.
There is hope for optimism though, as we're starting to see reports that the supply-chain crisis is easing, or that we're past the peak.
According to the report above, ocean freight rates for a 40-foot container have now declined for eight straight weeks, and the number of containers awaiting entry to the Port of Los Angeles has dropped by about a third since October.
However, those improvements have yet to be felt in the hearing aid industry, and on a clear day, cargo ships waiting to unload their containers in Long Beach can be seen on the coastline as far south as San Diego- where we're headquartered.
Widex introduces new rechargeable Moment BTE
On November 16th, Widex announced the newest addition to their Moment line of hearing aids- Moment BTE R D.
This is a significant release for Widex, and Widex hearing aid fans, as it marks the brands first-ever BTE device with a lithium-ion rechargeable battery.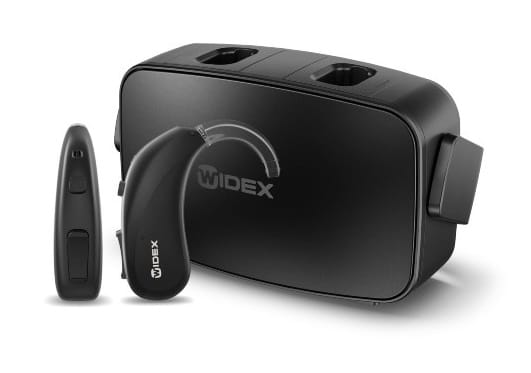 Unlike the more popular Moment receiver-in-canal style which came out in March of 2020, Moment BTE R D is suitable for wearers with severe-to-profound hearing loss.
And, this BTE model offers the same smartphone compatibility, with direct streaming to iPhones and some Android phones. You can check compatibility with your smartphone here.
MOMENT BTE R D runs for an impressive 30+ hours on a single charge and 24 hours total when used for roughly 8 hours of streaming — more than enough battery life for those who spend much of their day streaming.
Widex MOMENT BTE R D hearing aids come standard with a telecoil and feature a new programmable LED indicator light. This indicator light can be programmed by your hearing care provider to flash different colors and patterns to communicate statuses, such as on/off, low battery, or a successful Bluetooth connection or accessory pairing.
Phonak's ActiveVent receivers now available nationwide
Phonak's innovative ActiveVent receivers, announced back in August of this year, are now available through hearing provider offices nationwide, including ZipHearing.
For a primer on what ActiveVent receivers are, and why you may want them for your Phonak hearing aids, be sure to check out our August post.
In short, ActiveVent is a world's first intelligent hearing aid receiver (speaker) that features a mechanically switching vent (controlled by the hearing aid), designed to open and close depending on the wearer's sound environment. The goal of this receiver is to combine the benefits of an open fit and a closed fit in one receiver.
ActiveVent receivers are compatible with all Paradise rechargeable models, and all performance levels. Please note that ActiveVent receivers only work with Phonak's Universal Slim Tip, or Slim Tip Titanium earmolds. That means if you plan to wear your Paradise "open-fit" (with just a little rubber/silicone dome in the ear canal, as most people do), the ActiveVent receiver cannot be used.
This receiver is not included with standard orders, and will cost an additional $149 per hearing aid (through ZipHearing providers). This includes the ActiveVent receiver, and also the required SlimTip Titanium mold.
Curious if ActiveVent may be a good choice for you? Discuss it with your hearing provider and review Phonak's candidacy checklist PDF.
Researcher's discover potential link between COVID-19 and hearing and balance disorders
On October 29th Communications Medicine published an article that examined hearing and balance symptoms in patients with COVID-19.
10 adults who developed hearing loss, tinnitus, and/or vertigo after having COVID-19 participated in the study, in which a team of researchers studied inner ear tissue and cells to determine the virus's effects.
The findings show that SARS-CoV-2 can infect human inner ear cells, and that this infection may be the cause of COVID-19-associated problems with hearing and balance.
The findings confirm what hearing providers have been speculating since the early days of the pandemic- that an uptick in customers reporting hearing and balance disorders as a result of having COVID-19 may point to a connection.
Oticon's new MyMusic program wins CES 2022 Innovation Award
Oticon MyMusic, a dedicated music program tailor-made to help people with hearing loss rediscover their love of music, has been named a CES® 2022 Innovation Awards Honoree in the highly competitive Software and Mobile Apps category. The international awards program recognizes innovative design and engineering in some of the world's most cutting edge consumer technology products and services.
MyMusic overcomes one of the toughest challenges for hearing aids, delivering excellent music sound quality, whether it's live music or streamed directly from a device. The music-oriented signal processing program captures the complex dynamics of music much better than attempting to apply ordinary speech processing strategies to music.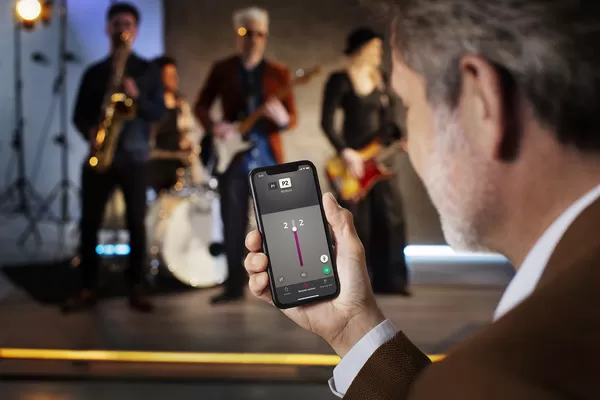 MyMusic uses a new strategy for amplification based on independent research on reference curves for music listening and research on how the music experience can be improved for hearing aid users. Processing is performed in both 4 and 24 channels simultaneously which allows details to be preserved no matter the signal type. There is more amplification in the highest and lowest frequencies, delivering better balance across frequencies. This ensures that differences between softer and louder components in music are preserved and natural dynamics are maintained.
Oticon MyMusic is a brand-new way of amplifying music to bring out the details. Developed from the ground up and based on the unique characteristics of music, it uses the life-changing technology in Oticon More™ hearing aids to ensure an outstanding music listening experience, whether streaming directly from a device or listening live. Regardless of their level of hearing loss, individuals can once again enjoy their favorite music in all its nuances.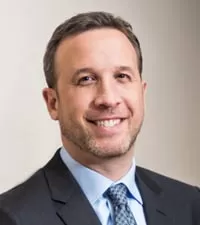 Gary Rosenblum
President at Oticon, Inc.
The MyMusic program is added to Oticon More hearing aids by hearing care professionals in Oticon Genie 2. It adapts to the user's hearing loss but can also be fine-tuned separately for specific preferences. Existing Oticon More users can add the MyMusic program by visiting their hearing care professional to upgrade to the latest firmware.