Hearing Health News – September '21
In this recurring blog series, we take a look at a few of the prior month's biggest stories in the world of hearing health care
Supply chain disruptions persist
In last month's post we touched on how the global semiconductor shortage has impacted the hearing aid industry, with many products indefinitely backordered.
August dealt a further blow to the global supply chain, with many major events such as hurricanes, fires, and floods.
Even if a product was not affected by the semiconductor chip shortage, its availability was likely impacted by the adverse weather we saw in late August, as companies like UPS and FedEx dealt with massive logistic headaches.
Hearing aid manufacturer Oticon's US headquarters in New Jersey was affected by tropical storm Ida, with products being delayed up to a week, and customer service increasingly difficult to contact as a result. Oticon made a quick recovery, and by month's end they seemed to be up and running with business as usual. However, Oticon did notify their provider network at the end of September that they were unable to fulfill orders for their popular TV Adapter accessory.
Minnesota-based Starkey also put out a statement to their provider network that due to significant demand for their new Evolv AI hearing aids, as well as issues to the supply chain, orders wouldn't be fulfilled as fast as they historically have been. Starkey also seems to be overcoming this issue, with turnaround times getting back to around 3-5 days for most orders.
With a recent resurgence in masking across the US, hearing aid manufacturer Signia is experiencing significant delays on their Silk in-the-ear hearing aids, as they're easier to wear with a mask than behind-the-ear devices. We're seeing delays of over 10 days for some of these products.
Phonak continues to be unable to fulfill orders for their most popular TV streamer accessory, with customers waiting months to receive the accessory. Phonak's popular Partner Mic accessory is experiencing a 4 week turnaround time, and there are indefinite delays on critical components such as receivers (speakers) for custom earmolds. On the bright side, Phonak has resumed production of BTE chargers and will begin accepting orders for the Naida PR rechargeable BTE shortly.
While we're seeing small signs of hope from each manufacturer, we do expect these supply chain disruptions to continue over the next few months, at least.
Eargo under investigation by the DOJ
News broke in the stock market after hours on September 23rd that disruptive hearing aid company Eargo was the target of a DOJ criminal probe.
The stock plummeted overnight and is now trading at just 10% of the all-time-high it reached in February of 21.
The news led J.P. Morgan, one of the lead underwriters of Eargo's IPO last year, to recommend investors sell.
We don't know all the details of the investigation, but based on the form 8-K filed with the Securities and Exchange Commission, the investigation is related to insurance reimbursement claims the company submitted on behalf of its customers covered by federal employee health plans.
Signia announces Insio Charge&Go AX hearing aids
While not officially released until (we think) late October, hearing aid manufacturer Signia has updated their website and Youtube channel to feature a new hearing aid called Insio Charge&Go AX.
Insio Charge&Go AX is (one of the first) custom, in-the-ear, lithium-ion powered rechargeable hearing aids on the market.
We say "one of the first," because Starkey has had their Livio custom rechargeable hearing aids available for well over a year at this point.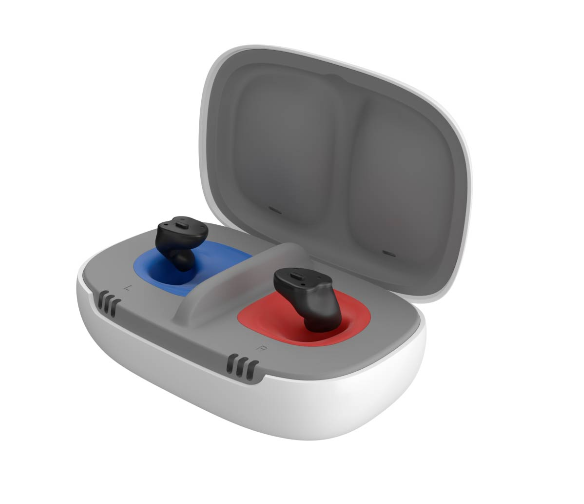 The difference (for now) with Insio Charge&Go AX, as compared to Starkey's product, seems to be Signia's focus on "contactless charging." What this means is the Insio hearing aids do not have metal contacts on them that need to be carefully positioned/aligned with the contacts on the charger. Signia says this will make charging the hearing aids easier and more intuitive. This is true, but in fairness, Starkey's Livio product which does use contacts is already a brilliant solution and easy to use. Nonetheless, we're happy to see more custom rechargeable products becoming available.
Phonak fixes a major bug
If you follow our Youtube channel, you know we're huge fans of the Phonak Audéo Paradise hearing aids.
One of the reasons this hearing aid is our best seller, is because our customers love them for their Bluetooth connectivity to nearly all devices
This connectivity enables easy audio streaming from devices like phones, tables, computers, and TV's.
However- there's been a major complaint with audio streaming that we've heard from so many of our customers.
The issue is, anytime a wearer would receive a notification sound on their phone, like a text message alert, their hearing aids would then jump back to Phonak's Automatic AutoSense OS program (rather than the program the hearing aids were in prior to the notification).
We're happy to report that this bug has now been resolved, and after hearing a notification, the hearing aids will return to the last-used program (as one would expect they should).