Phonak Hearing Aid Models, Prices, & Reviews
Local fitting service included with all purchases
Need help choosing? Enter your info and we`ll call within 20 minutes!
Popular Phonak Hearing Aid Models

A worldwide leader in hearing aid technology, Phonak operates in more than 100 countries and boasts a 70-year history of innovation. The Swiss company is known for its premium-quality hearing aids, stylish wireless accessories, and a long menu of digital sound processing algorithms designed to provide a natural listening experience and to make speech easier to hear in a variety of situations.
Our most popular Phonak hearing aids include the new Audéo Paradise, featuring lithium-ion rechargeable batteries, and the custom in-the-ear Virto Marvel models. Before learning more about these hearing aids, you may want to know that each one comes in four performance levels: Essential, Standard, Advanced, and Premium. In most cases, you can identify the performance level of Phonak hearing aids by the model number included in their name (A higher model number indicates a higher performance level). For example, Audéo P90 represents the Premium level of Audéo P (Paradise) hearing aids, while Audéo P30 represents the Essential level.
Stepping up from one performance level to the next generally increases the number of features or programs to improve sound quality, comfort, or speech understanding in specific listening situations. For instance, all Audéo P hearing aids include programs for calm situations or speech in noise, but only the Premium level (Audéo P90) includes programs tuned specifically for speech in wind noise. The difference between Phonak hearing aid performance levels is not just about additional programs. Higher performance levels may also include a more sophisticated version of features also found at the Essential level. Which Phonak hearing aids should you choose? This is a matter of individual hearing needs and personal preference. While discreet appearance tops the priority list for some people, Bluetooth phone connectivity matters more to others. In general, the more specific or challenging hearing needs you have, the more you may want to consider choosing advanced hearing aids. With a wide range of features and options, and with multiple hearing aid styles designed for any level of hearing loss, Phonak offers something for nearly everyone. You can expect excellent sound quality, great reliability, and a refined fit and finish across the Phonak product range.
In the sections below, you'll find information on Phonak's current and most popular hearing aids models, along with pricing and feature information so you can determine which Phonak hearing aid is appropriate for you. If you're simply looking to get your Phonak hearing aids repaired, or looking for Phonak parts, like wax filters or domes, feel free to give us a call and we'll point you in the right direction. Otherwise, feel free to review the popular models below, and at the top of this page you'll find links to each Phonak hearing aid model, along with prices, features, and online ratings, and more in-depth Phonak reviews on each product page.
Released in August of 2020, Audeo Paradise is Phonak's newest hearing aid. It builds on the tremendous success of the Phonak Marvel, which was Phonak's best selling hearing aid-ever. So what makes Audeo Paradise special? Essentially, it takes everything that was great about Marvel and makes it even better.
Here are the major improvements with Audeo Paradise:
New sound processing chip (PRISM). The new chip boasts twice the memory and processing power of Phonak's previous chip, resulting in crisp, natural sound, brilliant speech understanding, and personalized noise cancelling in any environment for excellent sound quality.
Motion Sensor Hearing. New motion sensor to detect when the wearer is moving and having a conversation and can automatically steer the hearing aid microphones for better speech understanding. The motion sensor also powers the new Tap Control feature.
Tap Control Feature- you can now have hands-free conversations or connect with popular voice assistants like Siri, Google Assistant and Amazon Alexa via a simple double tap of their ear.
Speech Enhancer. New soft speech enhancer is an adaptive feature designed to amplify the peaks of soft speech in quiet environments, allowing brilliant speech understanding.
Through the new myPhonak app, you can now customize the level of background noise for a more personalized hearing experience. -Multiple Bluetooth connections allow the wearer to easily switch streamed audio from one device to another across virtually any smart device or operating system.
Phonak's Virto Marvel or Virto M, for short, launched to rave reviews from the press at the Las Vegas CES show in January 2020.
What gets people excited about these hearing aids is the combination of sleek style, compatibility with all kinds of Bluetooth devices, and high-end performance of Phonak's Autosense OS 3.0 sound processing. That's the same automatic processing as Phonak's top-of-the-line behind-the-ear hearing aids (Audéo Marvel). Virto M also shares the same incredible wireless compatibility as Audéo Marvel.
Like the earlier Virto B custom hearing aids from Phonak, Virto M include Biometric Calibration to fine tune the acoustic fitting based on the size and shape of your ear canal. Biometric Calibration helps improve the performance spatial sound processing (i.e., directional hearing), despite the very small size of Virto M hearing aids. This is important because, in the past, you would have had to sacrifice directional microphones to get a discreet hearing aid.
There is a lot of buzz in the media about Virto Marvel Black, just because they come in the color black, which makes them look like ultra-premium earbuds. The black color really works, so it's a shame these hearing aids don't also come in pure white (Didn't Phonak get the memo from Apple?).
Actually, you can choose from seven colors for the hearing aid shell, including white. The outer faceplate comes in light and medium flesh tones, or in high-tech gloss black. Virto Black also comes in several variations from the titanium-shelled invisible model (size 10 battery) to the flagship half-shell model (size 312 batteries).
The real reason to love Phonak Virto M is its awesome wireless capabilities. These hearing aids have Bluetooth Classic for hands-free streaming, Bluetooth Low Energy, for connectivity via the Phonak Smart App, and a wireless radio for wireless connectivity to Phonak's huge range of Roger Wireless Accessories.
Buy if:
You've been waiting for hands-free Bluetooth streaming for iOS and Android-based devices, and other wireless devices in a custom hearing aid.
You think it's about time for sleek, modern design, and the cool aesthetic of hearables to come to in-ear hearing aids.
You love Phonak's Roger wireless accessories and want to use them with a custom hearing aid.
This hearing aid doesn't just have titanium in its name. It is actually made of the precious metal. Who would want a titanium hearing aid? Anyone who wants super discreet, durable invisible-style hearing aids. This hearing aid's ultra-thin titanium shell is 50% thinner than the acrylic and other materials used to build other custom hearing aids. This makes it possible for the Titanium model fit in tighter spaces, such as small and winding ear canals. Having such a thin shell also leaves more room for an air vent, meaning Titanium hearing aids may allow for better air circulation in your ear canal, which helps your own voice sound natural, and can improve sound quality.
In terms of what is on the inside of the hearing aid, Virto M Titanium has the same AutoSense 3.0 OS electronics that all the other Phonak hearing aids have. In terms of performance, it is equivalent to the Virto M counterpart, just smaller, and without Bluetooth connectivity. As far as controlling the Virto M Titanium, it may be ordered with a push-button, allowing wearers to control the hearing aid's volume. If it is determined there is no room for a push-button on the device (because it's so small), Phonak will supply a small metal keychain-like wand, called the "MiniControl" which allows a user to change the volume by simply raising the wand to the hearing aid, which will then emit a small sound (audible only to the user), indicating the volume has successfully changed. Virto M Titanium comes in two performance levels: Advanced and Premium.
Buy if:
You want the smallest and lightest invisible hearing hearing aids, without sacrificing hearing performance.
You prefer invisible hearing aids, but you've been told your ear canals are too small, or you have had difficulty getting invisible hearing aids to fit comfortably (and you're willing to try again)
In 2007, Phonak introduced the first Naída hearing aid, pronounced "Ny-eeda". Since then, the Naída has enjoyed perhaps the best overall reputation among super power and ultra power hearing aids.
Naída M (short for Marvel), represents Phonak's completion of the Marvel line of hearing aids. Originally introduced in the RIC style, Marvel has been Phonak's most successful hearing aid to date for addressing mild to severe hearing loss. And now with Naida M, those with profound hearing loss can benefit from Marvel technology.
What makes Marvel so special?
In short, Marvel was the first hearing aid to have direct Bluetooth connectivity to all phones, not just iPhones. That meant that for the first time, Android users, and even those with old flip style cell phones, could stream audio like phone calls, directly to their hearing aids.
And now, this technology is available in the super power Naida M hearing aids.
That means everything from phone calls, music, TV, directions on your phone- you name it, can be streamed to your Naida M hearing aids.
Naida M is also wirelessly compatible (for the first time ever) with Phonak's renowned Roger wireless accessories, which means you no longer need multiple pieces of hardware to take advantage of Roger accessories. Just buy the Roger accessory, and it'll connect directly to your Naida Marvel hearing aids.
Phonak Hearing Aid Reviews
Below you'll see our 10 most recent and real Phonak hearing aid reviews and complaints, on all the latest models such as
Audeo Paradise
,
Audeo Marvel
,
Audeo Marvel Rechargeable
.
Any time you read a customer review on Phonak hearing aids, its important to note that a significant factor contributing to the customer`s review is the skill of the hearing provider who fit their hearing aids. For more information on this, we`d encourage you to check out our YouTube video:
Do Hearing Aid Reviews Matter
?
Product reviewed: Phonak Audeo Paradise 90
VERIFIED BUYER | Sun City, AZ
My new Phonak hearing aids have been great since I received them. They are extremely comfortable. The sound quality is much better in noisy environments than my old hearing aids. I'm very happy with the auto adjusting technology. I wish the battery life was a little longer, but these are worth the sacrifice.
Product reviewed: Phonak Audeo Paradise 90
VERIFIED BUYER | Annapolis, MD
These P90s are my third Phonaks and definitely the best so far. Sound is clearer and adjustment to situations is quick and efficient. Nice to have rechargables too.
Product reviewed: Phonak Audeo Paradise 90
VERIFIED BUYER | Edina, MN
Quality is great. The aids are comfortable and easily adjustable using the phone app.
Product reviewed: Phonak Audeo Paradise 90
VERIFIED BUYER | Warwick, RI
I rate the sound quality at 8 out of 10. I wore top of the line Beltone (MIRE) and Oticon for 30 days each previously. However, my observations are very subjective and not scientific. I have not been able to evaluate hearing aids in noisy restaurant environments. I think that the sound is very adequate for my needs. There are connectivity issues that must be learned and managed. They are not "trouble free" in this regard. These issues apply to both the hearing aids and the phone app. I'm hoping this improves with time. I LOVE the hands free "tapping" feature, for phone calls, Siri and streaming; "when it works". I like the phone app and the ease of adjustments via that route. There is an occasional mild to severe static issue which is very annoying. I am pairing with an iphone 12. My call to Phonak for help was VERY positive! These aids are very comfortable in my ears. I am on trial and will probably keep in spite of the negatives. I assume that Phonak will work to improve problem areas. I am willing to accept the hearing qualities and work with the issues because I am so happy with the "hands free" feature.
Product reviewed: Phonak Audeo Paradise 90
VERIFIED BUYER | Philadelphia, PA
My new Phonak Paradise hearing aids. Sound quality is much better than my older hearing aids. More convenient features like play/pause audio streaming, google assistant. Streaming/calling hands free directly from android phone without any accessories. The only major con is non wireless charging like in Signia hearing aids. Overall superb hearing aids, recommend them!
Product reviewed: Phonak Audeo Paradise 90
VERIFIED BUYER | Saint Charles, IL
The sound quality is great, though it took a resetting of the left hearing aid. I am very pleased with them and know that I received one of the best prices available.
1 person found this review helpful
Product reviewed: Phonak Audeo Paradise 90
VERIFIED BUYER | Oklahoma City, OK
Have had them for only a week. We are still working to get the adjustment right. The issues I am having can be addressed but will take a little time and patience on my part. Having some trouble using the t-coil function.
Product reviewed: Phonak Audeo Paradise 90
VERIFIED BUYER | Franklin, TN
Based on considerable experience with hearing aids, I would rate my Phonak P-90s as the very best quality. I tried a level below for a couple of weeks and I'm very satisfied with my upgrade.
2 people found this review helpful
Product reviewed: Phonak Audeo Paradise 70
VERIFIED BUYER | Carlsbad, CA
They are comfortable and hardly visible. The rechargeable battery is a big plus and I enjoy the Bluetooth connectivity. I researched different instruments and selected Phonak based on all I read.
2 people found this review helpful
Product reviewed: Phonak Audeo Paradise 70
VERIFIED BUYER | Portage, MI
I am a first time hearing aid wearer, and as a result, did not know what to expect. The Phonak Paradise model has crystal clear sound, and I have discovered new sounds that I have not been hearing for quite some time. The bluetooth to my cell phone is incredibly clear, and double-tapping my ear as a way to connect/disconnect is truly hi-tech. So far, all is well!
3 people found this review helpful
Phonak Hearing Aid Prices
Below you will find our price list for Phonak hearing aids. As a rule of thumb, your cost for Phonak hearing aids will usually be 20-30% below usual retail prices when purchased through ZipHearing, and our prices for Phonak start at $999 per hearing aid.
The final price of your Phonak hearing aids will vary greatly depending on several factors like style chosen, warranty, length of local service plan, terms of the trial period and more.
How much do Phonak hearing aids cost?
From most retailers, Phonak hearing aids start at $1000 each, and go up to $3000+.
| Model | Our Price |
| --- | --- |
| Audeo Paradise 90 Rechargeable | $2399 |
| Audeo Paradise 70 Rechargeable | $1899 |
| Audeo Paradise 50 Rechargeable | $1399 |
| Audeo Paradise 30 Rechargeable | $1349 |
| Audeo Paradise 90 | $2299 |
| Audeo Paradise 70 | $1799 |
| Audeo Paradise 50 | $1349 |
| Audeo Paradise 30 | $1299 |
| Naida P90 | $2199 |
| Naida P70 | $1749 |
| Naida P50 | $1499 |
| Naida P30 | $1399 |
| Audeo Marvel 90 Rechargeable | $2399 |
| Audeo Marvel 70 Rechargeable | $1899 |
| Audeo Marvel 50 Rechargeable | $1649 |
| Audeo Marvel 30 Rechargeable | $1549 |
| Audeo Marvel 90 | $2299 |
| Audeo Marvel 70 | $1799 |
| Audeo Marvel 50 | $1599 |
| Audeo Marvel 30 | $1499 |
| Naida M90 | $2299 |
| Naida M70 | $1799 |
| Naida M50 | $1599 |
| Naida M30 | $1499 |
| Virto M90 Titanium | $2249 |
| Virto M70 Titanium | $1749 |
| Virto M90 | $2249 |
| Virto M70 | $1799 |
| Virto M50 | $1499 |
| Virto M30 | $1399 |
| Bolero M90 | $2299 |
| Bolero M70 | $1799 |
| Bolero M50 | $1599 |
| Bolero M30 | $1499 |
| Audéo B90 | $2199 |
| Audéo B70 | $1699 |
| Audéo B50 | $1599 |
| Audéo B30 | $1399 |
| Audéo B90-R | $2299 |
| Audéo B70-R | $1799 |
| Audéo B50-R | $1699 |
| CROS B | $1599 |
| CROS BR | $1599 |
| TV Connector | $249 |
| Charger Case | $99 |
| Power Pack | $99 |
| Mini Charger | $79 |
| RemoteControl | $249 |
| PartnerMic | $449 |
| Roger Select iN | $1349 |
| Roger On iN | $1349 |
| Roger Pen iN | $1299 |
| Roger Select | $899 |
| Roger Pen | $899 |
| ComPilot II | $329 |
| ComPilot Air II | $349 |
| Pilot One II | $279 |
| RemoteMic v2.0 | $149 |
| ComPilot Air II/RemoteMic v2.0 bundle | $399 |
| ComPilot II/TV Link II bundle | $379 |
Phonak hearing aid apps & accessories
Have you ever thought about controlling your hearing aids from your smartphone? If so, check out some of the Phonak apps below. Be sure to check compatibility of these apps with your phone or tablet, because some apps are built exclusively for iOS devices, others for Android devices, and the functionality that you get from these apps may vary depending on the type of phone or tablet you use. In addition, sometimes apps may be built exclusively for iPhones (for example), and may not work on iPads. So it`s very important to check compatibility of your devices before selecting your hearing aids based on the apps available from Phonak.
You should also consider some of Phonak`s accessories, such as TV streamers and remote microphones. Again, it is important to do your due diligence as far as compatibility. Not all Phonak hearing aids will work with all of the below Phonak accessories. To find compatibility information, find the Phonak hearing aid on our site that you are looking for, then scroll down and you will see a section on the product page which reviews this information.
If you need Phonak supplies, such as domes, filters, or cleaning tools, we recommend contacting the local Phonak provider who sold you your hearing aids. You may also sometimes find these parts relatively inexpensive on sites like Amazing and eBay. For accessories, we do not recommend buying them on sites like Amazon or eBay, as that is not an approved sales channel for most major manufacturers, and sellers on those sites are likely not authorized Phonak retailers. You can also of course always buy these accessories from the local hearing provider which sold you your Phonak hearing aids.
Please note: We are only able to sell accessories & parts of supplies to customers who have purchased hearing aids through ZipHearing.
Power Pack: $99
If you sometimes go "off the grid" for a few days, this is a must have, because it's the only way to charge your hearing aids when you don't have access to electricity. The Power Pack is a lithium-ion battery that plugs into the bottom of the Charger Case Combi providing a reserve of 7 full charging cycles.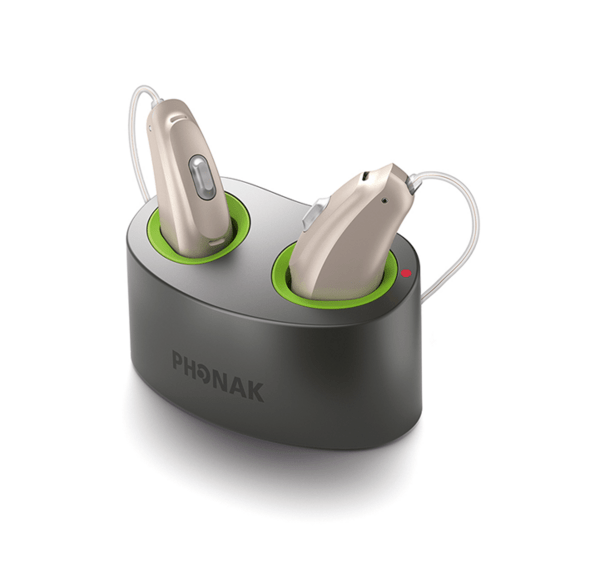 Mini Charger: $79
The Phonak Mini Charger is the smallest and simplest way to charge your Phonak hearing aids. It connects to power sources via a micro-USB cable and charges two hearing aids at once. The Mini Charge's simplicity and compact size make ideal for travel or to keep at the office so you'll always have a charger nearby at home or away.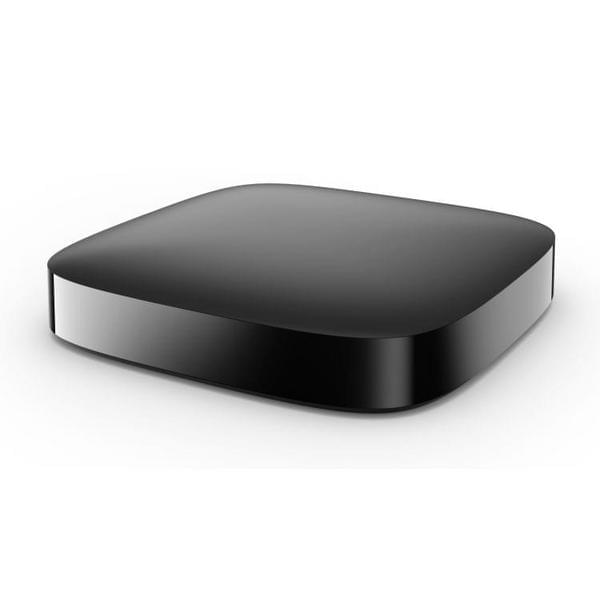 TV Connector: $249
The easy to use streaming device for TV and music. The TV Connector is a plug and play interface to TV's and other audio sources, supporting the direct connectivity of Phonak Audéo B-Direct hearing aids. It simplifies setup, usage and offers superior stereo sound quality using AirStream™ technology. With the TV Connector, you can simultaneously stream audio signals up to 15 meters away, to an unlimited amount of connected hearing aids.
Remote Mic V 2.0: $149
The small and light Phonak RemoteMic V2.0 is an easy solution for one-on-one conversations in moderate noise and over distance. The lightweight wireless microphone is clipped onto the speaker's clothing. Combined with a compatible Phonak streamer such as ComPilot II or ComPilot Air II, RemoteMic V2.0 transmits the speaker's voice directly to the hearing instruments over a distance of up to 20 meters (66 ft). With the optional charging accessories (Phonak mini-USB power supply and 12 V car charger adapter) RemoteMic V2.0 is always ready.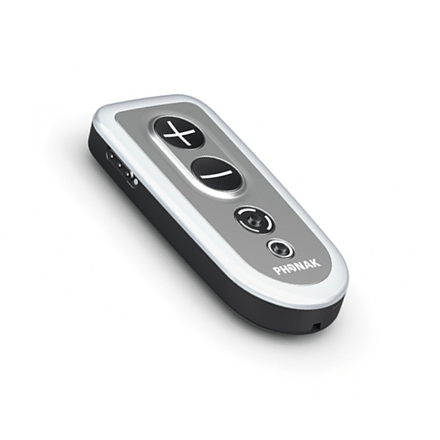 Pilot One II Remote: $279
The Phonak PilotOneII is the easy-to-use remote control. It adjusts the volume and program settings of the hearing aids with four simple buttons: Home, Volume up, Volume down and Program. For many people, these simple adjustments are all they need, especially since most modern hearing aids include automatic adjustments. The PilotOne II remote control is designed for simplicity and ease of use. The large buttons are easy to find and use without having to look at the remote or take it out of your pocket.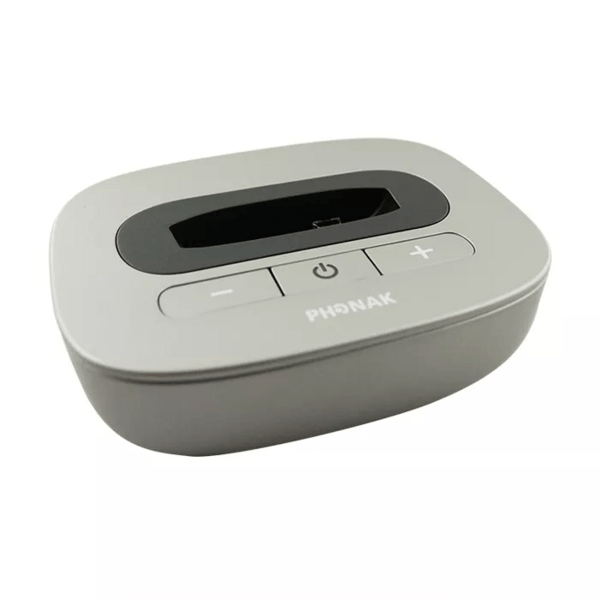 TV Link II: $149
Phonak TVLink II expands the way you hear your world by wirelessly connecting your hearing aids to your TV and other entertainment or communication devices. The Phonak TVLink II basestation is the interface to TV and other audio sources. Used with Phonak ComPilot II or ComPilot Air II, it turns any Phonak wireless hearing aids into a headset with a range of up to 30 meters (100 ft).The TVLink II works with all modern TV sets and stereo equipment. Thanks to the two digital audio inputs, the connection to the TV or stereo is much easier, and provides improved sound quality compared to analog inputs. The streaming distance of up to 100 ft. allows you to move around the house without missing what is happening on the TV.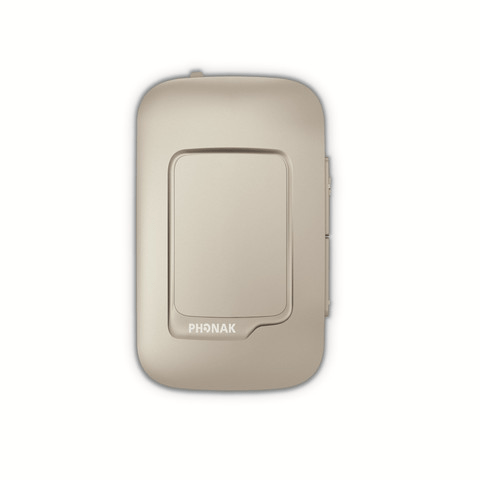 ComPilot Air II: $349
The small and stylish Phonak ComPilot Air II offers excellent stereo sound quality while connecting hearing aids via Bluetooth to a variety of audio sources: cell phones, MP3 players, tablets, laptops and computers. Combine with Phonak TVLink II to turn your hearing aids into wireless headphones, or with Phonak RemoteMic for better understanding over distance. Spoken VoiceAlert messages and messages and personalized Bluetooth® features, can be configured via the free RemoteControl App for Android or iOS. ComPilot Air II includes a new integrated antenna, making it smaller than its predecessor, ComPilot II, as well as more discreet and easier to handle.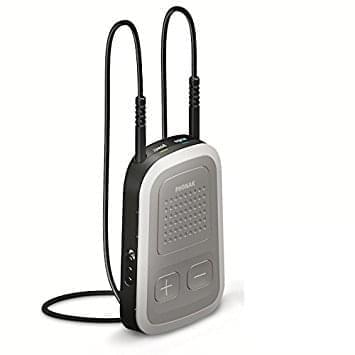 ComPilot II: $329
The Phonak ComPilot II offers excellent stereo sound quality while connecting Phonak hearing aids via Bluetooth to a variety of audio sources, such as mobile phones, MP3 players, tablets, laptops and computers. ComPilot II connects wirelessly via Bluetooth or wired audio inputs for up to 24 hours streaming time. Combine with Phonak TVLink to turn your hearing aids into wireless headphones, or with Phonak RemoteMic for better understanding over distance.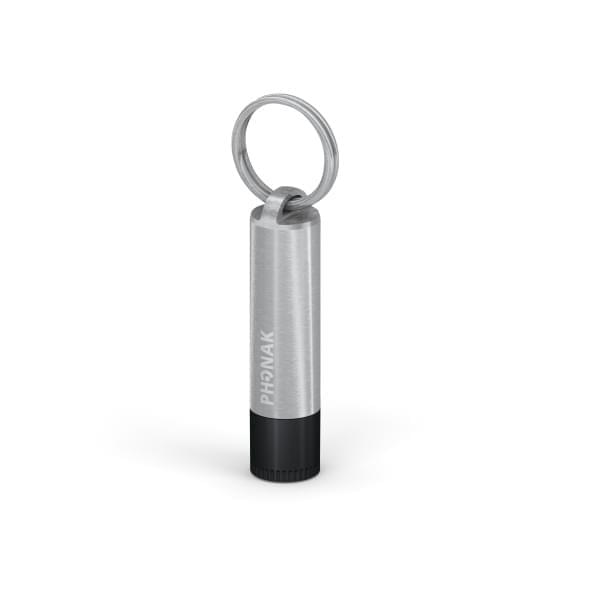 Mini Control: $20
The MiniControl contains a magnet that functions like a remote control to change the settings of your Virto M-Titanium or Virto M-10 NW O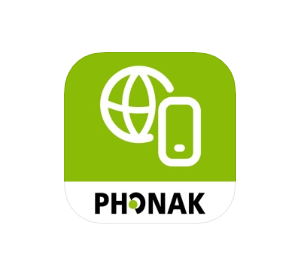 myPhonak App
Take control of your hearing aids. Adjust settings like volume, programs, frequencies, and noise cancellation. See information about your hearing aids, like battery charge and wear time statistics. In some cases, you can even connect with your hearing provider for remote adjustments to your hearing aids.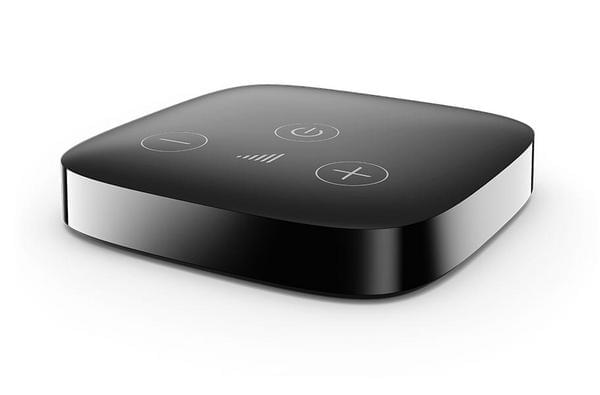 TV Connector: $249
Plug it into the back of your TV or soundbar and the audio will be streaned directly to your hearing aids. Others can keep the TV at their preferred volume level, while you set your own volume via the app, on the hearing aids themselves, or via the + or - buttons on the TV connector.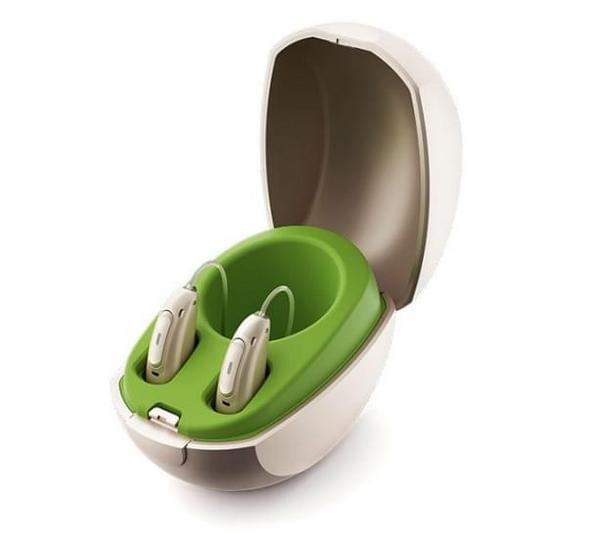 Mini Charger Case: $79
The Phonak Mini Charger Case, with standard USB-C charging outlet, is a compact charger for two Audéo M-R hearing aids.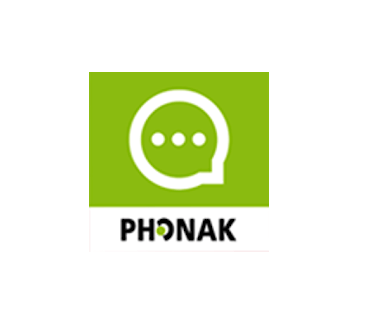 myCall-to-Text phone App
Have a hard time hearing on the phone? This app allows you to read, in real time, what the person on the other end of the phone is saying.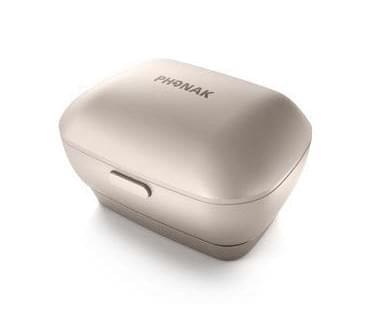 Charger Case Combi (Included)
This is the standard charger that comes with all rechargeable hearing aids. Fully charges your hearing aids in 3 hrs, providing 24 hours of power. A quick charge of 30 minutes will provide 6 hours of power. There's also a compartment inside that has room for dessicant, which helps dry out the hearing aids overnight. Dessicant doesn't come standard with orders from Phonak. If you want it, please specify at the time you order .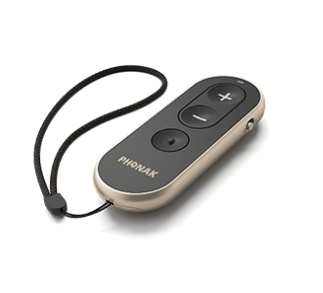 RemoteControl: $249
You probably don't need this. Most people use the app to control their hearing aids, and if not the app, then the push button on the hearing aid itself. But if neither of those suit you, this remote is a simple way to control the volume and program.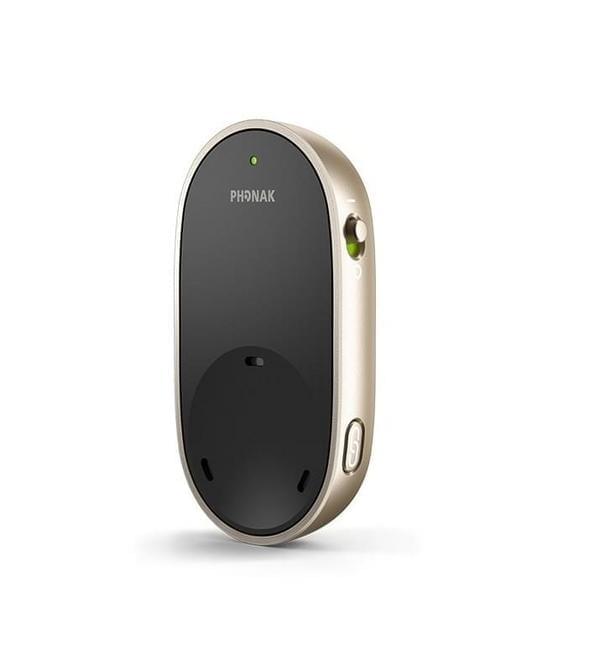 PartnerMIC: $449
If you have a hard time hearing in noise this accessory is a lifesaver. Attach this microphone to a companion's shirt and their voice will stream directly to your hearing aids. Their voice will come through much stronger than all the competing noise in the environment.