Hearing Health News – December '21
In this recurring series, we take a look at a few of the prior month's biggest stories in the world of hearing health care
Supply chain issues persist in the hearing aid industry
Although there are glimmers of hope that an end to the supply chain nightmare is in sight, the hearing aid industry is still heavily affected by the semiconductor shortage and other supply chain issues.
Many critical components for the manufacturing of hearing aids and accessories are unavailable or backordered well into '22.
We've covered this topic in each of our '21 blog posts, and until the situation changes for better or worse, we won't provide continued coverage on this, as it no longer feels newsworthy.
It is unfortunately the new normal for the foreseeable future.
Eargo announces layoffs of US-based employees
Direct-to-consumer hearing aid manufacturer Eargo announced that it's cutting its US-based workforce by up to 30%.
As reported in September's blog, the firm is currently at the center of an investigation concerning potential reimbursement fraud.
According to Eargo, the move is in response to the decrease in orders that came after the investigation was announced by the Department of Justice.
It is our hope at ZipHearing that Eargo emerges from these crises and continues to be a large-scale supplier of hearing devices.
The nearly invisible and rechargeable Eargo hearing device is unique in the industry, and we think Eargo's innovation (and competition) is a good thing for the industry at large.
GN acquires direct-to-consumer retailer Lively
It was a busy month in the direct-to-consumer segment of the hearing aid industry.
As rules for the Over-the-Counter Hearing Aid Act begin to take shape, we're seeing hearing aid manufacturers positioning themselves for this new distribution channel.
In the latest move, The GN Group, which owns the ReSound and Beltone hearing aid brands (among other audio-related brands), announced they'll be acquiring direct-to-consumer retailer Lively Hearing.
The purchase price was around 95 million USD and gives the GN Group 91% ownership of Lively.
Here's an interesting excerpt from the press release:
Today, two-thirds of Lively's consumer inquiries are looking for either an online experience with access to a clinic or have severe to profound losses requiring in-clinic care. When combining GN Hearing and Lively, a new offering will be developed to meet these consumers' needs by providing access to GN Hearing's network of hearing care professionals.
At ZipHearing, we've always known the above to be true- that most consumers are best-served by having access to a local hearing care provider.
The question now becomes- will purchasers of Lively hearing aids be willing to pay the service fees that hearing providers demand, and if so, will those service fees negate the savings the customer originally realized from buying hearing aids online.
Challenges with this new approach aside, we think this is a positive development for Lively customers and look forward to seeing how ReSound develops this new offering.
Nuheara secures supply agreement with Sonova
On December 6th, Australian hearing technology company Nuheara announced they'd secured a global supply agreement with Sonova.
Switzerland-based Sonova is a leading global supplier of hearing care solutions, owning multiple hearing aid brands (most notably Phonak), and hundreds of retail hearing aid offices.
Under this three year agreement, Nuheara will initially supply Nuheara-manufactured and branded products to Sonova and it's affiliates in the USA and Canada.
Who is Nuheara, and why is this supply agreement significant?
Nuheara is a global leader in Hearable products. They develop proprietary, multi-functional, personalised intelligent hearing devices that augment a person's hearing.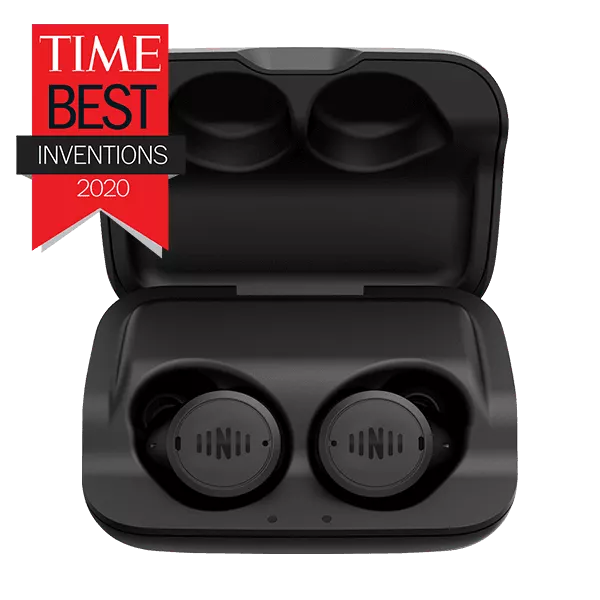 In short, they're not quite hearing aids, but far from your basic amplifier.
Nuheara's devices are rechargeable and wireless Bluetooth earbuds with a suite of hearing enhancement features that you wouldn't see in most amplifiers, such as active noise cancellation, in-home personalization, and directional microphones.
They're perfect for people who are not quite ready for a hearing aid but need some help.
How do Nuheara products compare to the hearing aids that will also be sold by the professional hearing clinics that will now be carrying Nuheara?
The folks at HearingTracker.com did a comparison and here was the takeaway:
After testing both products, Andy—who suffers from more-than-mild hearing loss—concludes that the less expensive Nuheara hearables are likely sufficient for those with normal hearing or mild hearing loss, who need "situational" assistance in challenging listening environments. His more expensive Phonak Audéo Marvel hearing aids are better for those with moderate-to-severe hearing loss who need all-day assistance.
And therein lies the reason (we assume) for this supply agreement.
Nuheara benefits from adding 3,000+ points of sale, while Sonova outlets are able to offer a lower priced alternative to hearing aids with the hopes of ultimately upgrading that consumer to a hearing aid manufactured by Sonova.
Medicare coverage of hearing aids in doubt
With Senator Joe Manchin announcing he cannot support the Build Back Better Act, it appears Medicare coverage of hearing aids will not be happening anytime soon.
As we covered in October's post, part of this act, if passed, would have provided funding for hearing aid coverage for some Medicare recipients.
In reality, this coverage would've been very limited anyway, affecting only a small percentage of hard of hearing Medicare recipients.
Of course the bill is not completely dead, and if it's eventually passed, we'll provide updates as they pertain to hearing aid coverage.