Phonak Audéo Q90 Review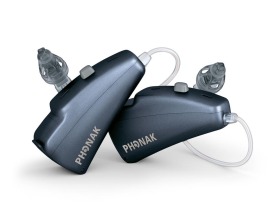 Note: The Audeo Q90 has been replaced with the newer Audeo V90. The Audeo Q90 was released 3-4-13. Until October of 2014, the Audéo Q90 was the top hearing aid available from Phonak. However, the Audéo V90 is now the newest and most advanced aid from Phonak. The biggest improvement vs. the older Q90 is the V90 has a new chip which offers twice the processing power while reducing battery consumption. If you're considering a new Phonak, I would recommend something from the Audéo V product line- even though some hearing providers are still selling the Q, as is evidenced by this user review. This review was submitted by Jennifer P. of Massachusetts, who is a reader of our blog and long time hearing aid wearer.

My Review of the Phonak Audéo Q90 312
I am a 55 year old female and hearing loss runs in my family. My Grandmother and Mother both wore hearing aids. I have 4 sisters, all of whom suffer from hearing loss. I suspect some of our daughters will too someday. I would describe my hearing loss as moderate.
I have had hearing aids since 1996 and, until recently, described my hearing as being "on the cusp" of needing aids and not needing aids. I am told my hearing loss is hereditary and inoperable so nothing to be done about it except wear hearing aids. I have a corporate position as a Creative Director, designing packaging for the retail environment so it is very important that I hear really well. When I found myself asking others to repeat themselves, that's when I knew it was time to get better hearing aids.
My Audiologist recommended the the aids I purchased, the Phonak aids. However, if I had known that Phonak had the new V series, I would have probably gone with them instead of the Audéo Q. I don't think my Audiologist did a very good job of giving me all the options. The new V series saves on the cost of batteries. I'm a baby boomer and will be retiring in about 10 years. I'm watching every penny!
As far as the performance of these aids, I still really struggle to hear in busy party or restaurant settings. And large meeting settings where the person or people speaking are far away from me. I also still need to face people directly so I can read their lips as I have habitually become accustomed to doing this over many years, even without knowing it. In general, I'm happy with my aids because they are still pretty state-of-the-art and they help me hear. I don't like that I sometimes have pain between my ear and head. As if the aid is still too thick behind my ear. Even though I know these aids are considered "slim". My hearing loss is in the high frequency range so I still have trouble hearing women speak.
I also didn't realize how loud my own voice is or has become. Growing up with two women hard of hearing and also one of five children trying to be heard made it so I had to speak up and be loud. It is very embarrassing and I try to hide my hearing loss because in my last job I was bullied and laughed at because of it. People don't understand it and like many handicaps, they are afraid of it and just don't get it.
I've had good and bad experiences buying hearing aids. Mostly good because the wife of a co-worker is an Audiologist. Then I moved and did not have access to her anymore. I do find that certain Audiologists have relationships with certain hearing aid manufacturers so they want to sell you new hearing aids just so they make money! I don't like that! I've met some Audiologists who are great and will let you trial expensive hearing aids to see how you like them and then return them if they are not right for you. It's like any other field. You have really good professionals and some not so good! In general, I find this field just as confusing as many other high technology products, flooded with products so it's confusing for the consumer.
My advice to someone considering getting hearing aids is…get them! But don't skimp and get cheap ones! Get the best ones! Because it's important to hear the best you can to "be" the best you can be and live your best life. Give up something else so you can spend a bit more on better aids. That's my advice!
Notes from ZipHearing: With regard to Jennifer not being made aware that Phonak had a newer product available at the time she purchased these aids (the Audéo V)- this is pretty common. Not all providers are always selling or recommending the newest aids out there. Sometimes there are good reasons for this, but it could also be because the provider is either unaware of or unfamiliar with the newer products, or because older products are sometimes more profitable to sell. If you're not sure if you're being recommended a top of the line or respected product, or paying a fair price, I would encourage you to call us at the number at the top of this page. We are always here to offer unbiased advice and point you in the right direction!
If you'd like a free phone consultation with a licensed hearing provider, please feel free to call us at 800-731-6794.