Hearing Health News — August '22
In this recurring blog series, we take a look at a few of the prior month's biggest stories in the world of hearing health care
It's release season, and we got new releases from 3 of the big 6 hearing aid manufacturers in August.
Phonak releases Audéo Lumity
Phonak has announced their new line of lithium-ion rechargeable RIC hearing aids, Phonak Audéo Lumity.
Audéo Lumity is based on Phonak's latest operating system, AutoSense OS 5.0, and promises improved speech in noisy environments, and reduced listening efforts, among other improvements over OS 4.0.
Audéo Lumity is available in all 4 technology levels (90, 70, 50, and 30), and in 3 different form factors—
Audéo L R: This is a receiver-in-canal style hearing aid with a rechargeable lithium-ion battery, and is the smallest of the 3 styles. It's early, but so far this is proving to be the best-selling model of the 3.
Audéo L RT: Same as the above, but with a telecoil. This model is slightly larger than the standard L R model.
Audéo L RL: Waterproof! It offers the same rechargeability and Bluetooth connectivity as the models above, but in a (mostly) waterproof design.
Side note: With this new release, Phonak communicated to its retailers that the release of the previously announced Audéo Slim model has been postponed indefinitely.
Oticon releases new in-the-ear models, 'Oticon Own'
Oticon has been crushing it with their receiver-in-canal Oticon More hearing aid (currently our best-rated hearing aid), and we're pleased to see they've announced that this technology is now available in in-the-ear models as well.
Oticon hasn't released a new in-the-ear model since 2016, so this is long overdue, and means Oticon now has a product built on their latest Polaris platform in every style, and for every type and severity of hearing loss.
Oticon Own is available in 5 different styles: IIC, CIC, ITC, and ITE half shell, and ITE full shell.
Oticon Own is available in 5 technology levels and price points, they all use disposable batteries, and the larger models (ITC and ITE), offer direct Bluetooth connectivity with iPhones and Androids.
ReSound releases new family of RIC hearing aids, 'ReSound Omnia'
On August 16, ReSound announced the release of their new family of RIC hearing aids, ReSound Omnia.
Omnia shares the same physical design as the previous ReSound One, with some interesting new updates
Here are the highlights of Omnia-
ReSound Omnia is made for hearing in noisy environments, and according to ReSound offers a 150% improvement in speech understanding compared to legacy ReSound models.
Omnia makes the user's perception of their own voice more natural, which contributes to a higher satisfaction with hearing aids.
For additional sound performance and comfort, ReSound introduces Check My Fit, a new, first-of-its-kind feature in the ReSound Smart3D App. It gives users guidance to wear their hearing aids correctly via a quick ear selfie. Wearing hearing aids incorrectly can result in up to 11dB of sound escaping the ear, reducing the ability to hear considerably.4 Check My Fit also works with other ReSound hearing aids to help people enjoy sound fully without unnecessary trips to the audiologist.
ReSound also announced a new custom CIC hearing aid that is being added to the prior generation ReSound ONE hearing aids.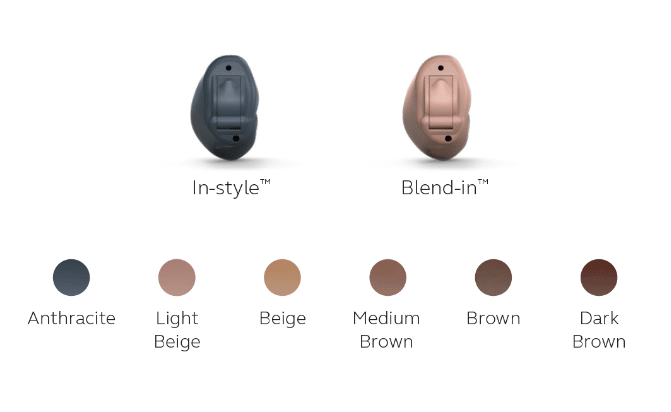 FDA releases final rule enabling access to over-the-counter hearing aids
It was a 5 year long wait, but on August 16, the FDA published its final rule enabling access to over-the-counter hearing aids.
This act establishes a new category of over-the-counter (OTC) hearing aids, enabling consumers with perceived mild to moderate hearing impairment to purchase hearing aids directly from stores or online retailers without the need for a medical exam, prescription or a fitting adjustment by an audiologist.
For a short overview of this act and it's projected implications, check out this video—
If you're interested in getting into the weeds a bit more, HearingTracker's Karl Strom put out a comprehensive piece on what this act means for consumers.